Anno 1800 unveils second season of paid DLC, including new Africa-themed continent
Plus it's free to try this weekend.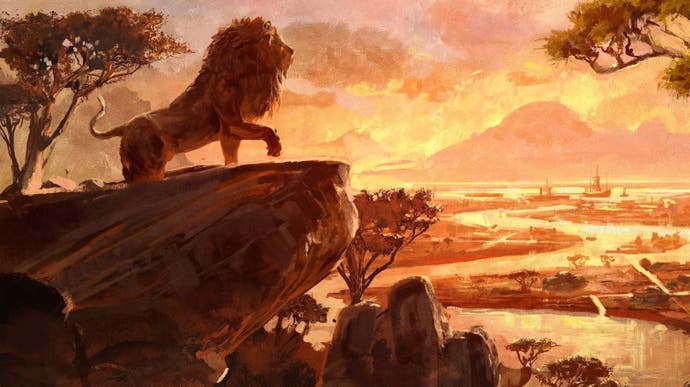 Anno 1800, Ubisoft's acclaimed Industrial-Revolution-era city-builder, will be getting a second season of paid DLC, promising, among other things, agricultural enhancements, a customisable palace, and a new Africa-themed continent.
It's all being bundled up into Anno 1800's Season 2 Pass, which will give purchasers access to three new DLC updates (also available separately) as 2020 progresses. The first of these, titled Seat of Power, arrives on 24th March and enables players to build their own palace using a similar construction system to the game's zoos and botanical gardens.
It's not just an aesthetic additions to your city, however; according to Ubisoft, palaces house several departments that offer both passive bonuses and access to various policies that can influence different aspects of city life.
The Seat of Power will also be accompanied by a free update for all players (as will the year's other two DLCs), this one introducing difficulty tiers for the influence system, giving players the option to earn more, less, or the same amount of influence seen at present.
Later in the year, and currently earmarked for a "summer 2020" release, Anno 1800 will receive DLC number two, known as Bright Harvest. This will enables players to deploy Industrial-Revolution-era tech - specifically new tractor modules - out in the countryside, boosting farm productivity and lowering workforce requirements. It'll also offer various farming-and-industry-themed ornaments to spice up your cities.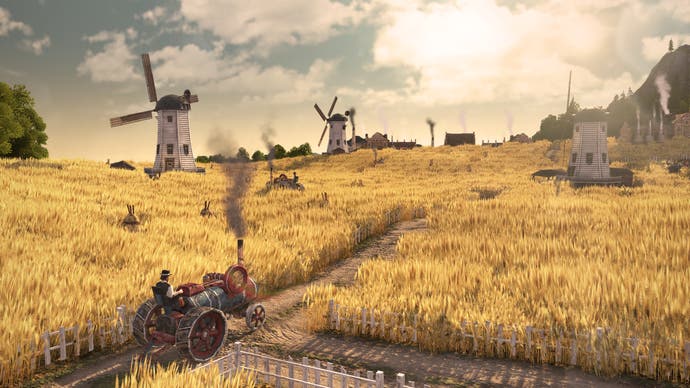 Anno 1800's most significant Season 2 DLC update is called Land of Lions, and is due to arrive at some currently unspecified point this year.
It'll introduce a new Africa-inspired continent, as players attempt to help Emperor Ketema turn the drylands green, and will require the use of a new irrigation system to harness the area's limited water supply, construct canals, and create fertile patches of soil. It also brings new citizen tiers, buildings, production chains, and quests.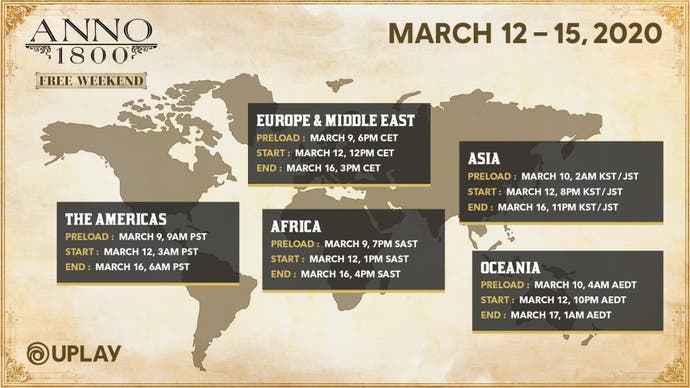 Anno 1800's Season 2 Pass also includes three exclusive ornaments - the Palatial Column, the Ploughman's Glory, and the Elephountain - and is available now on the Ubisoft and Epic Games Store for £20.99. Those that purchased Anno 1800 on Steam prior to last year's Epic exclusivity shenanigans can purchase the new season pass on Valve's platform from 24th March.
And if you've yet to experience Anno 1800's city-building delights, Ubisoft is giving curious parties the chance to try out the first three tiers of sandbox mode, plus the 16-player co-op mode, from tomorrow, 12th March until 15th March. Start times can be found on the infographic above, and there are additional details on the Free Weekend website.