Minon: Everyday Hero
The brains behind Fading Shadows detail an ambitious future.
Minon: Everyday Hero launches next Friday, 24th April, exclusively on Wii. It's a quirky action platform game where the hero, Minon, can change his shape to match the world around him. He can be as small as a flea or as big as a skyscraper - whatever he needs in order to save the town's inhabitants from trouble. Players can also team up with a friend. Bright and bold, it's the sort of title publisher Nordcurrent is becoming known for.
The excellent PSP puzzler Fading Shadows is another, developed internally under the Ivolgamus label. "Beautiful, understated and relaxing, this is to normal 'marble puzzle' games what ICO was to normal platform games," concluded Rob Fahey in his Eurogamer Fading Shadows review. It was surprise hit from the leftfield, and left us wanting to know more about who was behind it. The answer is Victoria and Michael Trofimova, a couple whose Lithuanian publisher is riding a wave of success into an ambitious future. Heading off the beaten track, we sat down with Nordcurrent and Ivolgamus bosses Alex Bravve and Victoria Trofimova for a little chat.
Eurogamer Hello! Yours is a rather heart-warming tale, and not at all like the mean, grey businessman stories we normally hear. How did you originally set yourselves up?
Victoria Trofimova
Hello! Videogames have always been something we wanted to be in. When we started, business objectives, profitability and so on weren't amongst our top priorities. We made our first game in our spare time and luckily we were able to find a publisher. Once the game was released and we received our first pay cheque, we rented an office, hired the first bunch of employees and started to think what to do next. We almost died in the first year of our existence as we couldn't find a publisher for our second game, but survived somehow and promised to ourselves to pay more attention to the business side of things.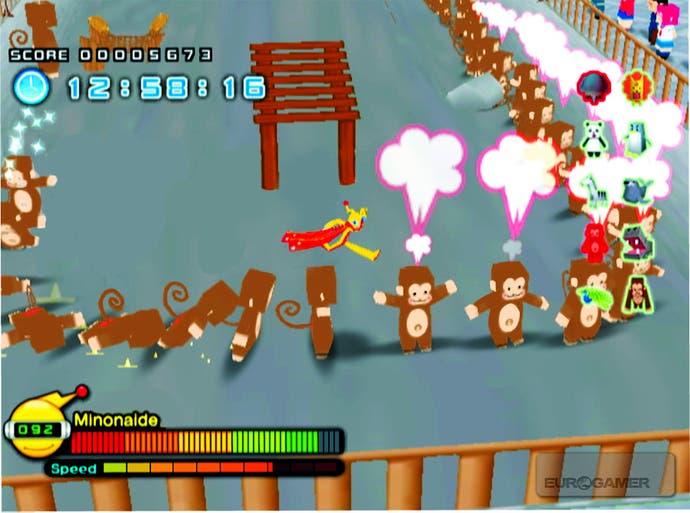 Eurogamer Have you ever - or do you still - cling to an ideal or a game as inspiration? Something, perhaps, that you aspire to be or to produce?
Alex Bravve
We were lucky - our first game was the ideal game that we all wanted to make. We were huge fans of 2D scrolling platformers, such as old NES games or Commander Keen, and our first game was just about that - a scrolling 2D platformer for GBA. With regards to games that we are producing right now or have produced recently - we are trying to make games that we ourselves enjoy playing as gamers. We have a broad spectrum of interests in videogame genres, which we incorporated into our first mass-market casual title, which was 101-in-1 Explosive Megamix. It's currently headed for 100,000 units shipped, so we must be doing something right! We are currently focused on releasing our first Japanese game. Minon: Everyday Hero for Wii will hit the shops in April. We are just trying to be honest with ourselves and release games that we like ourselves.
Eurogamer We feel rather out of touch with the Eastern European market. Are you really, metaphorically, that far away from the West?
Alex Bravve
We have polar bears walking on the streets and we drink a lot of vodka, so we are not that far away from the West, metaphorically speaking! On a serious note I do not see too many differences, although videogames are not that mainstream over here. PC games are quite popular, but consoles are non-existent - we probably know all the lucky Lithuanian PS3 owners in person! At the moment, we are the only videogames developer and publisher in Lithuania, so I think it was probably harder for us to break through than if we were based in the West.
Eurogamer What have been the standout and most exciting moments at Nordcurrent? What have you been most proud of or looked forward to the most?
Victoria Trofimova
Lots of them! Signing the first development deal back in 2002, getting an official developer licence from Sony, publishing Falling Stars - our first game in Europe on PS2, licensing Fading Shadows to North America (our first US deal), getting 9/10 in Fading Shadows review from Eurogamer, achieving day-one shipments of more than 50,000 units of 101-in-1 Explosive Megamix in Europe, opening studio in Buenos Aires in 2007, etc. When something like this happens, you feel that all the hard work was worth it.