Amazon Android tablet announced
Kindle Fire priced at $199.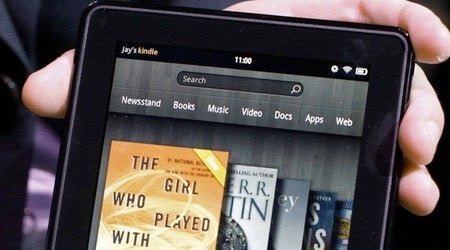 Amazon has finally taken the wraps off its rumoured Android tablet, aimed at taking a chunk out of the iPad market.
Announced at an event in New York earlier today, the Kindle Fire is a seven inch tablet with a dual-core CPU.
It's fully integrated with all Amazon services, including cloud saving support for your apps and games. It also expands on Kindle's WhisperSync technology, allowing you to wirelessly synchronise music and movies from compatible devices.
There's no camera, microphone or 3G wireless and it only packs 8GB of storage.
According to CNET, it runs an older version of Android intended for smartphones that's been tweaked specifically for the tablet. It boasts its own custom-made Amazon Silk browser for surfing the web.
The Kindle Fire arrives in stores in the US on 15th November at $199 (around £130). A European launch has yet to be confirmed.