Airplane Mode offers the window seat thrills of a six-hour commercial flight in real-time
Will be revealed during this week's Desert Bus charity livestream.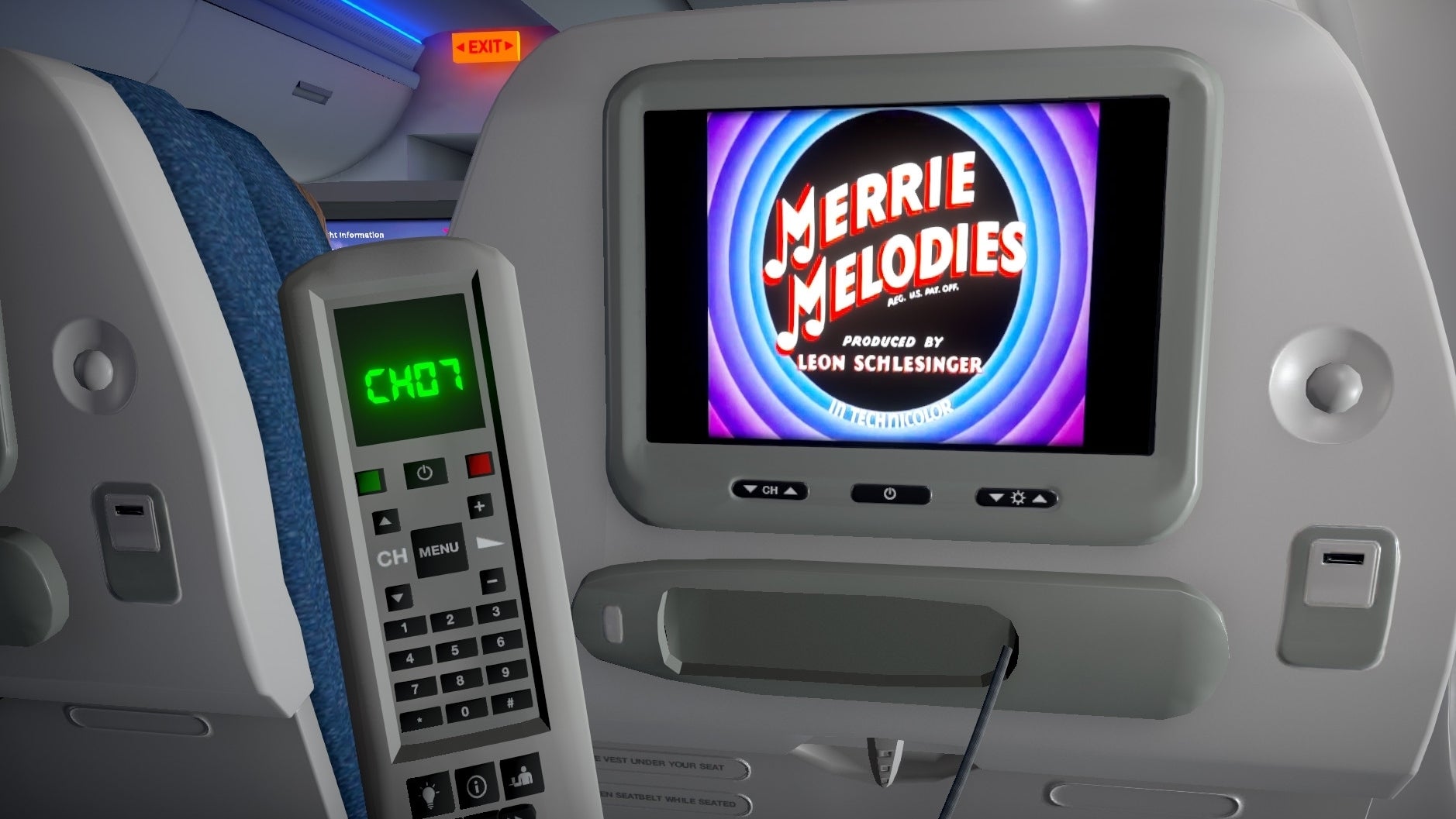 Developer Hosni Auji and publisher AMC have unveiled Airplane Mode, a game that promises to deliver all the mundane highs and tedious lows of a six-hour commercial flight in real-time.
From the comfort of your Economy Class window seat, Airplane Mode aims to offer the "most realistic flight simulation ever created". That includes the full taxi, take-off, and landing experience, cabin crew and fellow passengers, and authentic ambient noise. Each flight is randomised too, meaning that players will experience different events - such as delays, turbulence, bad wifi, and screaming babies - with each new play-through.
Thankfully, you'll be provided with a range of amusements to see you through to landing, ranging from a complimentary aircraft information card (and overhead reading light) to a fully functioning in-flight entertainment system - featuring a flight safety video, a journey tracker with "fairly accurate" satellite imagery of your flight path, and "hit movies of the 1930s". There's even a copy of Stratospheres magazine, containing articles, crosswords, and Sudoku.
And if that's still not enough to pass the time, you can delve into your carry-on luggage and fish out a book, a pen, your headphones, and charging cable. Or why not have a bite to eat, when the cabin crew serves up snacks, premium beverages, and full meal service?
Airplane Mode continues the proud legacy of, and was inspired by, other wilfully monotonous real-time video game experiences, such as Penn and Teller's infamous Desert Bus - in which players are tasked with driving a slightly defective bus for eight straight hours along a single strip of road between Tucson, Arizona and Las Vegas, Nevada.
As such, it's only fitting that Airplane Mode will get a more thorough unveiling tomorrow, 12th November, during this year's Desert Bus for Hope charity event, which once again sees volunteers gamely driving the nightmare bus for as long as possible. The Desert Bus for Hope 2019 livestream is now underway, and has already raised more than $393,500 USD in donations for Child's Play since this year's journey began last Friday.
An alpha build of Airplane Mode will be aired during the livestream some time tomorrow, 12th November, and the full game is scheduled to land on Steam next year.