Age of Empires Online waves goodbye after servers shut down
"All good things must come to an end..."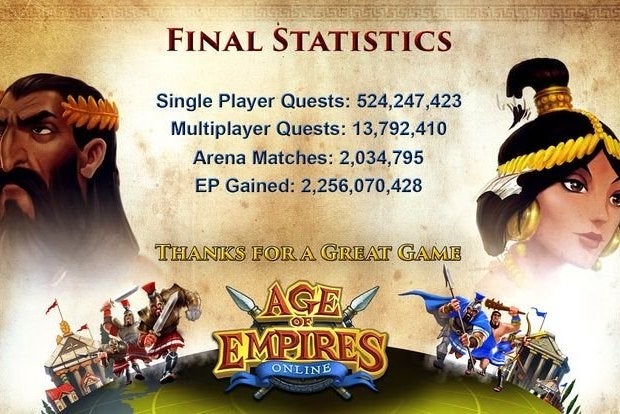 Last night strategy game Age of Empires Online waved goodbye to its players as its servers were shut down.
The servers were permanently shut down at 4pm Pacific Time (midnight UK time) on 1st July 2014.
AOEO was initially developed by Robot Entertainment, the studio formed from the ashes of Age of Empires creator Ensemble, but Total Annihilation developer Gas Powered Games (now owned by Wargaming.net) took over development duties in February 2011. The game launched in August 2011 and was published by Microsoft.
Development on AOEO ceased in January 2013 because, according to executive producer Kevin Perry, adding more content was no longer "cost effective".
In a post on the Age of Empires blog published yesterday, Perry thanked players for supporting the game. "None of this would have been possible, of course, without our friends and partners at Robot Entertainment and Gas Powered Games. They were the architects of the ancient world where we fought and played together. We were ambitious and risky with AOEO in a number of respects; some of these experiments worked, and some did not. As the saying goes, I do think that we ended up among the stars, most of the time.
"The most thanks, though, belong to you, the players of the game. It has been a pleasure and an honor serving you all. Thank you for the time you have spent with us, exploring all these little worlds together and conquering them for the glory of your Alliance and your Empire. Thank you especially for the times you spent with each other, in PVP matches, in co-op quests, and in the forums and the rest of the internet.
"Thank you for playing."
It had been thought that Microsoft would shut down the Games for Windows Live service alongside Age of Empires Online, but this is not the case.
Last month Microsoft said it would continue to support the PC games client, despite customers not being able to buy new games from the marketplace or receive title updates.
"We remain committed to investing in PC gaming in the years ahead, and look forward to sharing more in the future," Microsoft added.
What next for Age of Empires? In April 2014 Microsoft released Age of Empires 2 HD Edition, a re-release of the original developed by Hidden Path Entertainment, exclusively for Steam.
The HD Edition includes every campaign from the game's Conquerors expansion, online play, 1080p HD support and a new set of textures.