Acclaimed philosophical first-person puzzler The Talos Principle out on Switch today
Robots in Descartes.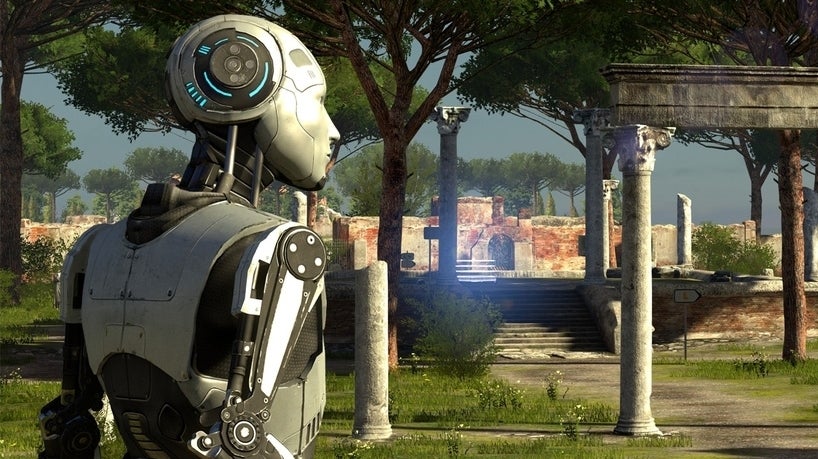 Serious Sam developer Croteam's superb philosophical puzzler The Talos Principle has surprise-launched onto Switch today, in its Deluxe Edition guise.
Originally released in 2014, the Talos Principle was something of an unexpected departure for Croteam, given that the studio's back catalogue consists almost entirely of first-person shooters. Despite being the developer's first foray into the world of puzzlers, however, The Talos Principle was a good 'un, combining smart spacial conundrums with a healthy dose of thought-provoking, philosophy inspired mystery.
Although the latter gives The Talos Principle its intriguing hook (and a surprising amount of soul), the first-person puzzling still shines. Over 120 challenges feature in the Deluxe Edition - the Road to Gehenna expansion is included - with each classical-civilisation-themed stage featuring a number of different puzzles that can be tackled in any order.
The basic goal remains the same each time, with players attempting to navigate maze-like courses in order to collect tetromino-shaped Sigils. Initially, most puzzles are build around the ability to move jammer units and disable the likes of enemy drones and forcefields. Slowly though, new elements are introduced, converging into some deeply satisfying tests of logic.
"Despite playing a robot that interacts with computer terminals and takes instruction from a disembodied voice in the sky, it exudes personality and charm, its mechanical precision complementing its aesthetic qualities," wrote Eurogamer contributor Stace Harmon in his 2015 review, "For an experience bereft of human contact it boasts a very big heart indeed."
The Talos Principle: Deluxe Edition is available now on Switch and costs £26.99/$29.99 USD.