A legendary shmup series is coming to Switch early next year
Darius lives.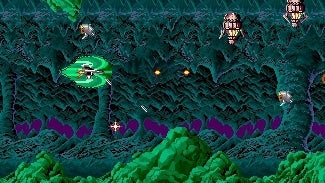 Taito's legendary Darius series is heading to Switch via a new compilation that's coming out early next year.
It's coming via the Darius Cozmic Collection, which comes in two flavours - a standard edition which bundles together the arcade versions of Darius, Darius 2, Sagaia and Darius Gaiden plus a Special Edition that contains all those plus a selection of console Darius games, with the Super Famicom's Darius Force and Darius Twin, the Master System version of Sagaia, the Mega Drive's Darius 2 and the PC Engine's Darius Alpha.

There's a bit of a catch there, though - the standard edition is listed at 5,200 yen, which roughly translates as £35. The Special Edition, though? That's going for a cool 16,800 yen, which is somewhere in the region of £115. It's an eye-watering amount, even given the artbook and soundtrack CD that's included - though it is worth considering that one of those games, Darius Alpha, is outrageously rare. Available only via mail order with a mere 800 copies in circulation, the PC Engine boss rush regularly fetches well over £1000 when copies do turn up.
Darius Cozmic Collection is coming out on February 28th for Nintendo Switch, and if you want to read up on what makes the series special check out this retrospective from back in 2014 - or perhaps invest in the brilliant Dariusburst, which came out on PS4, PC and Vita in 2015.