2D randomly-generated sandbox adventure Starbound secures over $600K in three days
UPDATE: It's now accrued over $1 million.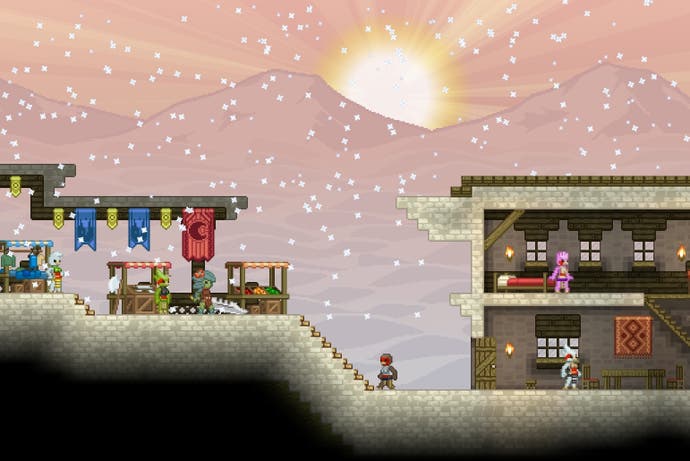 Update: Starbound has now passed the $1 million mark in pre-orders. Not bad for a small indie studio.
This guarantees a couple of new stretch goals. At $750K fossils, i.e. rare and valuable materials, were greenlit, and at $1 million developer Chucklefish is now able to add adorable pets to the mix as well.
The current tally is at $1,071,294.
Original story: UK indie developer Chucklfish's upcoming Terraria-esque 2D sandbox game Starbound has certainly captured the attention of a particular type of gamer, having raised over $600K in a scant three days.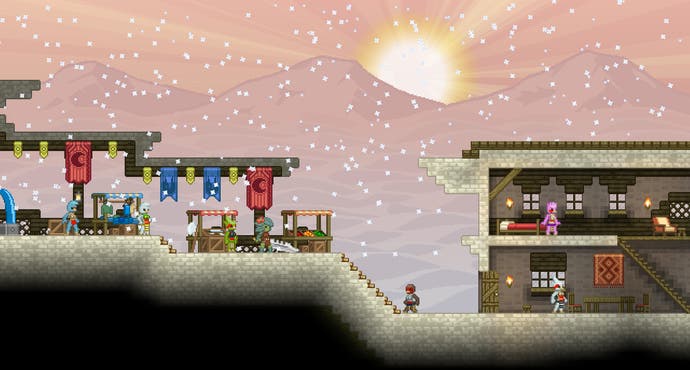 This is rather unusual for a small studio with no big names like Tim Schafer or Chris Avellone to hang behind it. Chucklefish is mostly known for Wanderlust, though it's also working with Robit Studios on Treasure Adventure World.
So what is Starbound, you ask? It's an ambitious randomly-generated story-driven sandbox game that sound like a cross between Terraria and Animal Crossing. It begins with players each landing on a mysterious new planet after fleeing their homeworld. Each planet will be completely different with several unique properties.
"We went into the planet generation with one simple goal: no two planets should be the same," wrote Chucklfish on its official site. "By procedurally generating even the smallest details, we're doing just that. Not only is the terrain of the planet procedurally generated, but the weather, the gravity, the difficulty level, the plant life, the behaviour and appearance of alien creatures, and much more all contain random or procedurally generated elements."
"Much like old school point and click adventures, absolutely every object in the world, right down to the trees and flowers, can be examined for a description," Chucklfish added.
As with Terraria and Minecraft, players will be able to adapt the environment to their liking. "Everything that makes a planet unique is at your command," explained Chucklefish. "Feel like changing the weather? Build a weather centre! Don't like the terrain? Terraform it! Every aspect of the planet is under your control. Once you're happy with it, start populating it with characters you've met in your travels and take care of them."
Simply constructing your own colony is only part of the package, though, as players will be able to travel the cosmos embarking on story missions and visiting other players' planets. This can be done solo or players can team up and galaxy-hop together.
Starbound doesn't have a specific release date, but Chucklfish is confident it can deliver a solid release sometime in 2013 on PC, Mac and Linux. $15 pre-orders will guarantee access to the beta, even if that doesn't have an ETA yet, while higher donations grant extra rewards like naming an NPC after you.
When asked about a console release, Chucklefish said on its FAQ, "After the PC release we'll see how viable a console release is, we'd love for as many people to get their hands on the game as possible."
Starbound has currently raised $621,780. Not too shabby for only three days, eh?