2010 FIFA World Cup South Africa
It's up for grabs now.
The World Cup may only come around once every four years, but when it comes to the associated videogame there's usually a sense of over-familiarity. EA Sports' FIFA games are the best football titles out there at the moment, but with updates already arriving annually, spin-off games specific to international tournaments are a bit like the Premier League's aborted "39th game" plan - an idea that seems to suit the stakeholders primarily, with only token concern for the fans.
2010 FIFA World Cup South Africa hopes to change that. As a World Cup game, it's defined to some extent by what it doesn't have (300 domestic clubs, most obviously), but EA Sports has compensated by drawing up several interesting and varied game modes, and uses the legendary status of World Cup shoot-outs as an excuse to rethink penalties.
Most importantly, it tweaks things on the pitch. Goalkeepers stand their ground rather than charging suicidally out of goal, and there are myriad interesting deflections to contend with, so it's harder to pass your way through midfield. Passing may prove divisive - there seems to be more "error" than before - but then aerial passing is now a practical aspect of attack, which is welcome. The referees have also calmed down, rarely blowing for harmless shoulder barges as they did in FIFA 10.
There are still weaknesses and potential exploits (when through on goal it's quite easy to move to one side of the goalkeeper and roll the ball into the opposite corner, and crosses from the by-line always seem to swing out of play), but new animations, tweaks to ball movement and a faster pace mean that World Cup is distinct from FIFA 10 without abandoning its best features.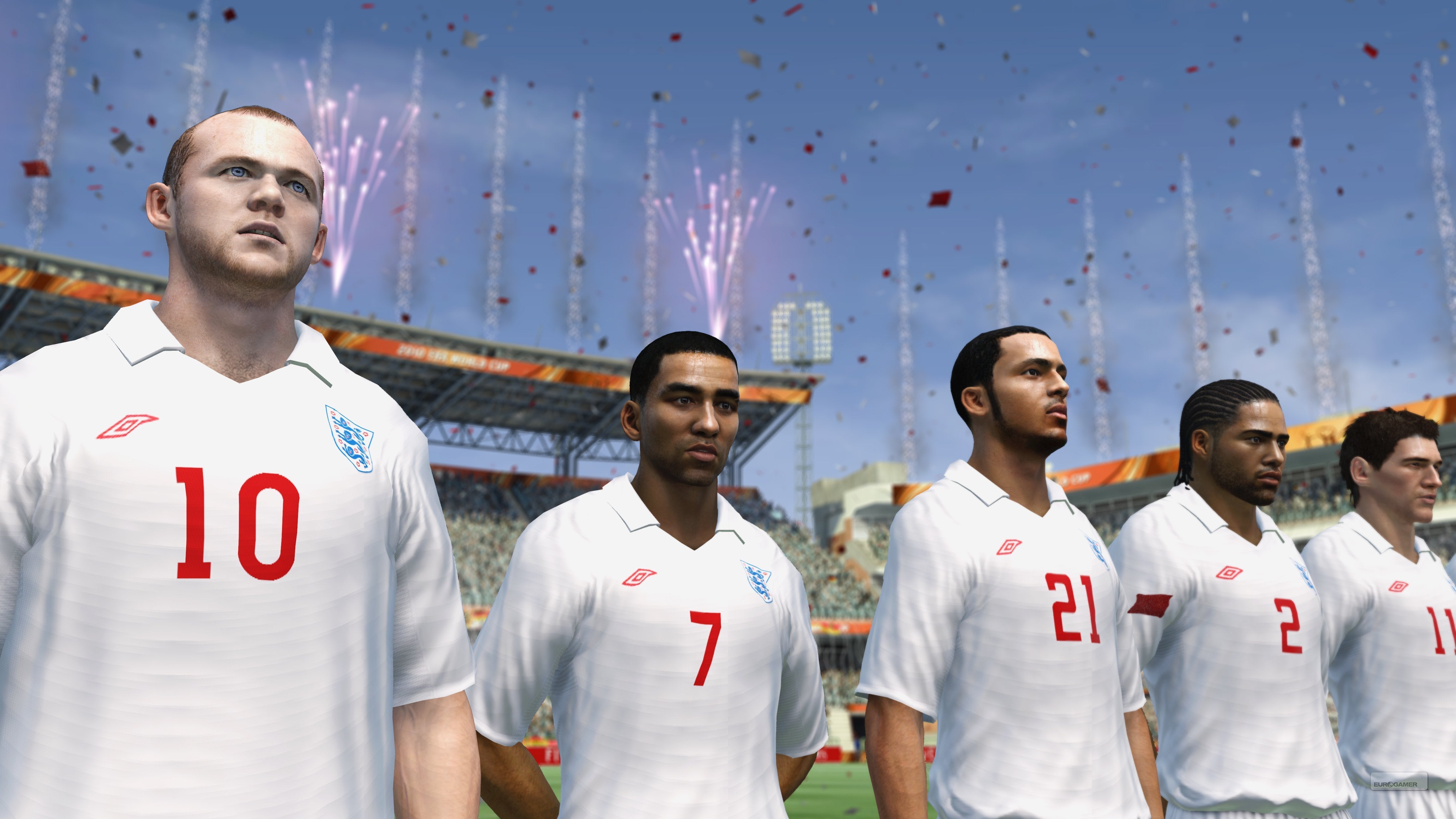 Most fans' first port of call will be the World Cup tournament itself. There's something jarring about new commentary duo Clive Tyldesley and Andy Townsend eulogising South African football stadiums they have presumably never visited, but the ticker tape, gorgeous lighting conditions and cutaways to anxious managers on the touchline and dancing fans make the most of the licence.
Commenting on EA Sports' slick presentation used to be a backhanded compliment, but in this case it's deserved. The result centre between matches enhances the feeling of continuity, and having latest scores filter through from other group games while you play is another nice touch. From naming your squad to lifting the cup, the ritual emphasises the right details and makes it easy to suspend your disbelief.
Not convinced? There are practical considerations too, like the way the game tracks form. For example, if Wayne Rooney begins the World Cup injured and the mighty Peter Crouch scores a few goals in his absence, it may suit you to stick with the little fellow even when Rooney is declared fit, as the Spurs and England striker's form may give him the edge.
The World Cup mode plays out with traditional control of the whole team, switching between players when you want, but Captain Your Country mode is closer to FIFA 10's Be A Pro and Clubs modes. You and up to three friends choose specific players to control and work together in the hope that your individual performances will catch the manager's eye and secure one of you the armband.
The game is supposed to acknowledge positioning, team play and individual skill by adding or removing points from your running total, but it often does things that make no football sense, like marking you down for an incomplete pass because your brilliant back-post cross eluded a team-mate.