You can get a GeForce 1050 Ti and an SSD for £160 at the moment
One day only.
If you feel like upgrading your gaming PC (or building an entirely new one) but have been waiting for the absurd pricing on graphics cards to calm down, you may have finally waited long enough. Ebuyer is offering a GeForce 1050 Ti right now along with a free SSD at a nice discount.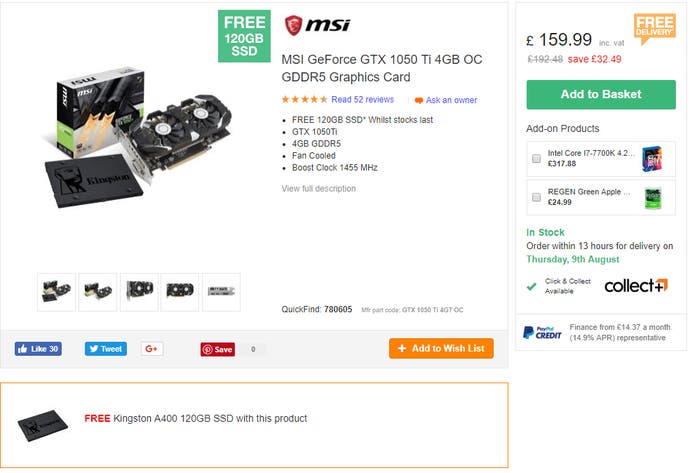 As it stands, you can get an MSI GeForce GTX 1050 Ti 4GB graphics card for £159.99, which is already a discount of £32.49. Then, as per a promotional offer from Nvidia, you'll get a 120GB Kingston SSD thrown in at no extra cost, which is a bit nice. Definitely not a bad way to start a moderately priced gaming PC build, if that's what you were after.
Alternatively, you could check out Amazon UK's current offer of an Asus Cerberus model GeForce 1050 Ti, which is down to £154.97 at the time of writing. It's a little cheaper but you won't be getting the SSD with that one.
The Ebuyer offer is one of a bunch of the site's Daily Deals range, where you can also get yourself a GeForce 1060 for £190, save £240 on an ASUS gaming laptop and more.
Meanwhile, over at Jelly Deals, you can take a look at the rest of today's best deals - including Dead Cells for £12.26, a 12-month membership to PlayStation Plus for £35, a Doom and Wolfenstein 2 bundle for under £19, and more.