We've got beta keys for Chronicle: RuneScape Legends
Come and get one!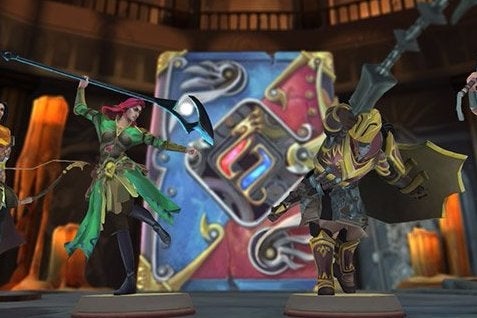 Over the next few weeks, you're likely to receive a number of cards that will be rifled through for gifts of currency and then unceremoniously tossed aside. This year, we've decided to buck the trend by giving the gift of cards that you'll actually use.
Chronicle: RuneScape Legends is an upcoming collectible card game from Jagex, featuring turn-based gameplay with heroes and characters appearing from its long-running online game, RuneScape. Strategic deck construction and clever hand-playing is the name of the game.
The game isn't due for full release until sometime next year, but thanks to the folks at Jagex, we're giving away a limited number of keys which allow instant access to the closed beta. The beta is on Windows PC only at the moment, although Jagex is looking to bring the game to Mac, Linux and mobiles next year.
Our giveaway is first-come, first-served; to collect a key simply visit our Facebook page via the widget below (no Facebook account or log-in required). We would be delighted if you also felt like sending a festive "like" our way, but that's up to you. Enjoy!
Eurogamer.net Chronicle: Runescape Legends Beta Key Giveaway