Warframe's Fortuna update won't repeat "super intensive economy" of predecessor, dev says
Hoverboards! Robot bird pets! Fishing!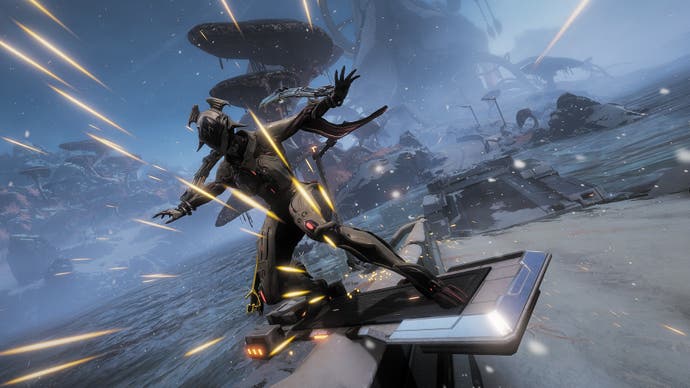 For a certain group of space ninja enthusiasts, few things will be as exciting as the upcoming Warframe update. Fortuna - the game's next open world expansion - is due to land on PC pretty shortly. This November, in fact.
For those a little out of the Warframe loop, Fortuna is a Plains of Eidolon-esque update which allows players to explore the planet of Venus in an open world environment. Fortuna itself is an underground city inhabited by the Solaris: body-augmented workers indebted to the Corpus, who are (as usual) up to no good on the planet. Players will also be able to explore the terraformed snowy above-ground environment (the Orb Vallis) by hoverboard on vehicles known as "K-Drives"), and even stop off for a spot of robo-fishing. And let's be honest, it's all about the fishing.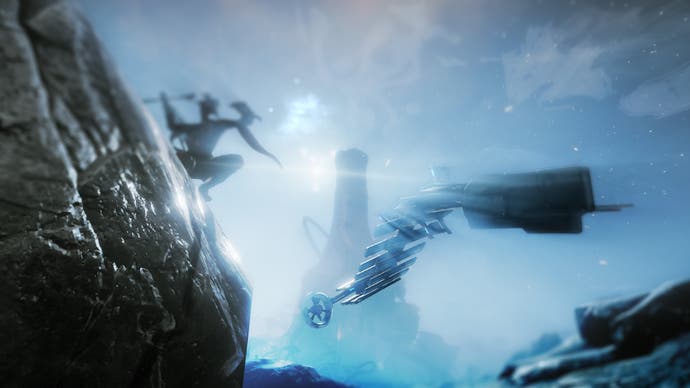 As a new player, when I first encountered the Plains of Eidolon (PoE) update - Fortuna's sister expansion - I found it was somewhat difficult for beginners to understand exactly what was happening, particularly in comparison to the simplicity of Warframe's closed levels. While PoE was a beautiful and exciting place to explore, vast swathes of the plains did sometimes feel a little empty, while some players complained the grind was too extreme, even for a free to play game like Warframe.
Fortuna should avoid some of this, as beginners won't be able to access the area quite as quickly as PoE (access to Fortuna requires unlocking the Venus junction first, for instance). But I was still intrigued to see whether the new update could avoid some of its predecessor's problems.
In a private press Q&A session, Digital Extremes told Eurogamer it had designed Fortuna to have a lighter grinding load. "We're definitely not going to launch with the same resource imbalance, we're definitely cutting back," community manager Rebecca Ford said to me. As a free-to-play game, Warframe is "never going to not have grind," Ford continued, but the Digital Extremes team was working to "make sure [it] didn't repeat the super intensive economy" of PoE.
In answer to another question on making Fortuna feel more rewarding, Digital Extremes said it hoped to achieve this through new items such as kit guns (currently only for secondary weapons, but this may change in future), and MOA pets, which will both require resources from Fortuna to craft.
Gaining standing with factions, meanwhile, is something Digital Extremes hopes will be more "flavourful" in Fortuna than PoE. Although standing will still be gained primarily through bounties, there's also a slightly new angle to the story. "There's an NPC who's codenamed 'The Ticker' and he has a manifest of Solarans who you can relieve from debt," Ford stated in response to a question on the subject. In the private demo, we were also shown a K-Drive race challenge which allows players to soar through spheres of glowing light and grind rails to gain standing with the Vent Kids faction. Talk about street cred.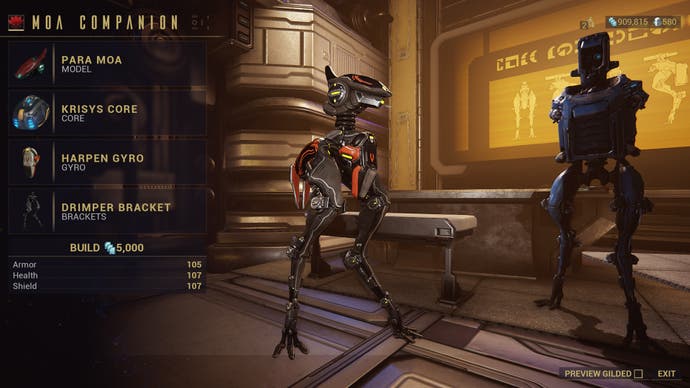 When I asked whether Fortuna will avoid some of the emptiness of PoE, meanwhile. Digital Extremes said "it depends".
"We have added the ability to do bounties from within the world itself, which is a huge player demand," Ford explained. "With PoE once you did your bounty you had to walk back to the gates, go back inside, get another bounty and go back out." According to Ford, Fortuna will instead have NPCs dotted around the surface world of Orb Vallis to make it "feel more seamless". Thank goodness - that will help save my pinky finger from all that bullet jumping back and forth.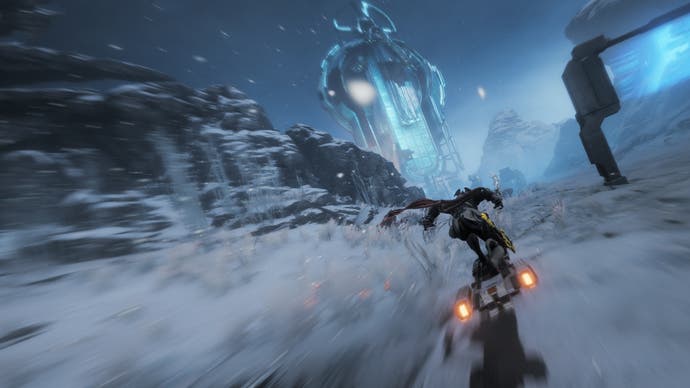 It also sounds like Fortuna will be given extended support with a careful update plan, as some of the features - including the giant boss spiders (equivalent to PoE's Eidolons) - will not be immediately available at launch. The spiders are due to wake up in a later update "anywhere from two weeks to a month after". The reason for keeping them temporarily dormant is to sustain interest in the update post-launch, but it also seems Digital Extremes wants to spend more time on development to make the spider boss fights "awesome". Similarly, Garuda (the new Warframe) may also appear a little later on. Digital Extremes is still deciding whether to give her a questline, which could delay her release slightly.
So what else is coming in future? Earlier this year at Tennocon, Digital Extremes teased another new update called Railjack which sees player engage in cooperative spaceship battles. Imagine working on the Enterprise in Star Trek, but as a futuristic space ninja. Unfortunately Digital Extremes does not yet have any news on when this is coming out (I did check), but the developer does plan on expanding into new forms of gameplay and open world environments. Ford hinted she was well aware which planet would be next to receive an expansion, although it feels like it may be some time before we see it. Ford also vaguely hinted she'd like to see "live lore-building events" within Fortuna, which could come in future updates.
Along with Warframe's release on the Switch, it's set to be a busy few months for Digital Extremes. From observing the Fortuna Tennocon trailer, devstream 118 and the latest press demo, it's safe to say Fortuna will provide players with new features and places to explore in a dazzling winter environment. If anything, it's perhaps a little too detailed - as cave entrances are so well hidden they're difficult even for the developers to find. But Digital Extremes seems aware of what worked, and what didn't, with PoE - and with that in mind, Fortuna looks like it could be a significant improvement. Least of all, because I can crouch with my MOA pet. Goals.