Wallace & Gromit's Grand Adventures
Dave Grossman talks to us exclusively about Telltale's latest.
If you're not doing anything on 25th December (although it does ring a bell), you could do worse than spend an afternoon on the sofa with Wallace & Gromit in The Curse of the Were-Rabbit, if not half an hour in the evening watching the incurable tinkerer and his mouthless hound in the UK premiere of A Matter of Loaf and Death. "Hugely funny, fantastically inventive, warm, witty and just wonderful", according to the Radio Times, it's the fourth W&G TV short, and if the other ones are anything to go by, it'll be rich with jokes for old and young, packed full of silly references and baffling contraptions, and another reason to be thankful for Nick "Academy Award" Park in a world of Pop Factors and Strictly Come premium-rate phone numbers.
This time next year though, you'll also have the option to join in. Telltale Games - arguably the only western developer to have mastered episodic adventure games - is currently hard at work on Wallace & Gromit's Grand Adventures, where you'll control both characters, and the American developer's preference for short, story-driven episodes that combine to tell an overarching story should be an ideal fit for Park's evergreen characters. Due out on PC and an as-yet unannounced console (after Sam & Max and Strong Bad, our money's on Nintendo Wii), Grand Adventures will follow a regular release schedule in 2009 and presumably culminate in a boxed-up collection toward the end of the year.
"You're welcome!" says design director Dave Grossman, when we thank him for making a Wallace & Gromit game that isn't about shooting monsters in the face in a post-apocalyptic American city. "We love Wallace & Gromit as well. There are a lot of fans here at the studio, which is why we flew to England en masse and camped outside the doors of Aardman Animations until they took pity on us and told us we could make a series of games... We also had to pitch stories and show them visual samples to convince them we'd be able to make the characters look and feel right, but it was worth the effort. Wallace and Gromit are rich, charming, funny characters, and you're right, they're naturals for the kinds of games we make."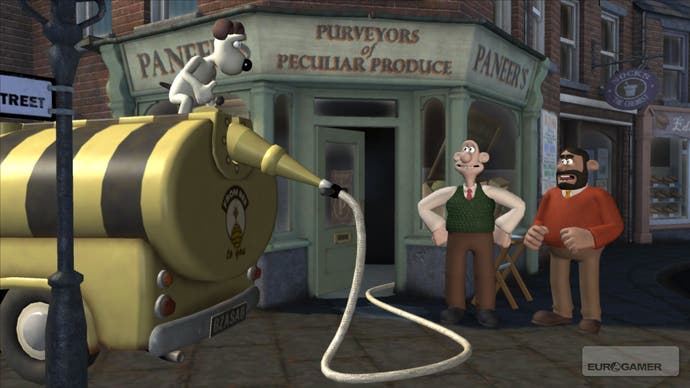 While Aardman gets final say on the script, Telltale's attacked the material with typical enthusiasm, producing a story that encompasses "some new entrepreneurial ideas from Wallace, unintended consequences, Gromit saving the day, Wallace saving the day (no, really!), dastardly villains, colourful locals, romance, kidnapping, chase scenes, camaraderie, and Wensleydale", says Grossman. We're also promised all manner of new and loony contraptions. "Wallace is forever coming up with more elaborate ways to drive a nail, and he naturally continues to do so throughout this series. Several of the new inventions have to do with food for some reason, including one that scans the molecular structure of common objects and makes ice cream flavoured to match." As for those chase scenes, a couple of contraptions can be ridden upon, "and there is one which is worn on the head". Correct. "Pandemonium is caused, resulting in an air raid and at least one arrest by the local constabulary."
In and around that, Grossman says the team has continued to refine its storytelling and placed greater emphasis on non-player characters, who are now actively engaged with the player and his or her actions whenever they're nearby, rather than waiting to be summoned with a mouse-click. "Interacting with them, one feels that these are scenes based on characters, rather than character inhabiting scenes," says Grossman. "And in addition to their relationships with Wallace and Gromit, they also have complex, evolving relationships with each other. The characters in Grand Adventures are our liveliest yet."