Video: Far Cry 4's Shangri-La has demons, spirit tiger, red everywhere
Plus more from Outside Xbox.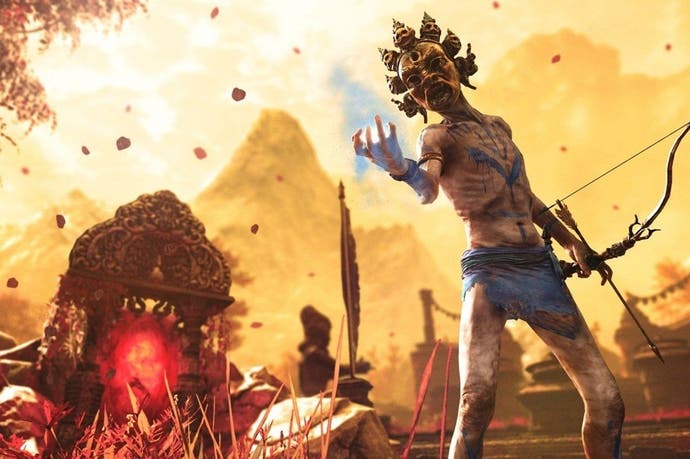 Hello, Eurogamers! Welcome to your weekly selection of videos from Outside Xbox, where this week we've focused on job efficacy. Take the legendary Kyrati warrior you play as in Far Cry 4's Shangri-La side missions, for instance, he's very good at what he does. He slows time with his bow and arrow, sics white tigers on demons, and spins prayer wheels to restore peace and good times.
The developers of Far Cry 4 won't be drawn on whether this legendary warrior of Shangri-La is a distant ancestor of Far Cry 4 protagonist Ajay Ghale but the chances are good, say we.
Much less effective are the subjects of the next video. For these characters, the knock-on effect of being rubbish at work were far-reaching; without them and their uselessness, some of our favourite videogames would never have happened.
Did you know the entire Resident Evil series can be traced back to two Umbrella commandos being bad at their jobs? Or that all of Grand Theft Auto 5 is down to the shoddy work of Michael's wife's tennis coach?
Finally, someone else doing a bang-up job this week is the PR team of Destiny publisher Activision. Destiny arrived this week aboard a glorious hype train bedecked with newspaper stories about how it cost $500 million to make. Show of the Week puts Destiny in the dock to see if it lives up to its early promise, then takes on all-comers in the game's player-versus-player Crucible multiplayer mode.
For more, visit us at outsidexbox.com or stop by our YouTube channel for videos like these every day. See you next week.