Two Call of Duty: Warzone cheaters banned on Twitch after Mara actress calls them out
Good recon.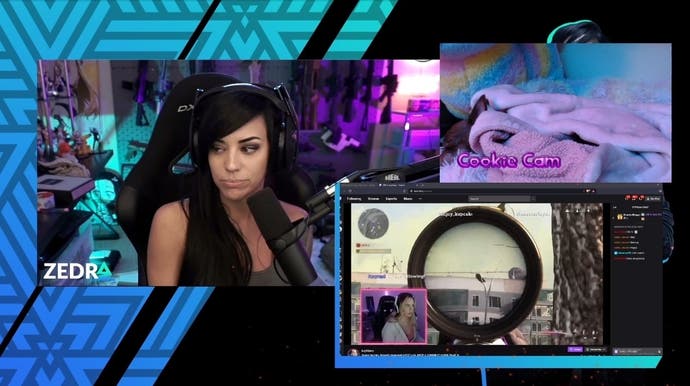 Two Call of Duty: Warzone cheaters were banned on Twitch after the actress behind in-game character Mara called them out on Twitter.
Mara is a Warcom operator character in Call of Duty: Modern Warfare and Warzone who was released as part of the battle pass during the first season of Infinity Ward's shooter in December 2019.
The actress behind Mara is Alex Zedra, who took to Twitter to expose two cheaters - a boyfriend and girlfriend couple - who were using aimbots in a Warzone tournament played on Friday, 12th March.
Zedra was alerted to the suspicious gameplay after hosting one of the streamers in question at the end of a Twitch stream of her own - and copied Twitch into her tweet alongside gameplay.
The clip show quite obvious cheating in Warzone, and it didn't take long for others to unearth incriminating clips of gameplay from her boyfriend, too.
LANGUAGE WARNING IN THE CLIP BELOW:
Both their channels are now listed as suspended, and it appears both have deleted their Twitter accounts. Zedra later thanked Twitch for acting quickly.
Warzone has a reputation for cheating, of course, which has dogged the phenomenally successful battle royale since it launched in March 2020.
Despite Activision's best efforts, cheating persists in the game - and it even causes some console players to disable cross-platform play in a bid to avoid PC cheaters.
Last month, Activision said it had banned 60,000 accounts for cheating in Warzone, and that it had issued more than 300,000 permabans worldwide to accounts since launch.
The news followed increasing pressure from the Call of Duty community, and came soon after two high-profile Call of Duty streamers announced they had quit the game over cheating.
Activision faces an uphill battle against Warzone cheaters - and it is a war that spans many games. It's anti-cheat effort is ongoing with Warzone, Black Ops Cold War and Modern Warfare, and will no doubt continue with the release of subsequent games in the Call of Duty series.