There's a post-apocalyptic new Far Cry coming, judging by its first teaser trailer
To be fully revealed at this week's Game Awards.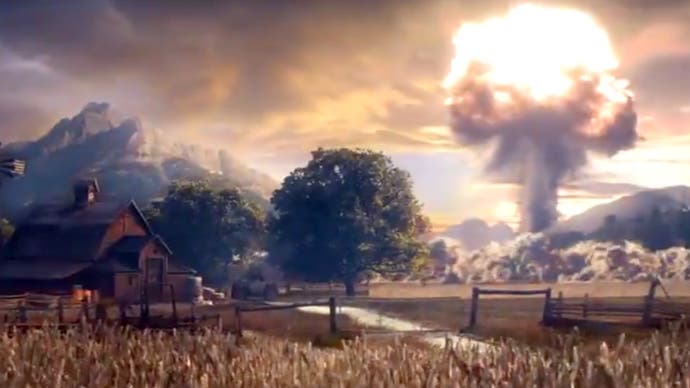 Ubisoft has teased what appears to be a post-apocalyptic new entry in its long-running Far Cry series, and there's a full unveiling scheduled for this week's Game Awards.
Far Cry's new instalment hasn't been given a name just yet - although it's probably safe to assume we'll get one before the week is through - but it has received a surprisingly lengthy teaser trailer ahead of its full reveal.
While the trailer doesn't exactly confirm what's in store for the next Far Cry, there's more than enough in there to be able to make some solid guesses. Indeed, it begins with a an establishing shot that looks an awful lot like Far Cry 5's rendition of Montana - a picturesque landscape that barely lasts a few seconds before it's obliterated in a nuclear explosion.
As anyone that's completed Far Cry 5 will know, [BIG SPOILERS START HERE] the doomsday cult at the centre of Far Cry 5's narrative is vindicated in the game's "good" ending, when the long prophesied apocalypse actually does occur, via a nuclear strike [SPOILERS END HERE].
There's a voiceover accompanying the teaser trailer's pretty images too, which gives us more than enough clues to connect any remaining dots. "None of us were ready for the end," the gruff narrator explains, "the flames devoured everything. And when death rolled through our valley, our world turned cold and dark. The years of rain, the howling winds, gave way to blue skies, and a new world in bloom. We felt hope. We were wrong."
All of which combined would strongly suggest that we're getting Montana post-apocalypse for the next Far Cry instalment. And it's probably not going to be a fun time for any of the characters involved, given that the teaser ends with someone scavenging in a meadow, then cobbling together an angry looking weapon out of some rusty metal and a discarded circular saw blade.
Ubisoft says we can expect the "world premiere" of the next Far Cry, which I'm assuming won't be called Far Cry 76, during the upcoming Game Awards. For us in the UK, things kick off at 1.30am on Friday, December 7th. Damn timezones.