The soul-destroying Call of Duty: Black Ops 4 Black Market grind just got a lot faster
The Hundred Years' War.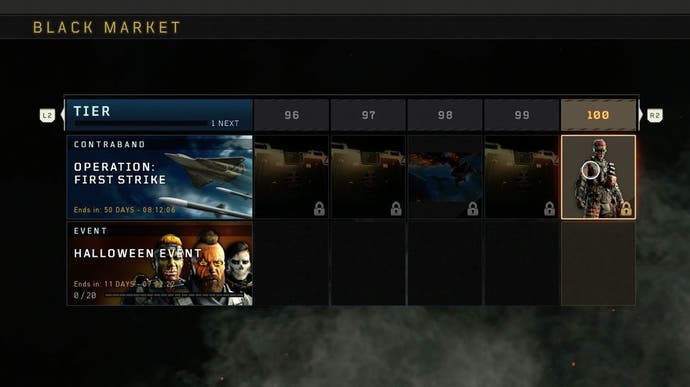 Treyarch has issued an update to Call of Duty: Black Ops 4's tiered progression system to make it faster.
The time-limited Black Market, which is live now on PlayStation 4, challenges players to progress through 200 tiers, unlocking a raft of cosmetic items such as sprays, emotes, outfits and characters as they go. Progression is based on time played, as opposed to performance, so you simply unlock items as you play.
But progression since launch has been painfully slow. Players investigated how long it would take to hit level 200 in the 52 days the Operation: First Strike event runs, and worked out it would require an average of around 23 games played a day. That's about eight hours a day - until the contraband event ends.
It turns out, the earn rate for unlocking Black Market tiers wasn't working as Treyarch intended. In a post on r/Blackops4, the developer said it changed the game to rebalance the system across all modes, but stressed this was an ongoing process to get progression to exactly where it needs to be.
The upshot is, as of today, players earn tier progression faster and more consistently across all modes of play in Blackout and multiplayer. Treyarch also signalled it will add online earn rate accelerators and challenge-based and event-based tier skip rewards that will layer on top of the base earn rate at some point in the future.
All this is welcome, and early reports indicate the earn rate is indeed significantly faster.
Meanwhile, Treyarch said it had completed the first phase of planned changes to network performance, after players found the server send rate was lower at launch than it was in the beta.
"We are carefully monitoring overall performance to ensure that these updates are working as expected before completing the next phase of updates," Treyarch explained.
"It's important that we roll out updates in a carefully staged process, as changes to networking infrastructure can potentially produce both positive and negative effects, and we need to monitor every update closely. The stability and performance of the game for the entire community is always our top priority, and we're continuing to work to sustain the smooth performance of the game's launch throughout its opening weeks."
All in all, it's good work from Treyarch, which has been quick to issue updates and keep players in the loop about a raft of issues affecting what's otherwise been a solid, smooth launch for Call of Duty: Black Ops 4.