The Science of Just Dance
From the archive: What made a throwaway party game on Wii a Modern Warfare-beater?
Every Sunday, we pull something out of the Eurogamer archive that you may not have read at the time or may have forgotten about. Today's piece was published a couple of months prior to the release of Just Dance 2, on 6th August 2010, as Ubisoft's unlikely Wii title from the previous Christmas continued to rock the game sales charts, and offers an insight into how the French publisher reached such giddy heights.
A meeting room in the belly of a Parisian office block: Ubisoft producer Florian Granger stands to his feet to address a group of serious-looking, middle-aged men. These are some of the company's most experienced game designers, artists and coders, veterans of Ghost Recon and Red Steel campaigns, architects of solemn videogames about war and tactics, strategy and death.
Granger's job? To reveal the next assignment the assembled group will be working on. The project? A Wii game. A Wii party game. A Wii party game based almost entirely upon a mini-game that first featured in another Wii party game, months earlier. A Wii party game that, within 18 months of this meeting, will have gone on to sell three and a half million copies and knocked the record-breaking Modern Warfare 2 from its top spot in the sales charts. A Wii party game whose instruction manual also happens to also be its name: Just Dance.
"You'd think the team would have been cynical about the project," explains Granger. "There was a flood of casual games coming out for the Wii at the time, all offering the same-old experiences with no innovation or real attention paid to the player experience. But there was immediately a sense of excitement within the group. I think that was because the codebase for the game was already proven, and the games we were looking to learn from and build upon were respected titles like Dance Dance Revolution. Our reference points were authentic."
Just Dance began life as a music mini-game in the Raving Rabbids series on Wii, in which the player used the Wii Remote and nunchuk to 'dance' in time with a piece of music. Gregoire Spillmann, Just Dance's creative director, enjoyed the mini-game, but wanted to explore what would happen if you removed nunchuk and strict Rhythm Action gameplay and allowed the player to dance more freely.
"The term 'dancing game' is usually a misnomer," he says. "More often than not you're not being asked to dance so much as push buttons - either on a dance mat, plastic peripheral or controller - in time with the music. Our concept was to inspire people to overcome their inhibitions and encourage them to actually dance. If you look at a game like Dance Dance Revolution, advanced players will often adapt dance moves to fit gameplay. We wanted to come at the game from the opposite approach, and fit the gameplay to iconic moves, ones that can then be taken by the player, and used beyond the game.
The way in which the Just Dance team achieved this effect was in direct contrast to the prevailing trend in music games, which increasingly employ complicated, expensive and lifelike peripherals to act as a bridge between player and game. "For what we wanted to achieve, peripherals were a distraction," explains Spillmann. "In order to encourage players to be free we had to reduce the amount of hardware the game required them to use to a bare minimum.
"We forced ourselves to achieve a meaningful level of rhythm and movement detection using the Wii Remote alone. We wanted complete freedom of arms and legs, so the idea of using nunchuks, elastic bands, leg straps or balance boards was thrown out at an early stage. We play-tested extremely hard right from the start, and this was the message coming back to us. The player is the best indicator; they know what they like and what they don't like so if you listen carefully, they'll guide you to make the right design choices."
In the case of Just Dance, the right design choice seemed to be the simplest design choice. I ask Granger how a team with so much experience was able to reconcile their ambition with the feedback they were receiving, to introduce fewer features and complexity.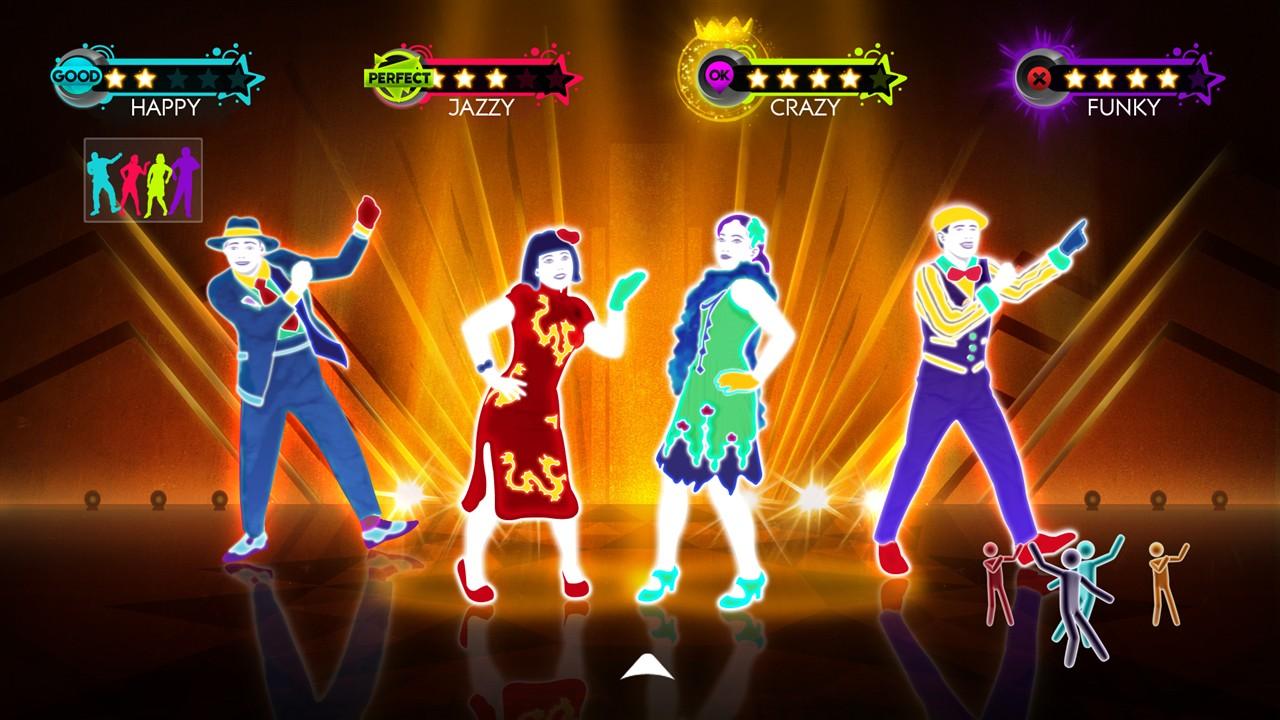 "From the start the entire team believed in the simplicity of the game," he explains, "so there was no contradiction between Ubisoft's desire to make it a game for everyone and our designers' own personal ambitions. In truth, making 'simple' games should be the highest ambition of any game designer, if by 'simple' we mean stripping a game back to the pure essentials where any person from any walk of life can experience something fun and engaging.
"That brief hardly represents a compromise. Also, making a game simple and accessible doesn't mean forgoing making it rich and deep. Those factors can all coexist happily, and that's something we were aiming for in Just Dance, at every stage of development."
If Ubisoft's ambition was to create a universally accessible experience, its success is near unrivalled, certainly in raw terms of last year's videogame sales. I ask Granger whether he puts the success of the game down to its soundtrack, supermarket-happy price point, or something else.
"I think there are loads of reasons why the game has been so well received. It might sound like a cliché, but it really does offer a unique dancing experience in it promotes communal, authentic dancing, rather than merely stepping in time. The tone of the game is fun too. We don't take the presentation too seriously, and I think players respond to that well, especially when we're asking them to do something as extroverted as dancing.
"Everyone remembers going to a nightclub or school disco where it takes a couple of hours before anyone has the bottle to get up and dance. Most guys do the fix-placed-beer-bottle dance or neck-shake to the beat. Everything in Just Dance is designed to sidestep those natural inhibitions. That's achieved partly by having the focal point of the screen for people to focus on, so they don't feel like they're being watched, but also in giving players a constant stream of new moves to learn, we're building up a vocabulary for people, and by having a dancer on screen to follow, giving them permission to try out that language in a safe context.
"After a few goes, when you've learned the basics, you get a little more adventurous and start to move around the room and checking at your fellow dancers. But by then, you're at ease and just enjoying the fun of dancing. Dancing with someone has this weird effect: it's like you know him or her in an intimate way or share a secret together somehow. People respond to that feeling too, as it's a unique thing in videogames."
In the light of this impassioned defense, I ask Granger how much is really going on in the Just Dance's code. Does the game really track player movements? Or is the scoring all smoke and mirrors, designed to give the player the illusion that the game is monitoring more that it really is able to?
"We have built in a certain amount of leniency into the rhythm and precision detection, but to say that it's smoke and mirrors simply isn't true. We have constructed symmetrical movements using natural body dynamics to identify how well someone is playing even with just one controller. We look at the Wii remote as an extension of the players' hands and body.
"At first we used the nunchuk as well, but found that the wire would hit you in the face and that you lost that sense of freedom you want when dancing. The system we use takes into account the way you move, dance and handle the Wii Remote to offer more precision in the detection frames. This is seamless for the player, but it takes a lot of work to enable the proper detection through a single input device."
The game features a DDR-esque scoring system, measuring the player's performance on a wide variety of factors. I ask Granger whether a better player will always beat a poorer player, or whether the machine can be duped by flailing arms and raw energy. "No way. If you pick up the moves and hit the beat, your performance will be scored accordingly. A better dancer will always beat a poorer player. If you want to be in time and accurate, you have a much higher chance if you follow both arm movements and keep the rhythm with both your lower and upper body. So essentially, you're better off doing what the dancer is doing... Otherwise you will find the transitions difficult to match."
Neither man was willing to discuss the budget for Just Dance, nor how that might have ballooned for its forthcoming sequel, nor the royalty arrangements that the team members may or may not have enjoyed. But it's clear that, having tapped into something so popular, Ubisoft is keen to invest and build a franchise, especially in the face of a slew of me-too copycat titles from rival publishers.
As such, the team size for Just Dance 2 has been increased from 34 to 58, and a slew of new features have made it into the game, with downloadable content compatibility, new game modes and more accurate detection expanding the game in ways beyond its track list.
But despite the promise of these new features, Just Dance continues to have a hard time convincing hobbyist gamers of its worth, typically being dismissed as a lightweight, throwaway party game, a subject unworthy of serious discourse. "That always makes me laugh," says Granger. "The entire videogame industry was founded on games made by lovable nerds that were, initially at least, enjoyed by everyone. I remember my friend's dad spending hours with us on 'Pong', refusing to give up the controller even when he lost.
"Of course, I appreciate where critics are coming from but it can be easy just to dismiss this type of Wii game out of hand. In truth, no player, no matter how inexperienced they are, is duped by poor design. Good game design is good game design whether you've been playing games all your life, or just for the last 20 minutes.
"'Casual' gamers, if we have to call them that, are much more educated and demanding of what they are want to play than 'hardcore' gamers give them credit for. And, it might sound obvious, but it's worth repeating: graphical fidelity, and the power of hardware itself is not what makes a game fun or not. The number of polygons is not what makes you laugh or cry: it's the substance and creativity behind a game that holds its worth."