For the first time ever, Messi and Ronaldo have the same rating in FIFA
Neymar arguments, okay?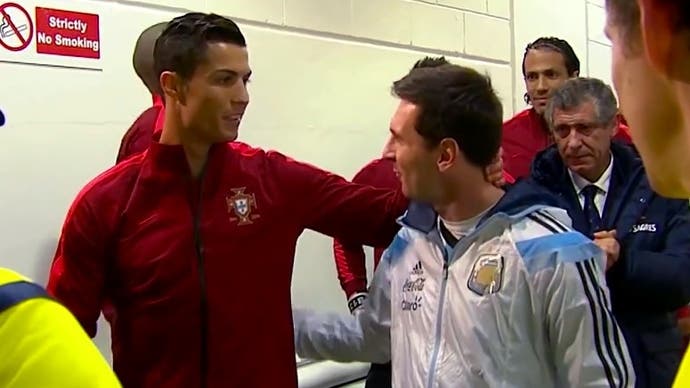 EA Sports has announced the top 10-rated players in FIFA 19, and Lionel Messi has the same overall rating as Cristiano Ronaldo - a first for the series.
Both players have dominated the FIFA series, as you'd expect, with both occupying the player ratings top spot at various points. But never before have both had the same overall rating.
This year both Messi and Ronaldo, considered by many to be the two best footballers to ever play the game, are rated 94. In FIFA 18, Messi was rated 93, one point behind Ronaldo.
Ronaldo retains his 94 rating as FIFA 19 cover star and a big money move to Juventus. Here's the official blurb:
"The FIFA 19 cover star's career has been packed with awards and trophies, but after his high-profile move to Juventus this season, it's clear that Ronaldo isn't done racking up silverware. The Portuguese forward continues to play like the world's best, and his ratings are evidence of an astoundingly talented player. Ronaldo beats defenders left and right when attacking, burning them with his 90 Pace and bamboozling them with a 90 Dribbling rating. But the most complete forward in football stands above the rest with a 93 Shooting rating, evidence of a natural finisher who puts away more chances than he misses on a regular basis."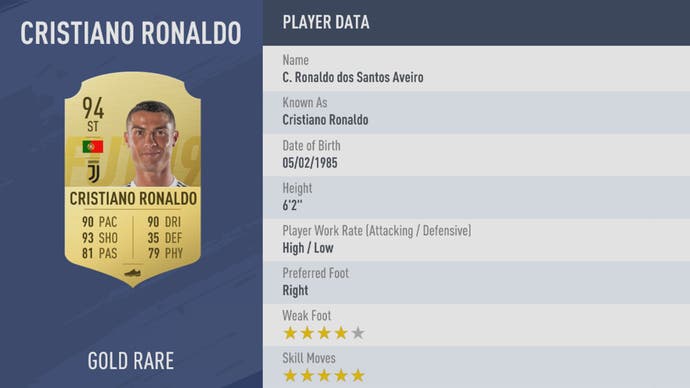 As for Messi, he's enjoyed a one point bump to his overall rating. Here's his blurb, from EA Sports:
"Still going strong after years of breaking records and winning trophies, the Argentine attacker is undoubtedly one of the greatest to ever play the game. Messi's talents and skills make him extremely versatile; 96 Dribbling shows why his technique is the best in the world, and his 88 Passing rating gives him a playmaking ability that few others even come close to. Combine that with the 91 Shooting rating and it's easy to understand why Messi has broken nearly every possible goalscoring record. It all adds up to the recipe for a true football legend."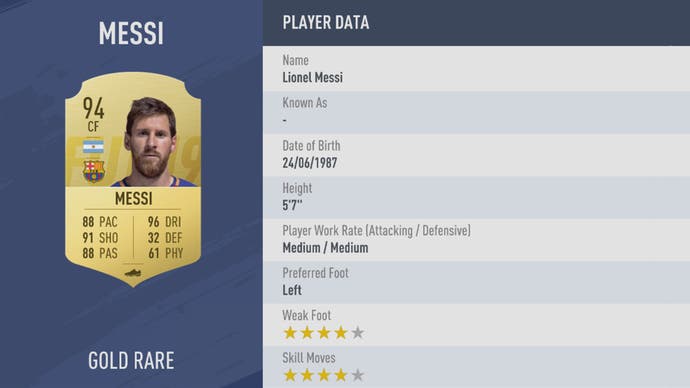 Elsewhere, Bayern Munich striker Robert Lewandowski, Milan forward Gonzalo Higuaín and Bayern keeper Manuel Neuer drop out of the top 10. Replacing them are Manchester City midfield maestro Kevin De Bruyne, Real Madrid star Luka Modrić and Manchester United keeper David de Gea.
Here's the top 10:
Ronaldo
Messi
Neymar
Modrić
De Bruyne
Hazard
Ramos
Suarez
De Gea
Kroos
The top-rated Englishman is Spurs striker Harry Kane, who has enjoyed a post-World Cup ratings bump to 17th place at 89 (the only other Englishman in the top 100 is Manchester City's speedy winger Raheem Sterling, who is 97th and rated 85). You can see the whole top 100 in our big FIFA 19 player ratings list.