The man behind 1080° Snowboarding is working on a spiritual successor
A potential 100 players together and full snow simulation? We're onboard.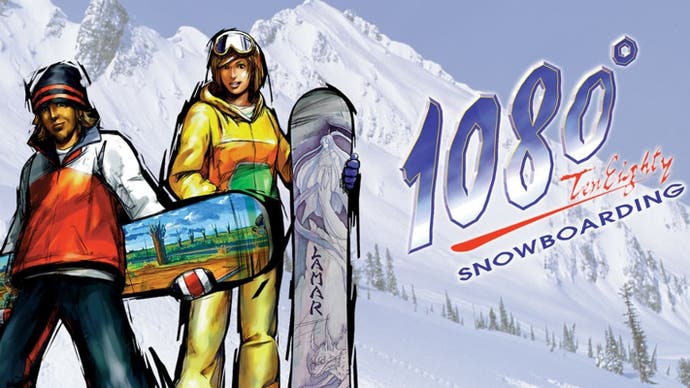 Giles Goddard, alumni of 90s Nintendo, one of the first western employees within the company's Japanese dev team and a key figure behind the original 1080° Snowboarding, has begun work on a spiritual successor. And it sounds pretty amazing.
Goddard's been working on a prototype for a while in his spare time, starting with a VR-focussed effort in Unity and more recently switching over to Unreal Engine for a more traditional third-person take as production has ramped up. The new game looks to double down on what made the original 1080° Snowboarding special, while folding in some new ideas that make the most of modern hardware.
"Technology has changed," explains Goddard. "You can now have 100 players on a single mountain, and they're all playing each other, and you can real-time stream to YouTube - people can start playing with you and then stream with really fast networking and proper multiplayer.
"I'm aiming to emulate the snow across an entire mountain - that means overnight snowfalls lays fresh snow, you jump on your snowboard and go down and then compress the snow, and as you turn the snow pushes out and sprays across which then creates a new lump there which other people can then jump on that. It's basically simulating snow realistically - a fluid simulation, but with snow."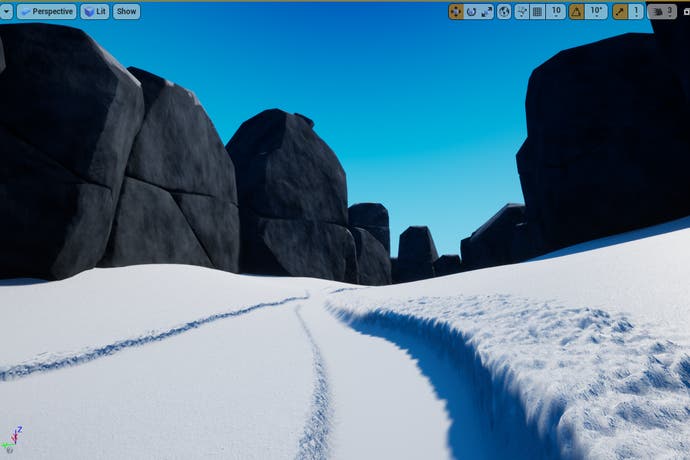 It's early days, though having seen one of the initial prototypes for the snow dynamics I can confirm that it's super impressive. There's an element of fidelity and authenticity that's striking, all taking place on a mountain culled from real-world data in a 1:1 representation.
"The test mountain I have is based on the terrain from a mountain in Switzerland," says Goddard. "It's based off actual terrain data I managed to get." So what kind of size can be expected of the eventual playgrounds in-game? "Well this is going to sound stupid, but it's normal mountain size..."
For all that authenticity and dazzling tech, perhaps the most exciting thing about this follow-up is how it returns to the key tenets of the original 1080° Snowboarding - ideas that have possibly been lost in extreme sports games that followed. "There doesn't seem to be a learning curve in sports games anymore - it's the instant gratification of jumping off a cliff - not to diss things like Steep, but I just want to do a game that's focused on snowboarding and nothing else."
And what else, exactly, does this successor want to return to? "The process of the original 1080° Snowboarding was tweaking and tweaking the controls almost from day one through to debugging, and I think it shows in the way that it's an extremely - and obviously I'm biased - but it's an extremely well-balanced game in the controls.
"1080° Snowboarding, I feel at least, there was so much depth to the control system, things like crouching down to go faster and then you have less control, when you jump and in order to soften the landing if you time the button press right your legs take the impact. One of the reasons for doing 1080° Snowboarding originally was to show off the controller of the N64 - the analogue stick side of it. Nintendo games up until that point were left, right, up and down. All the games that come out with the N64 were very much focussed on the controller, and that pushed us towards that analogue feel."
The original 1080° Snowboarding started - as so many Nintendo games do, it would seem - as an off-shoot of one of Shigeru Miyamoto's hobbies, as he was a keen skier at the time. In the late 90s, though, snowboarding had just kicked off, and showed plenty of potential for a video game.
"The problem with skiing games is, they're kind of boring," says Goddard. "With snowboarding, you play off the terrain - you read the opportunities as you go down the slope. With skiing, you see a line 100 metres in front and you go into it, whereas in snowboarding you're 10 metres away from your next jump, and you have to think very quickly - half the fun in snowboarding is thinking up that line when you're going along. That's something we figured out quite quickly in 1080° Snowboarding."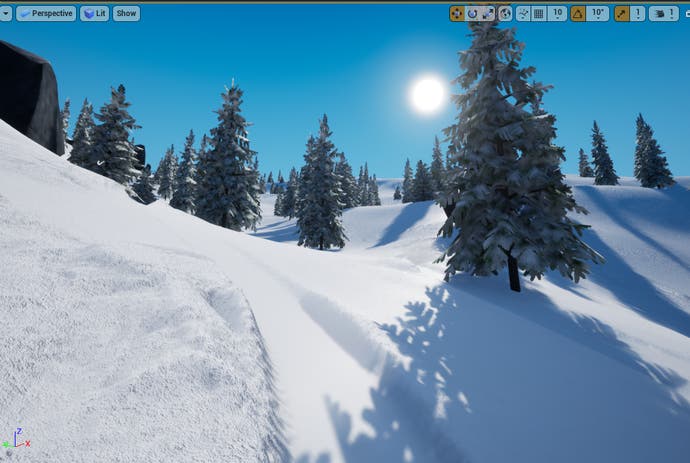 With the new, nuanced simulation of snow that's at the heart of this 1080° Snowboarding successor, that element of playing off the terrain should be enhanced - and when you're sharing the slopes with other players, it's an element given new depth.
"One of the best things about snowboarding is finding a pristine patch of snow," says Goddard. "It's literally the best feeling in the world when you find that, and everyone's always searching for that. If you have 100 people on a mountain, the good bits are going to be used quite quickly, it'll get compressed and flattened. To find a fresh run of snow, that's your reward - the risk is, there's more chances of avalanches, and I'm trying to build that into the snow. If you find a fresh patch that's too steep, there's the risk of creating an avalanche."
It's exciting and ambitious, though it's worth noting that it's still very early days - Goddard had been working on his own on a prototype, and it's only recently that the project has begun to gain momentum and gather more staff at his Kyoto-based studio Vitei. Jake Kazdal of fellow Kyoto studio 17-bit - a fellow snowboarder who takes to the slopes with Goddard - is also involved, giving the project a neat bit of symmetry. Back when Goddard was making 1080° Snowboarding at Nintendo, over in Redmond Kazdal was working on Twisted Edge Snowboarding, which released around the same time. Indeed, the two still argue over which game came first and can take responsibility for kicking off the extreme sports gaming trend of the late 90s. "He still maintains that Twisted Edge is a far superior game," says Goddard. "And obviously he's wrong."
There's some way to go, then, though Goddard believes production will only take between 18 months to two years, with a team not that much bigger than worked on the original, and there's already interest from publishers - even if Nintendo aren't directly involved. "The general vibe I get from people - they yearn for those kinds of games, Nintendo aren't making them anymore, they're making the high-end franchise games now," Goddard says. "To give it a chance of being a good game, it needs a fair amount of funding - more than most small publishers can really offer. We want to keep talking to publishers, and find the one that suits the game - or the one that can do the game justice."
One final thing, of course, is the question of the game's name - and given how Nintendo's not involved, the 1080° moniker's not really a likelihood. It's not as if that's a problem for Goddard, though. "We'll just call it whatever the next number is," he jokes. "Actually, 1080° is considered quite an easy trick to do nowadays..."