Surprise! Plants vs Zombies: Battle for Neighborville available now in paid early access
Dig in.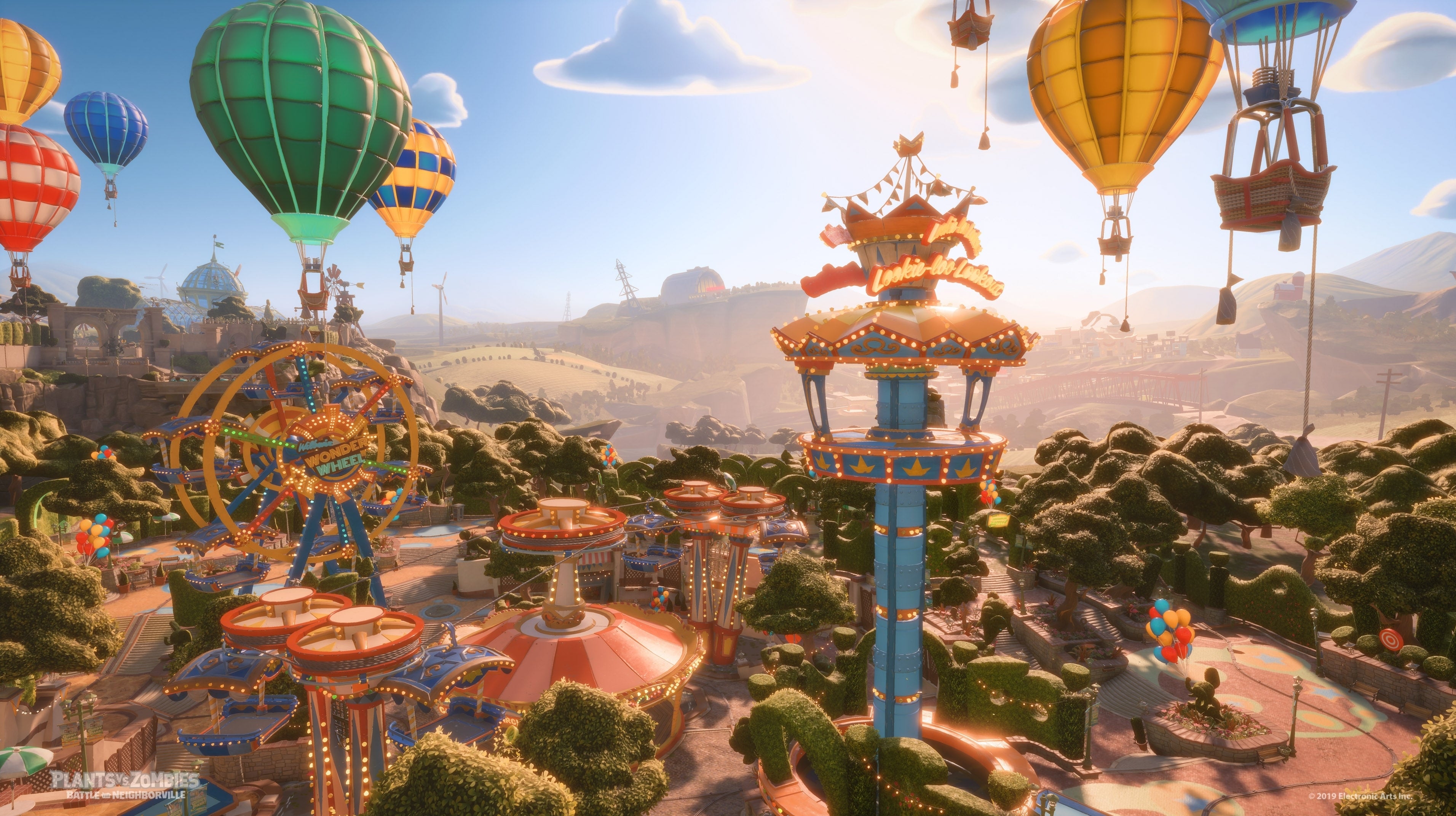 Let's be honest, after all the leaks, it's probably not a surprise to hear there's a new Garden Warfare-style Plants vs Zombies. Ta-da! Here it is. It's named Plants vs Zombies: Battle for Neighborville, and it contains Garden Warfare-y multiplayer modes, a quest-filled free-roaming PVE campaign you can play in single-player or co-op, and a social hub to spend time messing about in.
Battle for Neighborville also has big ambitions to become a long-lived service. It's a full-priced release (not free) and once you've bought it you'll get seasonal content and regular battle passes (which will be free). It's also available today on PC, PlayStation 4 and Xbox One via a sort of paid early access which makes it a bit cheaper. All that, unless it has now leaked too, is a surprise.
But before we get into the business side, here's how it looks in action. Garden Warfare players will feel right at home, with 20 character classes available from the off, increased scope for customisation, and the pleasing inclusion of split-screen multiplayer for all modes on console. My favourite character class is the Acorn plant unit, which is able to transform into a tanky tree stump and let other Acorns ride around on top.
Back at Gamescom I got the full, quite complicated rundown from EA on how the launch is going to work, and what you can play, when. If nothing else, know you can play now and it's cheaper to jump in today - although this option will go away at the end of the month.
Here's all of that in more detail:
Today: You can buy Battle for Neighborville's Founder's Edition, priced £25/$29. This will become the full game, with features switched on week by week and some exclusive cosmetics for jumping in early. This version will be available until 30th September.
15th October: Battle for Neighborville's Standard Edition playable for EA/Origin Access subscribers via the usual 10-hour trial.
18th October: Battle For Neighborville's Standard Edition launches for everyone else, priced £35 (expected)/$39. There's also a Deluxe Edition which costs $49 with some exclusive cosmetics, and a $10 upgrade option for this if you're a Founder/Standard owner.
Right now, the Founder's Edition of the game contains 12-vs-12 competitive mode Turf Takeover plus the first PVE region, Neighborville Town Center. Every Wednesday from now until 1st October will see more of the game come online, and another exclusive Founder cosmetic added.
Here's how all of that will come together: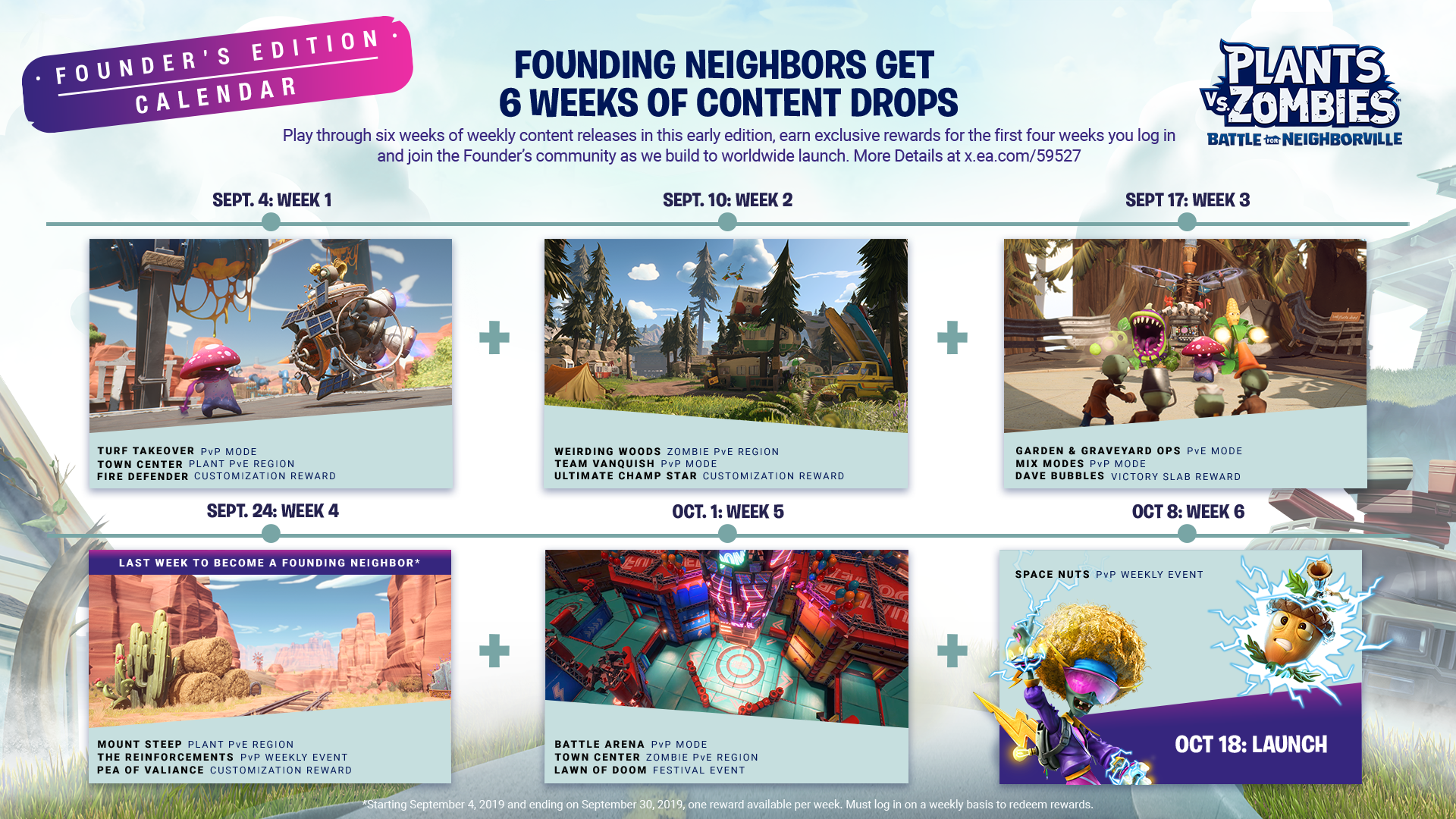 Why go the Founder's Edition route? EA has a factsheet of reasons why, mostly based around tuning characters and maps, fixing exploits and fine-tuning user experience. This is not a game being built during a lengthy paid early access, but one being tweaked for the next six weeks. There's a promotional side to it all too, with new features prompting conversation as they unlock. Perhaps more interestingly, though, it's clear this method is something of an experiment. Even in past week, things are still changing.
For example, back at Gamescom, I was told about Rux's Emporium - Battle for Neighborville's in-game shop selling cosmetic items - and its premium in-game currency Rainbow Stars. These were originally due to launch within the Founder's Edition window, but have since been pushed back to avoid distraction and focus polish on other things.
But EA, or more specifically, PopCap's Garden Warfare team based in Vancouver, are happy to talk about how this will all work. (And already, there's a clear statement from the team about having no blind box mechanics.)
"We're conscious of the wide range of ages which play our game and there's been some examples out in the wild where you didn't need blind boxes to still be a sustainable service," producer Shawn Laker told me. "We felt it was the right decision for our brand and our target demographic. And we appreciate games which have 'buy what you want' - that's not hidden or in a box. It's up to us to have great content which people want, and we accept that challenge."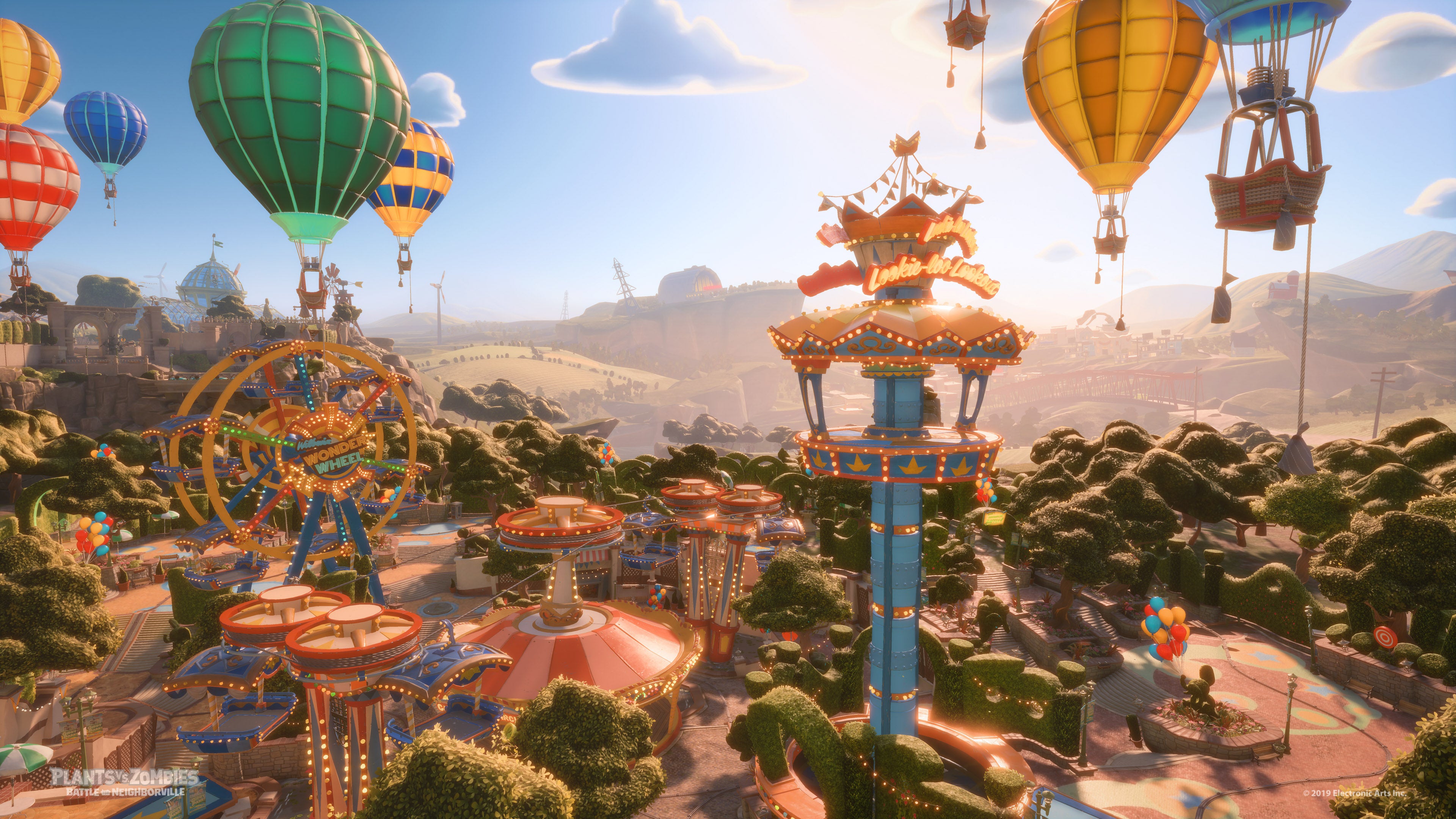 Festivals, the game's free event and battle pass system, are another core component. The first Festival, Halloween-themed Lawn of Doom, goes live on 1st October so Founder's Edition owners can play early. Festivals will see social hub Giddy Park become themed for the occasion, while themed cosmetic items will be available via a free battle pass full of rewards, laid out over something which looks a bit like a skill tree. As you level it up, you'll be able to choose different paths to pursue particular rewards before others.
"Festivals are free for everyone to participate in," Laker says. "It's all about - well, how far do I get on it then? We've tuned it to a fairly generous spot and that's something we'll validate during the Founder's Edition period. That's why it's important for us to turn it on then."
"At the end of the day we see it as an engagement feature. If you're into stuff to chase and you're playing all month long to get it, that's awesome. You can spend some Rainbow Stars on it for players who do want to go that extra bit, but I think we've tuned it in a nice spot where players will feel appreciative for what we're offering.
"You can also earn Rainbow Stars through our weekly challenges," Laker continues. "There's three tiers you unlock as you proceed along. And also on the Festival map, there will be Rainbow Star bundles you can choose to go for if you fancy something on the store. They'll also be on the first-party [PC and console] stores for purchase, and they'll be Rux's primary means of selling items."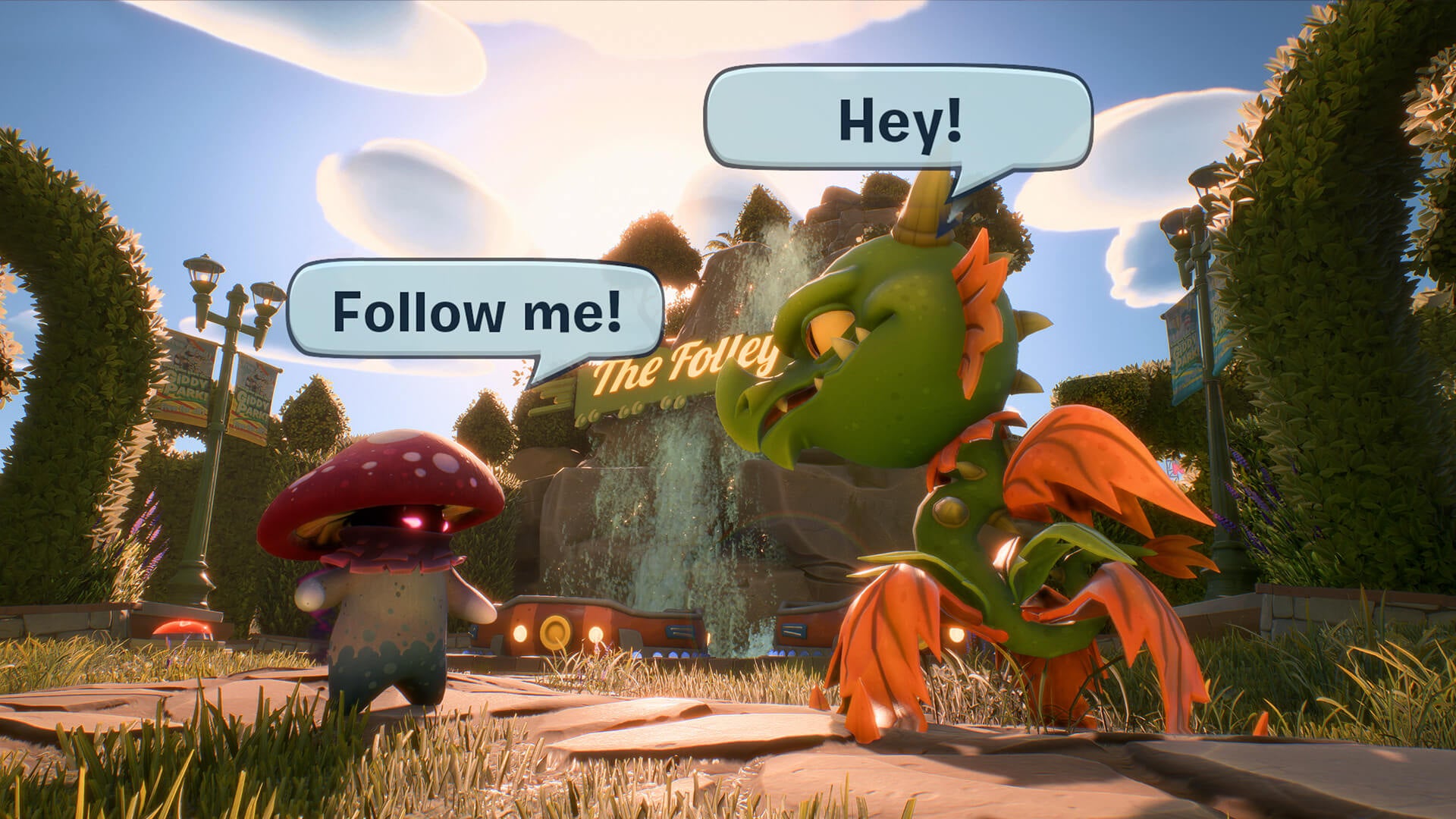 All of this will fund "new levels and new characters down the road not necessarily tied to Festivals", director Rob Davison tells me. "They'll have their own cadence which we're still working out."
"We've got a great team back in Vancouver looking at feature expansions," Laker concludes. "We've already got a long list of stuff we want to go after. But at the end of the day once this stuff goes live it is as much the community's game as anything. I've been coining it as 'uncomfortable levels of transparency' - it's not final yet but I'm hoping we'll be able to do this - where we put what those options are out there to the community and we take their suggestions on which to chase next, because it is their game even more so than ours."