EA files "Plants vs. Zombies: Battle for Neighborville" trademark
It's about thyme.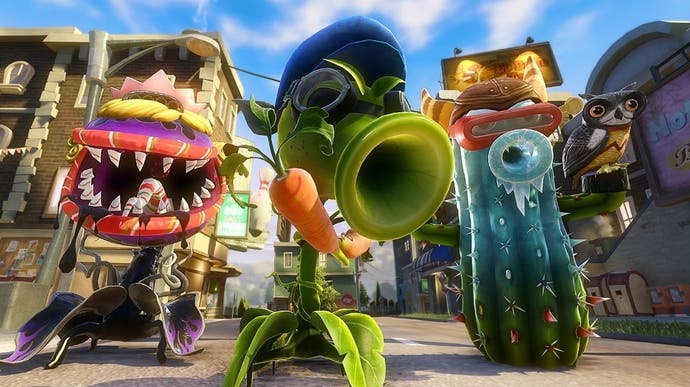 Electronic Arts has secured a trademark for the name "Plants vs. Zombies: Battle for Neighborville".
The filing - which popped up on the European Union's Intellectual Property Office records earlier in the week (thanks, Gematsu and @the_marmolade) - doesn't offer any further information, sadly, other than its been filed against the NICE classifications 9 and 41.
The classifications are predictable enough; the former is categorised as "a computer game software; Downloadable computer game software via a global computer network and wireless devices; Video game software", whereas the latter, 41, is described as "entertainment services, namely, providing temporary use of non-downloadable game software; provision of information relating to electronic computer games provided via the Internet".
What does this mean? Well, trademarks alone don't mean anything, quite honestly - just because something's been trademarked doesn't mean it'll come to fruition - but in this case, it's plausible our next foray with Plants vs. Zombies Garden Warfare will be called Plants vs. Zombies: Battle for Neighborville (which, incidentally, is the name of the locations given in the Plants vs. Zombies comics). And if the information revealed to investors earlier this year is still correct, we suspect it'll arrive before the end of this financial year in March 2020.
EA sent out alpha playtest invites for a new, third Plants vs. Zombies shooter made by the Garden Warfare team at the end of last month. Currently codenamed "Picnic", the game has yet to be officially announced... but as Tom pointed out, "it doesn't take too much to join the dots".
"You are invited to participate in the new PvZ shooter (codename Picnic) playtest on Xbox One or PS4," the invite's text said. "Made by the team that created PvZ Garden Warfare, the Picnic Closed Alpha will give players a first glimpse into the new game - you don't want to miss out!"