Splinter Cell film in good shape as New Regency comes on board
It's o-Fisher-all. It's looking good for the Splinter Cell film as production company New Regency comes on board, Variety reported.
Regency Productions has helped produce the likes of Fight Club, L.A. Confidential, Once Upon a Time in America, Brazil and Pretty Woman. It's kind of a big deal.
New Regency is also on board with Ubisoft's Assassin's Creed film that will start Michael Facebender oh sorry Fassbender.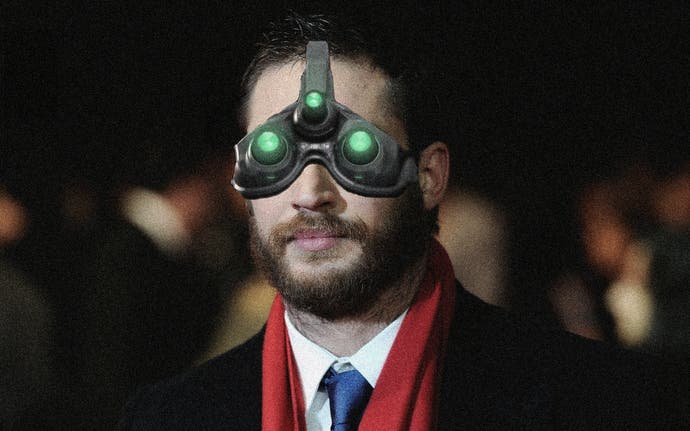 Part of the deal was to have Ubisoft work closely with New Regency to develop and co-produce the Splinter Cell film, which stars oh-doesn't-he-get-around actor Tom Hardy (Bane in Batman but also a spy in Tinker, Tailor, Soldier, Spy; an agent in Inception; the troubled brother in Warrior; oh and Charles Bronson in Bronson). He's so hot right now, etc., and he's actually pretty good, given the right direction.
On the topic of direction: that's still up in the air for Splinter Cell. The screenplay will be written by Eric Warren Singer who did similar for Clive Owen film The International a couple of years ago.
"With actor Tom Hardy attached and screenwriter Eric Warren Singer to write the script, Ubisoft Motion Pictures will lead the development with the support of New Regency to bring the franchise to the big screen in a dynamic way," Ubisoft Motion Pictures' Jean-Julien Baronnet commented.
"For Ubisoft Motion Pictures, creative control is key and New Regency shares our commitment to respecting the creative freedom of our team. Their ability to produce both blockbusters and intriguing indie hits is an ideal fit for the Splinter Cell franchise."
Ubisoft Motion Pictures opened last year, tasked with filmerising or televisionerising (those are definitely words) Ubisofts' franchises, all under the watchful eye of the game-maker itself. It's establishment followed the 2010 release of Walt Disney's and Jerry Bruckheimer's adaptation Prince of Persia: The Sands of Time, which starred Donnie Darko's Jake Gyllenhaal and his new abs. But it was a bit naff.
Nevertheless, Ubisoft appears to be making the biggest actual strides onto the big-screen of any of the top-flight game publishers right now.