Respawn talks Apex Legends' new hero Mad Maggie and what comes next
Current-gen news coming "very, very shortly".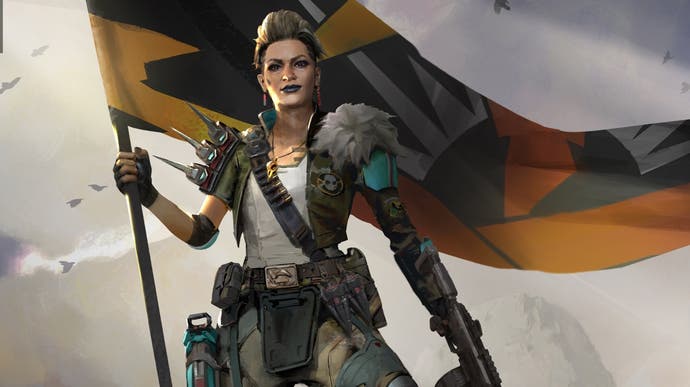 By now, you can't have missed that Apex Legends is poised to embark on its 12th season of content, known as Defiance, next Tuesday, 8th February. Developer Respawn and publisher EA have been promoting the game ceaselessly in recent weeks, gradually unveiling a new limited-time 9v9 mode, as well big changes for the game's Olympus map, and, of course, a mouthy new hero in the form of Mad Maggie.
It's Maggie that took the spotlight in a recent developer session for press, with Respawn keen to dive more deeply into the character - as well as her abilities - before her official arrival next week. But while her playable debut is near, Maggie has, of course, been in orbit around Apex Legends for quite some time, having first made her mark as a supporting character in Fuse's introductory cinematic back in January last year.
As Respawn explains it, Maggie wasn't always intended make the leap from supporting character to fully fledged Legend. Instead, the developer originally envisaged its next hero as something close to a Polish winged hussar - a mounted solider replete with elaborate plumage. That initial design concept was paired with the desire to build a new Breacher character - a kind of a one-woman SWAT team - that could "really take [on] some of the defensive Legends and their abilities, to kind of lock down a building and really bust in there".
This early aggression-focused concept was fleshed out to include abilities like riot shield, a flash bang, and even a shotgun leg attachment that could be used to blast doors down in one kick. Following Season 8's reveal though, and the positive response to Maggie, Respawn began to realise the character's aggressive demeanour "really mapped well" onto its Breacher gameplay.
Maggie's "very clear personality and character background helped to answer some of the questions we'd had about this design and about the kit," explains gameplay engineer, Chris Winter. "So thinking about what would Maggie do in this situation, or what would be Maggie's expression of this ability, really helped steer us in the right directions about where to go".
Yet despite Maggie's outward bravado, she - alongside many of her richly drawn Apex Legends companions - is a character with hidden depths. She might be all "death and destruction" from a motivational perspective, as narrative lead Sam Gill puts it, but she's also "much, much more nuanced" - a freedom fighter seen as a hero to those she helps, now tossed into the chaos of the Apex Games by the Syndicate as punishment for her perceived crimes.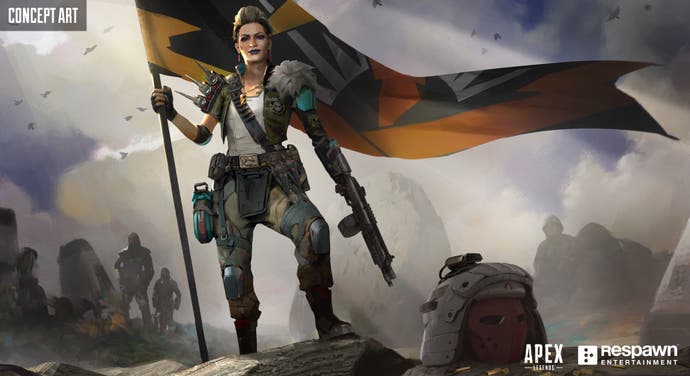 She's also a New Zealand Maori, and this was an aspect of her background Respawn says it was determined to get right. As Gill - himself a native New Zealander - explains, "It was really important that we work with a consultancy with genuine Maoris to make sure she's as authentic as possible, that she is someone that can be aspirational in her own way."
To that end, Respawn joined forces with Maui Studios' Vincent Egan, who personally vetted Mad Maggie's 1600 lines for authenticity. "And it's not just the dialogue," Gill explains, "Maggie's base skin has all sorts of cultural touchstones - there's a patch on her that was designed by Vincent's studio; it's very, very Maori influenced. And there are more subtle details that Maori fans I think will pick up on".
Egan also helped shape the ceremonial haka that Maggie performs toward the end of her Stories from the Outlands trailer when she believes she's about to be executed. "Vincent wanted to make sure that that we did that right," Gill continues. "So he custom wrote a haka for us. And in fact, he wrote it with a strong woman in his family. I think his mother suggested terms to use, phrases to use. So it's really personal, really quite intimate."

"And then to hear Nicola Kawana, Maggie's voice actress, perform that again and again at full strength volume in the VO booth really gave me chills. So we wanted to make sure that we did right by Maggie and by Maori."
That extensive background work on shaping the Maggie's distinctive personality appears to have paid off, with the character already managing to leave a lasting impression during her still relatively scant screen time ahead of Season 12's launch. But, of course, there's still the lingering question of how she'll actually play?
During Respawn's presentation, gameplay engineer Chris Winter took some time to down the new Legend's move set, which has come a long way since its original pre-Maggie conception. In her release form, Maggie retains the general concept of an aggressive playmaker capable of breaking up enemy defences and pushing other characters, but she now comes equipped with the passive Warlord's Ire, the tactical Riot Drill, and the Wrecking Ball ultimate.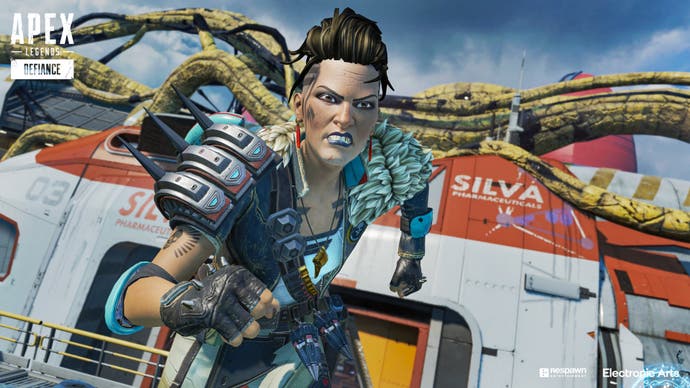 Warlord's Ire brings two advantages to the playing field; it highlights, for Maggie at least, all enemies she damages, enabling her to track them for a short time. Additionally, it removes the speed penalty other characters would normally acquire when carrying shotguns.
As for the Riot Drill, it's a modified projectile mining drill that, when fired at a distance, tunnels through surfaces and bursts out the other side - creating an area of effect that's capable of causing a degree damage but, more crucially, will dislodge enemies from behind cover.
"One goal we've definitely had in mind with the ability from the beginning," explains Winter, "is to try to get players to think differently about every piece of [geography] in the game, whether that's a box that a player might be hiding behind or, or doors they would close thinking they might be safe, or a piece of rock or a piece of mountain. So how the ability is going to interact with those things is definitely a thing players will be thinking about."
Last but far from least is Maggie's Wrecking Ball, a sphere of destruction that will bounce off walls and obstacles for a short time after deployment before exploding (although it'll detonate early, doing some mild damage, as soon as it hits a players). Crucially too, as it breaks apart, it leaves speed boost pads in its wake, meaning it's not just a tool for destruction but can be used to push opponents back, get a different angle on them, or even escape in certain situations.
All this combines to make Maggie a Legend that's strong in any number of instances. "I think the the ability to push teams out of cover or displace or destroy an entrenched position with either her Riot Drill or the chaos that the Wrecking Ball creates is sort of useful to a team no matter the composition," explains Winter.
Her drill in particular is likely to pose problems for enemy players fond of using cover or for Legends with cover-based abilities such as Gibraltar's Dome or Rampart's Amped Cover. However, Winter notes there are definitely counters to the chaos Maggie can cause. "Wattson and her Interception Pylon," he says, "that'll stop both the Wrecking Ball and the Riot Drill, so pushing Wattson with their Pylon setup, that'll be a challenge [for Maggie players] for sure."
"If you look at the last few seasons," adds game director Steven Ferreira, "I think it's very clear that we don't shy away from launching Legends strong and really shaking up the meta. So I think the same is going to be true of Maggie and I'm looking forward to seeing her aggressive nature and her kit that kind of flows out of that, how it's going to change things up this season".
Of course, Season 12 isn't just notable for Maggie's inclusion - or indeed the new Olypus map changes and limited-time Control mode. It also marks a significant milestone for Apex Legends as project, given it's celebrating the third anniversary of its surprise reveal and release on 4th February 2019. Respawn is remaining coy about how exactly players will be able to get involved in the birthday festivities but more details are promised soon. In fact, it remains coy about a lot of things while its carefully choreographed pre-launch PR plans to play out, but it did go as far as to confirm that news on the long-requested native current-gen version of Apex Legends - which it says will add "a bunch of new features" - is coming "very, very shortly".
In closing its time with the press, however, Respawn was willing to offer at least a few thoughts on its future ambitions. Perhaps the purest statement of intent came from design director Evan Nikolich, who explained the studio's ultimate goal is, simply, to be "the best competitive shooter out there, that's both fun to play and super engaging to watch".
"And that means we're really gonna commit to battle royale," Nikolich continues. "That's what we do best, that's what Apex is known for. That being said, battle royale needs to evolve; we want to attract players who've maybe been on the outside edge, or who're maybe intrigued by the Apex universe and find it interesting in terms of wanting to join in, but we have to do a better job of teaching players how to play the game... So we want to serve both super-high skill play but also the people who are just entering, that's like the main driving force [for the future]."
"And the big thing for me personally, is to keep the community feel valued, engaged, and really keep on building the hobby and building out the world. When people play Apex, they're spending their valuable free time with our game. And we want to respect that and make it worthwhile for [them] when they play."
Apex Legends' 12th season, titled Defiance, arrives next Tuesday, 8th February.