World Tour Soccer 2
It's a different old funny game.
The arse end of London might not sound like a brilliant vantage point (particularly bathed in heat haze as it often is at the moment), but somehow the team that composed World Tour Soccer 2 has formed a realistic view of the football sub-genre - and the result is a game that sidesteps the traditional PES/FIFA dichotomy of simulations with aplomb.
Clearly mindful of the strength of its competition, Sony's London team has created a free-flowing game of nearly effortless attacking that turns what some might consider shortfalls into the component parts of a high-scores game - one that arguably has more in common with the occupants of Microsoft's Xbox Live Arcade than the genre it represents on PSP.
The original World Tour Soccer - a rebadging of the console This Is Football series - arrived ahead of both Pro Evolution Soccer 5, which currently stands tallest amongst handheld football games, and won plaudits for its accessibility. But it was the game's Challenge mode, which allowed players to build up points for slicking passing moves, fancy tricks and spectacular goals, that showed the most potential. Though short-lived, the positive response to it clearly helped shape the sequel - because World Tour Soccer 2 is delivered almost entirely in the challenge mindset.
Instead of a traditional World Cup or International Tournament archetype, the main focus of the single-player game is the World Tour and its companion Medal Mode, which structure a series of challenge-oriented tasks that ask for high scores, not footballing victories, to fuel progression. There's the Classic Challenge, where the idea remains the same as it was in World Tour Soccer; to pass, show off and score bags of goals to earn points and bronze, silver or gold medals, and there are also several newcomers.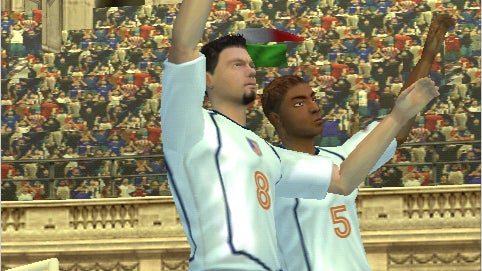 Initially you have access to All-Rounder, where goals only net points once you've passed the ball to every player on the field (including the goalkeeper), and Shot Clock, which takes its cue from basketball by forcing you to take a shot within a few seconds of receiving the ball or be penalised.
Once you progress through a few stages of World Tour, you unlock The Zone, where points are awarded based on the areas of the pitch you pass and shoot from, and Totally Outnumbered, where you take on the opposing team using fewer players. Later you're faced with Time Attack, Challenge Plus, Pass Clock, Check Point Challenge and Player Tag; it's all fairly self-explanatory. The constant variation as you work through the World Tour mode - with a handful of corresponding tasks unlocked in Medal Mode as you do - helps maintain your interest through variation in challenge.
It's a good thing, really, because on the pitch World Tour Soccer 2 is rather more basic than its competition. Passing is slick and shooting with the power-bar intuitive, and you have access to a range of step-overs (and even diving) through simple button combinations, but fans of Pro Evolution Soccer will rue the relative lack of close control. This is probably best exposed in Exhibition matches, which can also be played wirelessly with others - including online through an infrastructure mode - and are more free-scoring and less tactical than the games you might play with friends in PES. As a football game it lacks the precision of the games it's arguably up against, then, but as an arcade game it's fully rounded.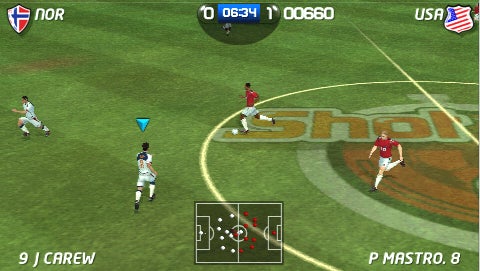 Strengthening the comparison to Live Arcade games are a range of achievements to gun for - things like aiming for a double hat-trick or scoring seven goals in a game (something that won't take all that long to do, tellingly). In the absence of the Xbox 360 currency of gamerpoints, the lure of these goals is debatable - but those of you, like us, who used to do these sorts of things for fun rather than bragging rights will find them quite enticing. There's a definite thrill to securing your first overhead kick award or trying to score a ludicrous amount of points to net one of the trickier achievements.
Probably the only thing that works against WTS2 is that it's rather easy to start off - with tasks rarely demanding more than a couple of attempts to overcome until about halfway through the World Tour mode, and Medal Mode's initial offerings a bit light on challenge to boot. It's also worth noting that the club teams are gone this time, presumably since it's World Cup season, but with foresight (and presumably research) the Sony team's weighted a lot of the teams quite accurately - Ghana are pretty strong, for instance. Although England are surprisingly good...
Indeed, in many respects, it's a game you would happily take along with you as a companion to Pro Evolution Soccer or FIFA. Certainly graphically it's capable of competing - with no hint of slowdown and a lot more variation in goal-scoring than the average PES player is likely to uncover - and the commentary, while a bit prosaic, does take into account all the new types of gameplay rather than simply offering a generic soundtrack to the action.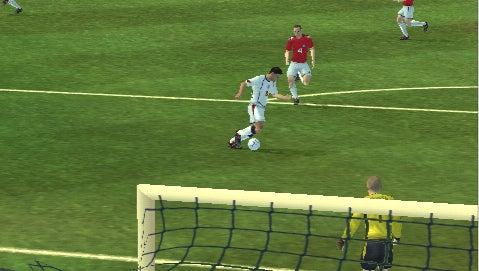 There is a nagging feeling, however, that it's guaranteed a place on the bench (or in the shirt pocket, I suppose) but not necessarily in the starting line-up. It's telling that when I returned to WTS2 after spending hour refreshing my memory of PES PSP, I found myself wondering how much more fun Konami could have packed in by offering these sorts of challenges against weaker opposition in its own game.
It's certainly not the ultimate handheld football game, but that's more through a selection of ambition than a lack of it - and that's why it makes an impression. Because whenever I throw on PES on a long train journey and I find myself bouncing off defensive walls and cursing the sluggish frame rate and ludicrous load delays, it's nice to have World Tour Soccer 2 around to fall back on. It's a pointed alternative, and nothing if not enjoyable.