Singstar Legends
Like the time Tom broke a glass with his voice.
Heres a phrase that you probably don't associate with the majority of videogame reviews:
Your mum will probably like this.
No, wait, come back. Your mum probably isn't all that bad, when you think about it. But there's a further problem; your dad will probably like this too.
Depending on your age, and possibly on your relationship with your parents, that's probably either an intriguing prospect or a horrifying one - which isn't too bad a description of Singstar itself, in fact. You know the drill by now on that front; two microphones, a PlayStation 2, thirty tracks of music (yes, it's a full thirty here, unlike in Anthems) and a variety of different solo, duet, battle and team game modes to test your vocal skills on. Depending on how outgoing or inebriated you are, this is a recipe either for heaven or hell.
Nothing has changed technologically in Singstar for several iterations now, and it seems unlikely that anything major will happen to the series before its PS3 debut. It still boasts the best system for recognising the pitch of singing found in any karaoke game, but has a number of exploitable flaws - such as the ability to sing any words you like, or simply make a loud noise at broadly the right pitch to score perfectly. That said, what decent human being would cheat at karaoke games in such a fashion? Only a cad of the highest order, I dare say.
As such, reviewing a new Singstar is basically the same as reviewing the track listing, for the most part. So, what delights do Sony have in store this time? Let's break out the alcohol and the silly hats, and find out.
Pleased to Meet You
While recent Singstar titles have attempted to provide packs of songs along a specific theme - Singstar Rocks was an obvious one, while Singstar Anthems was very, very comfortable with its sexuality - Legends returns to the original formula of providing something for everyone, albeit with a heavy emphasis on artists who are, rightly or wrongly, considered to be legendary. The resulting mix of songs is a mish-mash of instantly recognisable classics from the last fifty years, with almost every song being universally well-known and pretty much every generation represented with at least a few classics of the era.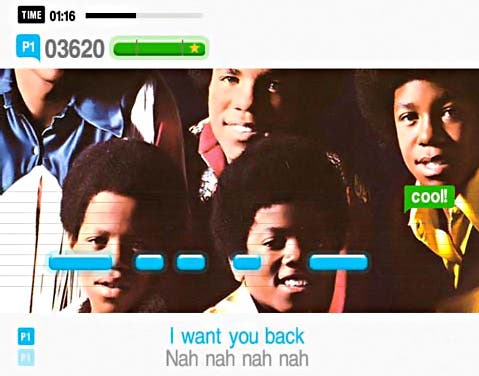 The resulting collection is simultaneously eclectic and fantastic. The Jackson 5 belting out I Want You Back sits alongside Jackie Wilson's Reet Petite and Elvis Presley's Blue Suede Shoes, Bowie's Life on Mars and The Smiths' This Charming Man cosy up to Elton John's Rocket Man, while on the ladies' side of things, Patsy Cline's Crazy, Dusty Springfield's Son of a Preacher Man, Aretha Franklin's Respect and Tina Turner's What's Love Got To Do With It are the basis of a track listing that is packed with genuinely iconic tracks.
In fact, out of all the Singstar games, this is by far the one with the least filler material. The above paragraph was surprisingly hard to write, because picking stand-out tracks from Singstar Legends is difficult - in choosing those named tracks, I missed out on tracks from Depeche Mode, The Police, the Pet Shop Boys, the Righteous Brothers, the Rolling Stones, the Monkees, Madonna, Marvin Gaye... Best of all, for each artist, it's their best known track (or damn close) which graces this collection. For John Lennon, you get Imagine; for Johnny Cash, you get Ring of Fire (albeit with a ridiculous backing video which caused us to collapse into giggles at a key moment when the word "BURN" pulsed onto the screen looking like a refugee from a bad rave music video).
Whether by design or by happy coincidence, this collection turns Singstar Legends into a genuine family product. Okay, it's probably quite hard to get the whole family around to sing, but when the game boasts a range that extends from Barry White's The First, The Last, My Everything and Ella Fitzgerald and Louis Armstrong's duet Let's Call the Whole Thing Off through to Black Sabbath's Paranoid and Nirvana's Smells Like Teen Spirit for the more hirsute and less washed members of the family, Sony is certainly making a damn good stab at making it happen.
Enjoy the Silence?
What have we missed? Some of the weaker links in the chain, perhaps - the team makes a sterling effort with Blur's Parklife by dividing it up into a duet with different tracks for Damon's singing and the other guy's cockney mumblings, with the latter being scored on the "rap meter" rather than as singing, but sadly it's still not much fun to sing. The videos, as mentioned, are also a bit weak in places - the Johnny Cash video is particularly atrocious, but equally we didn't understand why the full music video (or at least some live footage) for other tracks such as The Smiths' This Charming Man wasn't used. It's a small factor, but when playing with a big group of people, having the full videos really helps to keep others entertained as they wait for their turn - and surely compiling some nice videos from live footage or archive photos isn't that time-consuming?
Another slight disappointment that we should mention is that one of the best-loved songs on the collection - the Jackson 5's I Want You Back - has been butchered somewhat by the Singstar team. It was always going to be a tricky one to make work as a solo or duet piece, but making each singer sing all five parts is borderline impossible, not not very much fun at all. Aside from that, however, the game is mostly fair and well-balanced - although how, exactly, human beings are meant to be able to sing Whitney Houston's The Greatest Love Of All is beyond my comprehension, I'm afraid.
Let's Call The Whole Thing Off
It's not something that we like having to mention in October, when frankly we're still just getting ready for Hallowe'en and casting disgusted looks at cakes and puddings appearing in various stores, it's impossible to escape the obvious conclusion about Singstar Legends - this is the perfect Christmas game. Just as Buzz was a fantastic way to get the family together around the telly last Christmas, Legends fills precisely the same gap. With songs catering for multiple generations and all manner of tastes, and a disc packed with excellent tracks and none of the filler which has polluted previous Singstar releases, Legends is perfect family Christmas fare... And that, perhaps, is another statement you never thought you'd hear about a videogame. It's not exactly the gaming equivalent of It's A Wonderful Life - but it's still something that many families will greatly enjoy a copy of over the festive season, and for karaoke fans building up a collection of Singstar discs, it's an essential addition. Sure, it may be nothing new - but for doing something old almost perfectly, we have no problem with justifying a high score.
Besides, any excuse to wear a silly hat...