Project Cars 3 takes the series in a new direction
New career mode, new handling and new details.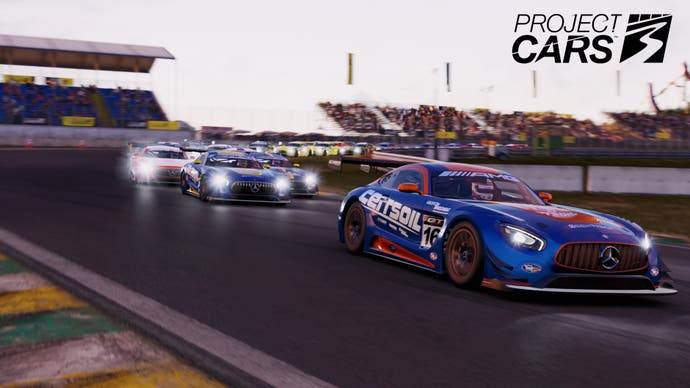 One of the very best things to emerge from a world without full metal racing, alongside the deluge of virtual racing with all its drama and hijinx, has been a series of fantastical tweets from MSV press officer Tom Arron as he fills his time before motorsport proper returns. Remember when Le Mans was dropped from the schedule and the Snetterton 24 Hours was revived with a full field of WEC cars? Or when an unfortunate typo in the regs saw a mob of angry Group C cars replace the group B field as they took to Brands Hatch's rallycross circuit?
It's pure nonsense yet these small videos are incredibly convincing, thanks in no small part to the all-encompassing nature of Slightly Mad Studios' Project Cars 2 which Arron uses for his flights of fancy. It goes to show that, for all its faults, there's perhaps been no more comprehensive a racing experience. This is the game that lets you do everything, whether that's taking a Porsche 917 around a recreation of vintage Le Mans or splashing around a sodden Cadwell Park in a clubman Ginetta.
Still, I was slightly taken aback when first laying eyes on Project Cars 3 - indeed, I wasn't even sure if this really could be Project Cars 3 as I watched a Mercedes AMG GTR being hustled around the streets of Shanghai and Havana. This was firmly in the realm of the arcade racer, territory Slightly Mad Studios' new owner Codemasters had staked out as recently as last year with the Grid reboot which saw spectacular street races around those same two cities. Is this new direction a result of the recent union between the two companies?
It's mere coincidence, it turns out - these are completely different takes on Shanghai and Havana that don't share any assets with last year's Grid, and as for that more arcadey lilt it's a direction Project Cars 3 was set on long before the merger. It's an attempt to present a more open-armed, accessible racing game for all - and a side of the game that's additive to the sprawling comprehensiveness of Project Cars 2 rather than a replacement for it.
"The physics engine and the simulation under the hood - it's not exactly the same as it was before, but it's exactly as sim-focussed as it was before," Project Cars 3's director of production Pete Morrish reassures me. "Anybody looking at this coming to similar conclusions to you, they don't need to be worried.
"One of the concerns with presenting things as simulation is it can be quite po-faced, it can be quite dry, and we wanted to make it much more friendly, much more supportive, much more democratic, so new players could come along and learn at their own pace and get to the point where we as racing game fans, as simulation fans are. At any point in that continuum from beginner to proper esports racer, you can find your level and find your enjoyment."
To that end one of the new features Slightly Mad Studios is leading on for this reveal is a revised career mode that gives players a curated experience through 10 car classes, introducing car customization for both aesthetics and performance. "We found over the previous two games that a lot of people were coming to Project Cars as they're graduating from some of the more arcade games, and it's their first more serious, more sim-focussed racing game," explains Morrish. "We didn't really have the tools to help those people with that process, to help them learn and encourage them to start turning assists off.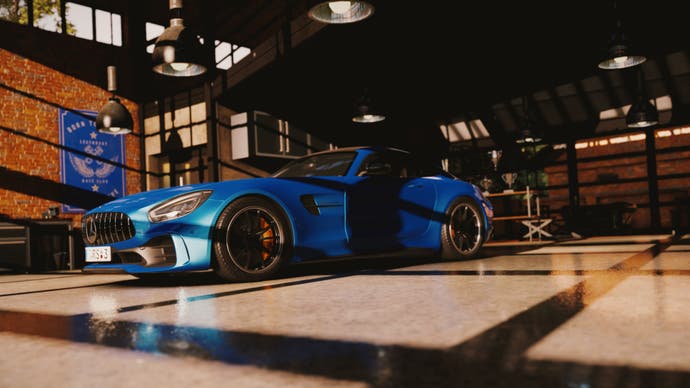 "The structures and modes we've added are designed, yes, to keep the core fanbase satisfied, but also help people who are making that step into serious racing games to have a more obvious pathway, to have goals in front of them that feel attainable that they can work around and adjust to their personal taste in terms of cars and even driving style as well. It's not about a huge sweeping change to the overall game, it's more about keeping what was there for the people who loved it and helping more people along the way make those steps into sim racing."
It's all very reminiscent of another top-line racing series, though I appreciate how in some areas it doesn't even try to hide the fact - there's a new asynchronous multiplayer mode that's simply called Rivals, while away from the Forza inspiration skill-based matchmaking in multiplayer which sees drivers divided into splits for regularly scheduled races takes its notes from iRacing and, of course, Gran Turismo Sport. It's all good stuff, but the most important aspect of Project Cars 3 is hard to get an angle on until we can get our hands on it. The handling in Slightly Mad Studios' series has always been - how to put this? - a little inconsistent, at best.
In recent months Reiza Studios has shown that a satisfying simulation can be wrestled out of Slightly Mad Studios' engine with its superlative Automobilista 2, and it sounds like Project Cars 3 is setting out to provide something just as engaging but for a broader audience. "One of the big things for us is the gamepad handling, which we think we've properly nailed," says Morrish. "In some areas we've just refined it from where we were before, in other areas it's been kind of a bit of a sidestep and a mental shift to a different way of approaching things. But we think our out of the box gamepad handling is second to none.
"And once you combine that with some of the improvements we've made to things like the way that we're handling assists and the subtlety of them, so that there's no kind of ham-fistedness when when traction control or stability control takes over, we think we've got a really good continuum whereby beginners can have a fantastic experience out of the box and they can gradually dial back systems as they move forward through the through the career system."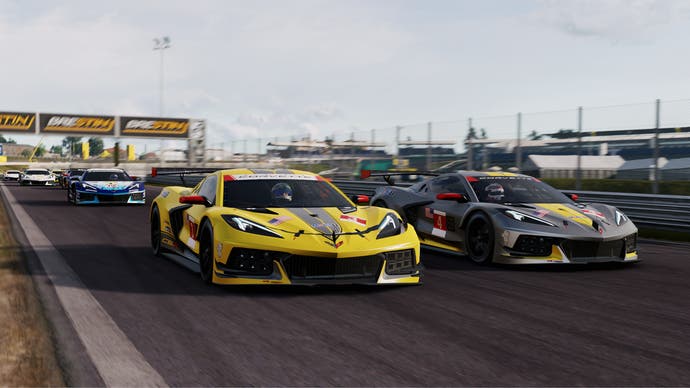 And what about those who spend their weekends ferreted away in sheds behind a Fanatec? Slightly Mad Studios' Joe Barron has good news for the nerds out there. "On the wheel side of things as well we're taking a sort of step by step approach for each phase of the corner, looking at details that we needed to add in the braking phase in terms of how different elements of force feedback fade in and fade in and out, then through the turn phase and then through the exit phase, as well, almost like a three step cornering process," he says in delicious detail. "We're now in the fine tuning phase, adding little things, tweaking the baseline values, and making it easier to customise force feedback settings and have a more consistent experience across the car roster as well."
For old car bores like myself they're making all the right noises. And, more importantly, is it still possible to take a clubman racer around a drenched Cadwell Park? "That stuff's all in there," says Morrish, noting that some 13 new track locations are coming to Project Cars 3 as well as 40 new vehicles. "None of that has gone away. If the first thing you want to do when you get into the game is turn every assist off and drive in a thunderstorm in pitch dark at midnight or something, you can still do all of that."
There's not too long left to find out how it all comes together, with Project Cars 3 set for a summer release on PC, PS4 and Xbox One (there's no word at present about whether or not it'll come to next-gen consoles too, but I wouldn't bet against it). It's an interesting proposition that I'm looking forward to sampling myself, and to see how that new direction pans out. Project Cars was the driving game in which it was possible to do almost everything - I don't think you can blame Slightly Mad Studios for making this new edition more palatable for everyone.