SNES mini pre-orders already on eBay with huge markup
Add to cart.
Less than 24 hours after its official announcement, the Nintendo Classic Mini: Super Nintendo Entertainment System is already being resold at a huge markup on eBay.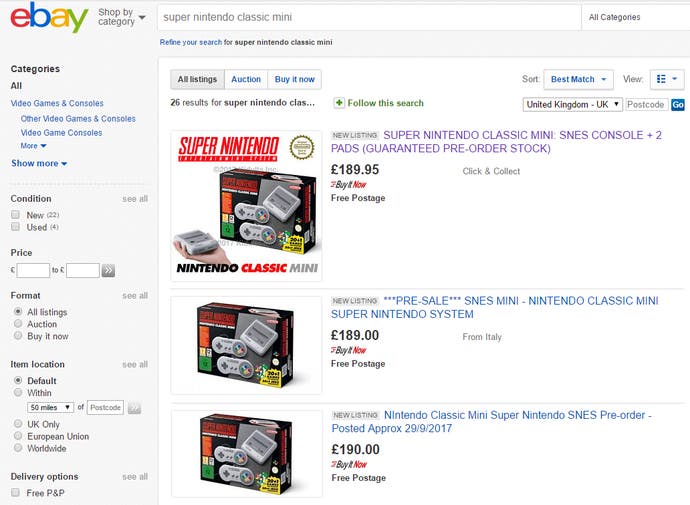 Listings for the retro-themed microconsole stretch to £300, although most lie around the £200 mark.
Nintendo does not set hardware prices in the UK (after the company was hit by an enormous price-fixing fine by the European Commission back in 2002), but both GAME and Amazon pegged the SNES mini at £80. Every eBay listing we've seen is at least double that.
eBay will let you select to "buy now" - although you're really only buying someone's pre-order.
If you buy from eBay you'll have to wait until the seller receives their SNES mini when it launches on 29th September, and for them to then send it on to you.
It's the same situation as last year, when the NES mini was targeted by scalpers to flog on eBay at inflated prices.
Nintendo has pledged to ship more stock of the SNES mini than its miniature NES, although the launch allocation appears to have sold out just as fast.
Pre-orders went live around an hour after the SNES mini was announced at 5pm UK time last night - and then all promptly sold out. Amazon, Smyth's and GAME.co.uk offered the console. Today, it's unavailable at all three shops.
A couple of other options remain to track down a SNES mini - you can sign up for an email alert from Nintendo's official online store for when stock goes live, or you can put down a £50 deposit while you're quick at GAME in-store.