People are selling the out of stock NES Mini with a huge markup
Nintendo steal of quality.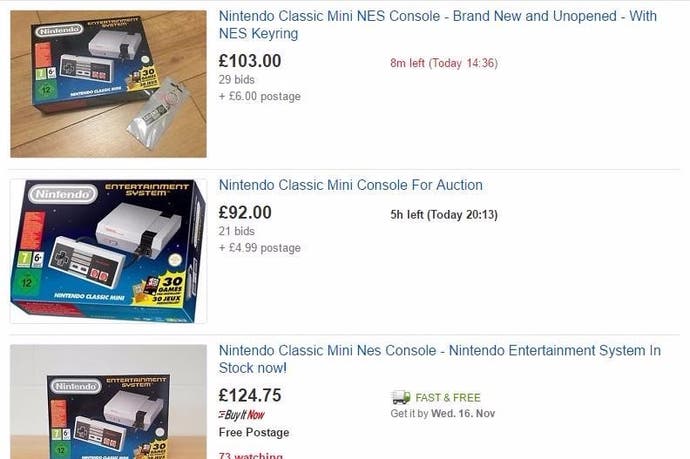 The nostalgia-fuelled Nintendo Classic Mini: Nintendo Entertainment System came out today in the UK, but you'll be hard-pressed to find one for sale at face value.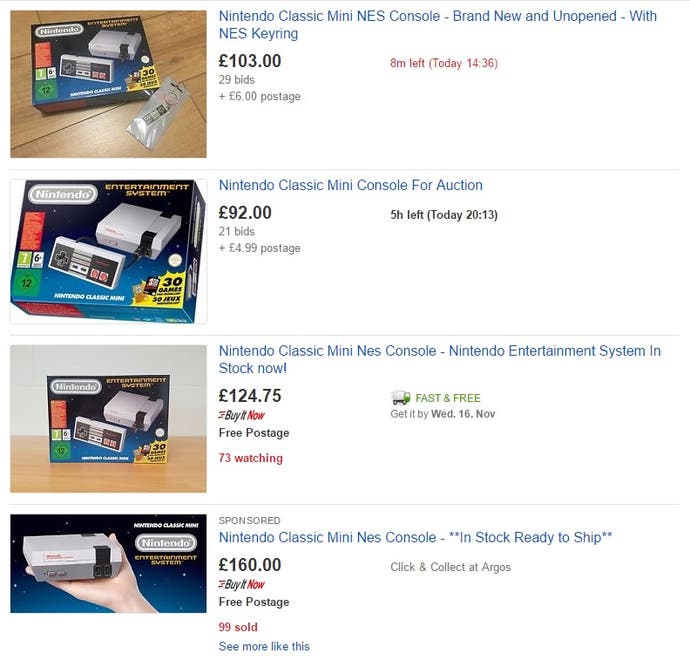 Nintendo, GAME and a load of other UK shops are out of stock of the £49.99 NES Mini, which has sparked huge markups on the likes of eBay and Amazon.
eBay returned 345 search results for Nintendo Classic Mini, with most listings asking for over £100. Some buy it now prices are creeping toward the £200 mark.
At the time of publication, Amazon had 19 new units from £134.95. All the sellers are third-parties. One Amazon seller from Germany is asking for a whopping £291.28 + £4.25 UK delivery.
Eurogamer's James Bartholomeou pre-ordered from Amazon on 18th September, only to receive an email recently saying delivery had been pushed back to 1st December. James pre-ordered at £49.
On GAME's website, the Nintendo Classic Mini is out of stock. It carries a release date of 31st December 2016, but GAME insists if you pre-order now delivery is "guaranteed for Christmas".
Nintendo fans hoping to buy one of the consoles today expressed their anger on Twitter. A somewhat ill-advised tweet from the official Nintendo UK account asked followers, "which NES gem will you play first?"
The responses weren't pretty.
none because you didn't supply anywhere near enough to retailers.

— Nicholas McHale (@OwlishNick) November 11, 2016
It looks like Nintendo either underestimated demand or was unable to manufacture enough units to meet demand. Let's go with the former, given production of the Wii U recently ended. For what it's worth, we've asked Nintendo for comment.
Are you willing to pay over the odds for a Nintendo Classic Mini?