Our takes on the indie games nominated for the IGF 2023 Awards
A reminder of what was a wonderful year.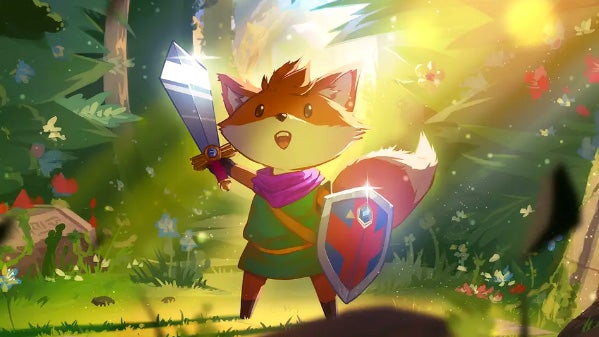 Every year, in March, the Independent Games Festival celebrates the best indie games of the past twelve months. It's one of the only celebrations where smaller games, made by smaller teams, are not overshadowed by hulking blockbusters. And it always serves as both a great reminder of what was released, and a way to highlight some of the excellent things we all might have missed.
So as the nominations for this year's IGF Awards are announced this year - its 25th year, believe it or not - I thought I'd take the opportunity to recap our coverage of the nominees while rounding them up. The IGF Awards will take place 22nd March at 6.30pm Pacific Time (2.30am UK time, 23rd March), and be streamed on Twitch.
Let's start with the biggie, then, the Seumas McNally Grand Prize. The nominees are Tunic, Immortality, The Case of the Golden Idol, Neon White, and Not for Broadcast. I'll discuss them game by game.
Tunic needs little introduction. This Zelda-like delight was awarded an Essential by Eurogamer and came second in our Game of the Year 2022 picks. "This is a game to be savoured," wrote Christian Donlan in that GOTY piece. "Strange, familiar, intricate and built with love." Tunic is available on pretty much any platform, if you haven't already played it.
Immortality caused a similar amount of commotion last year. It's the newest game from Her Story and Telling Lies creator Sam Barlow, and it follows the same FMV-investigation format. This time, though, it's about Hollywood and investigating a lady by picking clues out of film clips, and behind the scenes footage, she's been in or involved with. Chris Tapsell really liked it, calling the game an "elaborate, ingenious enigma" in his Immortality review. It's out on PC and Xbox (on Game Pass, too), and on Netflix Games (accessed via Android or iOS)
The Case of the Golden Idol is less well known. It's a detective game set in a fictional 18th-century England, that's drawn in a caricatured, pixelated way. The pull is having the freedom to explore and deduce and come to your own conclusions. It gets quite complicated, apparently. And Alexis Ong was impressed. "Witty, observational writing and a hands-off approach to deduction elevate this excellent period murder-mystery to a singular work," she wrote in her Case of the Golden Idol review. It's out on PC.
Betrayal at Club Low was also reviewed by Alexis for Eurogamer. It's a dice-powered narrative game about finding multiple ways to finish undercover missions in a nightclub. "Betrayal at Club Low is already one of my favourite games this year, and one of my favourite Cosmo D games to date," Alexis wrote.
Neon White I've played. It's a speedrunning FPS that's brilliantly, unashamedly not trying to be anything but. It's not really even an FPS; it's all about routes, all about speed. And it's energetic and stylish and fast. Oisin reviewed Neon White for us. "With airtight controls, smooth speedrunning and a big helping of anime-inspired flair, few games can keep up with Neon White's pace," they wrote. It's out on Nintendo Switch and PC.
Not for Broadcast I've also played, though I tried it a few years back in Steam Early Access. Now, it's finished and story-complete. Not for Broadcast is a tongue-in-cheek game about directing a nightly TV news programme in the 90s. You decide which camera-feeds to switch between, while doing all manner of other things like selecting and lining up the adverts, censoring swear words, and much more. It's a game about having too much to do, really, and trying to manage it all at once. We didn't get around to reviewing this one but it's silly, satirical and memorable. It's available on PC (Steam).
Those are the games in the running for the big prize. It means the superb Roadwarden - "one of the finest historical fantasies you'll play" - and Citizen Sleeper, which we also loved, have missed out, and are included as 'honourable mentions' instead. Citizen Sleeper is, however, up for the Excellence in Narrative award. Roadwarden, sadly, isn't nominated for any.
There aren't many games with multiple nominations. Tunic and Betrayal at Club Low have three, while Immortality has two, as does South of the Circle. South of the Circle is an illustrated-style interactive movie that made a splash on Apple Arcade a little while ago, but came to PC and Switch last year. And it's rightly been recognised for its narrative and audio, as it features some of the best performances in games I've ever come across.
Other games nominated games we've covered include:
It's also nice to see Sokpop, the young, Dutch quartet, get card-based village-simulation game Stacklands nominated for Excellence in Design. I spoke to Sokpop a couple of years ago, and they're a very nice bunch.
It's a shame to see arcade game Swordship, which we gave an Essential to, be 'honourably mentioned' only. Likewise, Return to Monkey Island just missed out, so did The Excavation of Hob's Barrow, Eternal Threads, and Cult of the Lamb.
Elsewhere, there are a couple of mentions of potion-making game Potion Craft: Alchemist Simulator, which me and Christian played earlier last year; and mention of Terra Nil, the world-regrowing simulation game I previewed and absolutely loved. I can't wait for it, but it's not out yet (I'm not sure what the jury is appraising?) - apparently it's coming this year. There is a demo available.
You can find out more about the Independent Game Festival juries and nominees on the official website.
Seumas McNally Grand Prize
Betrayal at Club Low (Cosmo D Studios)
Tunic (Tunic Team)
The Case of the Golden Idol (Color Gray Games)
Immortality (Sam Barlow, Half Mermaid)
Neon White (Angel Matrix)
Not For Broadcast (NotGames)
Honorable Mentions: Tinykin (Splashteam), Terra Nil (Free Lives), RPG Time: The Legend of Wright (DeskWorks Inc.), Roadwarden (Moral Anxiety Studio), Hardspace: Shipbreaker (Blackbird Interactive), Citizen Sleeper (Jump Over the Age)
Excellence in Design
Against the Storm (Eremite Games)
Betrayal at Club Low (Cosmo D Studios)
Mr. Sun's Hatbox (Kenny Sun)
Neon White (Angel Matrix)
Stacklands (Sokpop Collective)
The Case of the Golden Idol (Color Gray Games)
Honorable Mentions: Citizen Sleeper (Jump Over the Age), Cursed to Golf (Chuhai Labs), Potion Craft: Alchemist Simulator (niceplay games), Swordship (Digital Kingdom), Terra Nil (Free Lives), Tinykin (Splashteam)
Excellence in Narrative
Butterfly Soup 2 (Brianna Lei)
Citizen Sleeper (Jump Over the Age)
I Was a Teenage Exocolonist (Northway Games)
Immortality (Sam Barlow, Half Mermaid)
Norco (Geography of Robots)
South of the Circle (State of Play)
Honorable Mentions: Eternal Threads (Cosmonaut Studios), Queer Man Peering Into a Rock Pool.jpg (Fuzzy Ghost), Roadwarden (Moral Anxiety Studio), The Case of the Golden Idol (Color Gray Games), The Excavation of Hob's Barrow (Cloak and Dagger Games), The Wreck (The Pixel Hunt)
Excellence in Audio
Dome Keeper (Bippinbits)
Paradise Marsh (LazyEti)
South of the Circle (State of Play)
The Forest Quartet (Mads & Friends)
Tunic (Tunic Team)
We are OFK (Team OFK)
Honorable Mentions: Betrayal at Club Low (Cosmo D Studios), Cult of the Lamb (Massive Monster), Immortality (Sam Barlow, Half Mermaid), Melatonin (Half Asleep), Neon White (Angel Matrix), Tinykin (Splashteam)
Excellence in Visual Arts
Afterglitch (Vladimir Kudelka)
How Deep Is the Dark Water? (Rhett Tsai)
Potionomics (Voracious Games)
RPG Time: The Legend of Wright (DeskWorks Inc.)
To Hell With the Ugly (La Poule Noire, ARTE France)
Tunic (Tunic Team)
Honorable Mentions: I Was a Teenage Exocolonist (Northway Games), Melatonin (Half Asleep), NAIAD (HiWarp), Potion Craft: Alchemist Simulator (niceplay games), Return to Monkey Island (Terrible Toybox), Swordship (Digital Kingdom), Terra Nil (Free Lives), Voodoo Detective (Short Sleeve Studio LLC)
Best Student Game
Gevaudan (Nicolas Bernard)
Mind Diver (Indoor Sunglasses)
Presenter Slides (Mathias Schifter & Brin Žvan)
Shutter (ARTFX 2022)
Skala (Gustav Almström)
Slider (randomerz)
Honorable Mentions: A Mallard's Song (Ducky Elford), Error143 (Jenny Vi Pham), Paper Planet (Doodlegames), The Longest Walk (Alexander Tarvet), zenosyne (Ezra Szanton)