Now there's a special edition gold Mega Man Amiibo
That's a precious rock, man.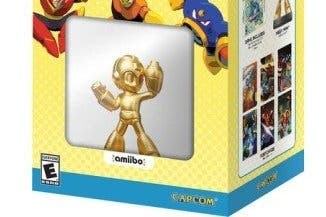 A shiny special edition version of the Mega Man Amiibo will be available early next year.
The gold Mega Man Amiibo will come with the Mega Man Legacy Collection pack for 3DS, which US retailer Best Buy now has available for pre-order.
It is the second time that Nintendo has created a special limited edition gold version of one of its statuettes. A gold edition Mario was previously available in the US, too.
The Legacy Collection pack includes remastered versions of the six original Mega Man games. The special edition box also contains two Nintendo 3DS Mega Man themes, a soundtrack, four Mega Man stickers, six Mega Man postcards and the "exclusive" gold Amiibo figure.
There's no word yet on a European release for the pack. In the US it will cost $49.99, which translates to around £33. For anyone still intent on catching them all, it's another pricey addition.