No Man's Sky patch adds epic space battles
Here's how to land your freighter on a planet.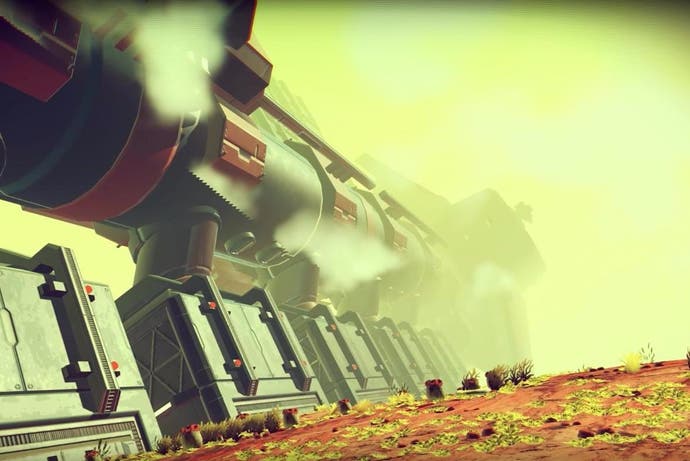 No Man's Sky just received a new patch on PC and PS4 that will make space battles vary in size.
"Players should see bigger battles," developer Hello Games noted in its patch notes.
The update also fixes numerous bugs, like the recurring death loop that would happen if the game autosaved in Survival Mode when the player is about to run out of health.
The full list of fixes and additions is as follows:
Fixed a bug that would make the player character small.
Space battles will now vary in size more and players should see bigger battles.
Fixed the instantaneous death loop that could occur in survival mode if you saved with one health and no hazard protection. You will still be on the verge of death when you load in, but it won't happen instantaneously.
Fix for steam controller not being able to warp.
Removed up, down, left, right as quick menu navigation keys to allow left handed players to move while using the quick menu.
Page Up and Page down can now be used to navigate up and down in the quick menu.
Removed duplicated planets from discoveries menu.
Fixed an issue with redeeming promo ships in survival, which would result in the ship being spawned above the ground.
Fix for missing ruins underwater which could cause missions to point to nothing.
Added ladder climbing sounds.
Fixed base building prop sounds not playing when placed inside a Freighter.
Added sound effect for calling Freighters.
Added sound effect when using communication stations.
Fixed an issue which could affect ambient sound in Freighters.
Changed the sound effect when using the Terminus Teleporter.
Fixed some rare crashes.
One bug we hope they don't fix is the ability to land your freighter on a planet. Discovered by YouTuber Sirian Gaming, they realised that summoning a freighter the second before you enter a planet's atmosphere will result in the colossal ship touching down on the planet's surface.
Doing so isn't exactly practical, though it does let you marvel at the size of the giant ship, which looks much bigger on the ground. As a funny side effect, touching it distorts gravity so you'll walk along its surface.