New Star Manager review: Nintendo Switch reinvigorates the original, at a price
A carded recommendation.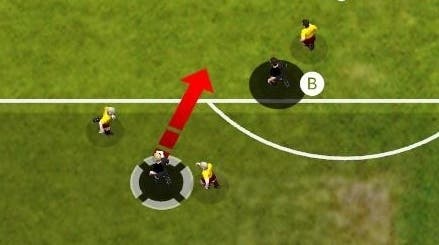 The follow-up to New Star Soccer is better on Switch, but it's £15 more expensive.
Six years ago, a nice man called Simon Read released a mobile version of a PC football series he was about to give up on, and New Star Soccer went on to change his life. On Google Play alone it's been downloaded more than 10 million times, and the App Store will be similar if not higher. It was a big success. And the long-awaited follow-up arrived last year.
New Star Manager was bigger in every way. It put you in control of the whole team rather than an individual, as well as everything surrounding it: stadium, facilities, training, youth - yours to develop and tinker with, right down to ticket prices and interpersonal relationships. But New Star Manager didn't catch on in the same way. The numbers are smaller - ~500,000 downloads on Google Play - and the buzz less.
I bounced off it. What really irked me was a constant feeling I was being pushed towards an in-app card store. The cards in New Star Manager, you see, represent almost everything. They are your players, your training, your team-talk, your energy drinks - cards are everywhere. And those you earn naturally, through playing, come too slowly and frugally. Naturally, that's when the game prompts you into the shop.
The card packs aren't expensive - 99p for an energy-boosting pack, £1.99 for some better players and so on, and I bought a couple (because I wanted my League Two team to be overpowered) - but the constant presence of the shop ate away at me. It, along with frustration at fiddly controls and unpredictable gameplay, turned me away.
Then along came the Nintendo Switch version, earlier this month - the £15 Nintendo Switch version! Heck of a mark-up from a free mobile game. But the upfront fee means the in-game shop has been ripped out, and it changes much.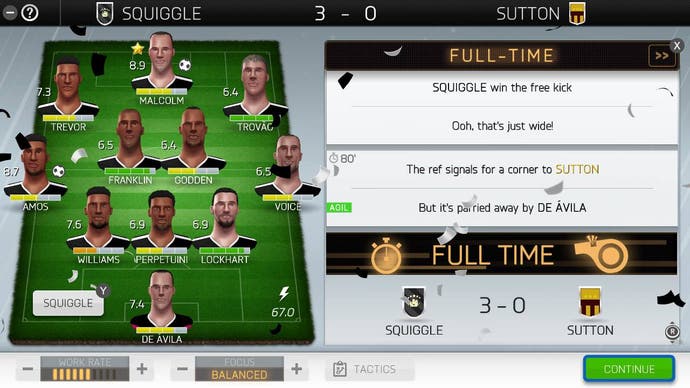 On Switch, you earn a pack of cards whenever you level up, whereas you earn diddly-squat for levelling on mobile. It means, on Switch, you have the tools to solve your managerial puzzle, and you aren't missing what you know is in the shop. You just have to work out how best to use them.
It allows the game to breathe. It allows New Star Manager to settle at a slower pace which suits the deeper game underneath. This isn't crash-bang-wallop like New Star Soccer - New Star Manager takes time. I'm still, after a dozen hours on the Switch version, only one proper season and a promotion in. I've barely upgraded my stadium and my facilities, and I'm struggling against higher-tiered opponents. Even with the hours of mobile experience thrown in, I'm far from understanding everything.
There are other welcome additions, too - it being on a bigger screen than my phone, to say the least. But more importantly, the Switch version comes with optional thumbstick and button controls. I didn't like them to begin with, but the more time I spend with them, the more I do.
Dribbling with the sticks is easier and more precise, and does away with a finger blocking your view and ending up at weird angles as you try to weave players into the box. Plus, the trigger you press to move allows you to stop-animate your runs, which helps loads. Passing at the press of a button is comfortable, and shooting translates well - there's a reticule auto-hovering around the middle of the ball. All-in-all, once you adjust, the Switch controls offer a more fluid match day experience. Even navigating the many menus can be speedier - pressing B to go back a screen is a godsend.
In short: you can forego touch-screen controls entirely and have a good time. But the best way to enjoy NSS Manager on Switch is a combination of the two. Sometimes it's just easier to press the icon on the screen, and sometimes a free-kick needs a finger's pin-point accuracy to hit the net. The game supports this and you can switch between control methods fluidly - even mid-attack if you like. It's a great addition.
But beyond the controls, and the removal of the in-game store, I'm struggling to see what's new. It doesn't add up to much of a recommendation, does it? A few new things for £15 more? But is it £15 more? What if - as I believe - New Star Manager was a £15 game, in terms of depth, contorted by the need to compete with rock-bottom mobile pricing? What if £15 is the price it wanted to be but couldn't?
Regardless, the Switch version of New Star Manager Manager has reinvigorated my passion for the game. I'm itching to get back to my second season even as I write this. But it's not entirely successful. Reversing the business model works, but the spectre of what was once there, remains - and it's a shame the port isn't more responsive. There's still a lot to enjoy - more than meets the eye - but it's that £15 price I struggle with.