Simon Read: The star of New Star Soccer
How he nearly turned his back on games before they made him a BAFTA winner. Simon Read was ready to give up. He'd tried for years to make a living from New Star Soccer, and he'd been through thick and thin and out the other side. But this time something was different. Normally he'd proclaim to his wife that the next version of the game would be the one, but not this time. This mobile version of New Star Soccer was nothing more than an experiment. Even worse, he realised that this time it was a last hurrah.
"I'd lost faith myself," he recounts. "If that would have failed I would have given up believing and gone back to doing it as a hobby. I don't know if I could have persuaded my wife that was the way to go any longer."
We chat over a sandwich having walked 10 minutes from his old flat, the place he created New Star Soccer on the dining room table more than 10 years ago. "All I ever wanted was a nice house for my wife and family," he tells me in between chews. Today he has that, because not only did New Star Soccer on mobile not fail, it succeeded in a way Simon Read never imagined, touching 3 million downloads and making more than $1 million. It surprises me that with his new-found wealth he opts for Pret A Manger as a place to eat, but it's also typical of the modest, plainly dressed 37-year-old standing before me. He's a man who pinches himself not because he can afford this or that sports car, but because he can break from work to play and have lunch with his toddler in the garden he didn't used to have. "How have I managed to fashion this lifestyle?" he asks himself. "It's almost like I'm living in a dream."
What would he have said if I told him 10 years ago he'd one day win a BAFTA for New Star Soccer? "I would have thought you were talking nuts," he replies. "No, 10 years ago I would have just said that was nonsense."
***
The son of a lorry driver and a mum kept out of work because of a bad back, Simon Read grew up modestly in the village of Woburn near Milton Keynes. He didn't have a lot, but his parents made sure he had second-hand computers, first a ZX81, then a VIC-20 and later an Amstrad CPC. "I got the bug for programming from an early age," he recalls.
Like most boys in England he liked football, but it was football computer games he really loved. "It started with Match Day 2. I had a mate down the road who had a Spectrum and we both had Match Day so we'd play each other. That's where this passion for football games started - that competition between friends. The next one we got into was Emlyn Hughes International Soccer, and that was just awesome. We had so many great games on that. It was just a cracking game." Then came Kick-Off 2, he remembers, and then an Amiga and Sensible Soccer.
He didn't start making games until his teens, riffing first on Sensible Soccer with Sensational Soccer, then diving into football management games inspired by Kevin Tom's Football Manager. A fond memory of computing in those days springs to mind. "Back then we used to have a 50p meter in the house," he says, "and there have been several times where I'd been coding for hours and I hadn't saved it and the electricity would run out. I would just break down and go mad at my mum," he chuckles, belatedly embarrassed, "because it was just heart-breaking."
One of the first games he released was an Another World copy called Captain Bonus. It never attracted any kind of attention, but he retains a sense of achievement nonetheless.
By now he knew that he wanted to make games for a living, so he aligned his A-Level subjects accordingly, picking computer science, maths and art. But things - not for the first time - didn't go as planned. Overwhelmed, Read dropped maths two months in, and he ended up with an E in computer science. He'd turned in a game for his final project, but his ageing teachers wanted nothing of the sort - nor did they care for the AMOS language he'd written it in.
"They thought I was living in cloud cuckoo land," he says, "and because of that I gave up my dream of being a games programmer." Maths changed to English literature and that became his degree. Simon Read didn't touch a computer for four or five years.
***
It was only when he'd left university and been through a string of admin jobs and landed in the billing department of Cable & Wireless, like many other graduates, that his old flame for programming was relit. He made two pivotal decisions at the time: one, buying books and rekindling his passion; and two, taking that girl out to lunch and skipping the afternoon of work to go for a walk in the woods instead. That girl turned into his future wife - "the only great thing that came out of Cable & Wireless".
He warmed his programming fingers up on a game called World Cup Manager, then set about a more ambitious project. "I decided I wanted to write a game similar to the old 8-bit game called Footballer of the Year," he tells me, "where you were the star player." Other games focused on the manager or the whole team, "and nothing quite captured that feeling of being the superstar player." The final piece of inspiration was Dope Wars, a small and strategic drug racketeering computer game that stretches back to the 80s.
"We'd argue and I'd promise that things would get better. [My wife] was quite adamant that I go out and get a proper job."
Read, by now an IT help desk technician, poured his spare time and work lulls into the game. A year later, in 2003, New Star Soccer was done. The reception fuelled a sequel, and that sequel started making a bit of money - £100-£200 a month. It was enough for Simon Read to vindicate the time he was spending on the games to his wife.
The real break came with New Star Soccer 3, in 2006, when proper money started coming in. To begin with sales were averaging £2000-£3000 a month, even peaking at £5000, and it was all the convincing Read needed to accept the redundancy package his IT help desk company, which was relocating to cheaper parts of the world, had offered him. "Right," he thought , "now is the time to quit my job and really go for it. I knew it might not last forever, but it was a perfect opportunity to give it a shot."
Full-time meant 12-hour days, either early hours or way into the night, but the time flew by for he was finally fulfilling the dream he had as a kid. His wife would tell him he worked too much and didn't have much of a social life, but she'd also help with accounts and admin. They enjoyed a year of great sales.
The bubble began to pop when numbers dipped and the pair, on just one income while his wife studied nursing, were stretched. Squeezed, they decided to up sticks and see the world, buying tickets to Australia - a country that needed nurses - and packing their bags. That's when the whopping £17,000 tax bill for the New Star Soccer 3 sales hit the doormat. Broke, out of options, they did the only thing they could: "We just flew off to Australia with a huge debt, credit cards in our pocket."
His wife worked in Sydney and Melbourne for months at a time, while he plugged away in their hot apartment at New Star Soccer 4, all the time reassuring her that "this will be the one that will make huge money". After all, it was a logical assumption: the game was better than NSS3 so the sales had to be. Convinced, the couple finished their year's adventure with a credit card-fuelled trip around Australia seeing the sights.
Read, home and eager to pay some bills, rushed New Star Soccer 4 to completion, and initially, things looked good. A stampede of NSS3 fans resulted in a fantastic, £7000 first month. Then the rollercoaster teetered the other way. "It was less than half of that the next month," he says, "and then it dropped and dropped and dropped." During those crucial months, New Star Soccer 4 struggled to bring home £1000.
Frustrated, Read changed tack, believing a new game called New Star Grand Prix was the way forward. "But it wasn't," he sighs. "That wasn't a huge success." It looked like his luck had run out.
***
He'd given it his best shot full-time for two years, but the debts couldn't be ignored much longer and stress was rising. At times, when his games made little to no money, they were down to his wife's full-time salary. "We'd argue," he remembers, "and I'd promise that things would get better. She was quite adamant that I go out and get a proper job." A melancholy settled in, as Read imagined in-laws and parents thinking, "What's he doing with his life? He's in his 30s." Did anyone believe in him?
It was a Steam sale for a Geometry Wars-inspired top-down racing and combat game, called Super Laser Racers, that breathed life back into him. New Star Soccer had never found a way onto Steam - "I don't think [Valve] are really into sports games at all" - but Super Laser Racers had, and Valve wanted to include it in an indie bundle. "And in a week it made £14,000, which wiped the debts clear."
"Normally you see these events and the winner would get up and kiss their partner and their friends and shake their hands. I just went straight for the stage. I had tunnel vision: 'I've got to get this over and done with.'"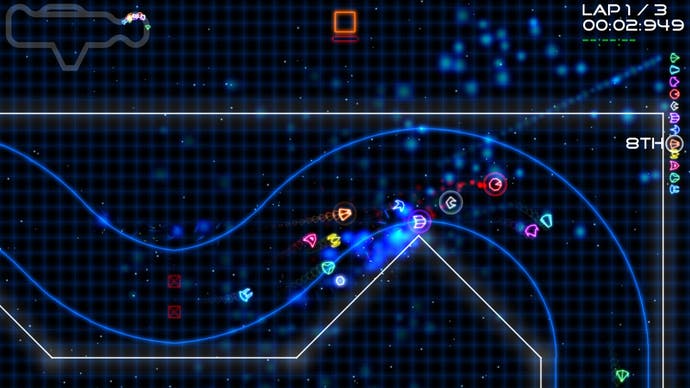 His wife temporarily back on side, he embarked on Sensational World Soccer, New Star Tennis and New Star Soccer 5, fingers and toes crossed. "Tennis was a flop," he says with casual dismissal. "Sensational World Soccer was nothing special." All of a sudden he was back to scraping £1000 a month - from all his games combined. But all it took was one hit, one New Star Soccer 5-shaped burst... In August 2011 he bit his lip, hoped for the best, but the encouraging start fell away with each passing month. He was defeated, the dream nearly over. "That was the point where I thought I'd try a mobile version."
***
He launched it simultaneously on the App Store, Google Play and Kongregate in March 2012. "The first day," he remembers, "it made something like £300-400." He was elated - that was a great start. "I didn't expect it to go up." But up and up it rose, climbing the Kongrekate chart to 1 million plays, 2 million plays... "Bloody hell!" he was thinking. "So many people are playing this game." And the popularity was feeding, via a link, into the App Store sales, which were rumbling like an angry volcano. "Holy s***!" was his reaction this time, because in two weeks the iOS version had clocked up about £15,000.
"It was surreal." He, his wife, didn't want to believe, didn't want to come crashing down again, so they gawped at the ever-growing numbers, almost not daring to look away. "I still felt like that was a fantastic start but," he says, "like all the other games, month two would be two-thirds of that, month three would drop down, and down, and down. But it just didn't - it kept creeping up."
Sales spiked again in tandem with an update, and then they blew the roof when huge British tabloid The Sun crowned New Star Soccer its App of the Week. "Next thing you know, bang, it's top 10 UK chart [grossing], and the numbers at this point are just unbelievable." New Star Soccer 3 peaked at £7000 in a month; New Star Soccer mobile peaked at £7000 in one day. "You can't quite believe it's happening." It was finally safe to dream of a new life, a new home, a new future, with their - at the time - new born son.
***
He may have told me a decade ago I was talking "nonsense" for saying he'd win a BAFTA one day, but as the 2013 British Academy Games Awards crept closer his confidence crept higher, and a feeling of "I might need to be prepared" took hold.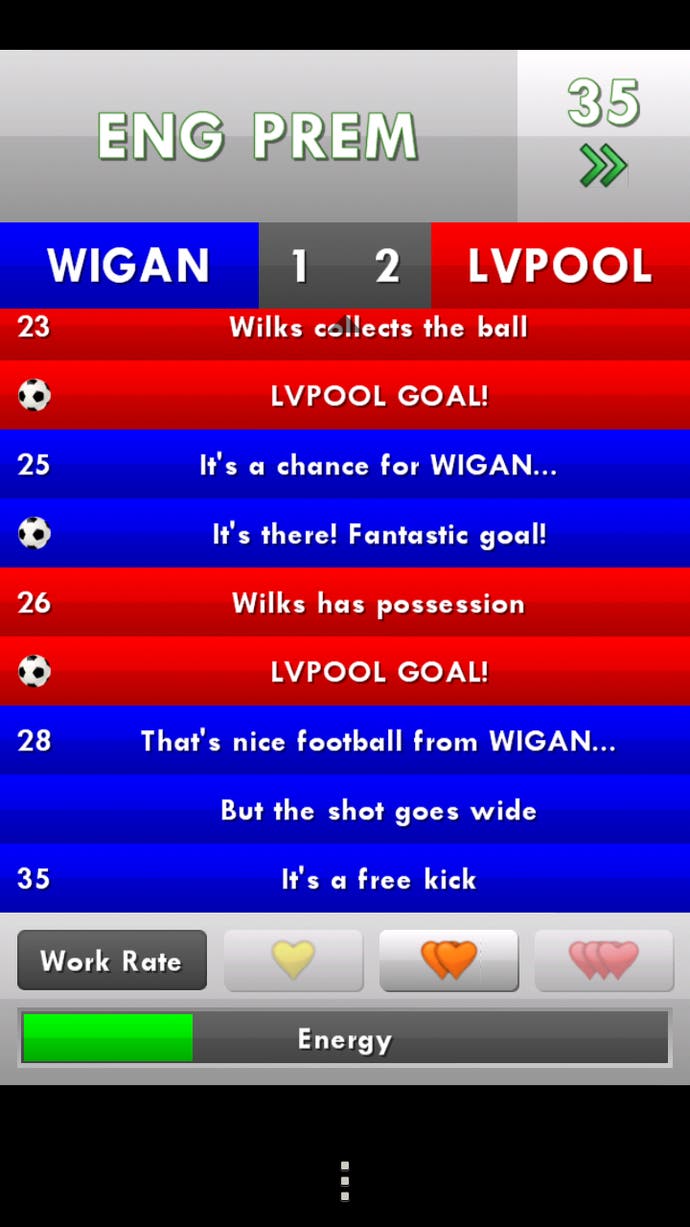 "But I was dreading winning," he says, "because I don't generally like to talk in public. So when Boris Becker said 'New Star Soccer!'... Normally you see these events and the winner, the actor or whatever would get up and kiss their partner and their friends and shake their hands.
"Oh s***!" was his reaction. "I just went straight for the stage. I had tunnel vision: 'I've got to get this over and done with.' I didn't even look at my wife! I just stood up and went."
The mobile gameNew Star Soccer beat FIFA 13, beat F1 2012, beat Forza Horizon, beat Trials Evolution and, er, oh, Nike+ Kinect Training. "There was such good will in the room that night, so many people were ecstatic for the fact that I won this award against giants like EA and Codemasters."
What the onlookers didn't see, apart from his wife, was all it took for Simon Read to get there. A decade of highs and lows - maybe even a lifetime - led up to that point. He'd been told his dream was foolish, pushed his wife and life to the wire, questioned himself, his validity. But here he was being recognised on one of the biggest gaming stages of all. Being rewarded beyond making a living was an alien concept. "To actually get some recognition for it is actually quite deep," he reflects. "For me it was about someone saying 'this game is fantastic - you deserve an award, and you deserve some recognition'.
"That," he says, "felt really satisfying."
***
Today begins a new era for Simon Read. He has a new home with an office in, albeit one not much wider than the desk he works on, and he has a small team working for him. He's no longer looking to make it anymore because he has made it - even the older members of his family recognise a BAFTA when it's at home.
He plans more New Star Soccer and other sports games besides, and he wants them to be found globally, not just in the UK. He also has fame now that he didn't before, and people asking him for interviews, people singing his praises. It frustrates him because he spent a decade making New Star Soccer and "nobody gave a s***", and he realises many other one-man, or small, teams will feel the same way.
Simon Read hasn't really changed. He's still that humbly raised boy from Milton Keynes who wants to make games. "It is what I've always wanted," he knows, "but the idea of being famous doesn't really appeal - I'd much rather crack on with making good games."