Mike Diva's Far Cry 3 Blood Dragon: The Movie trailer is perfect
"It's a far cry from being over... three."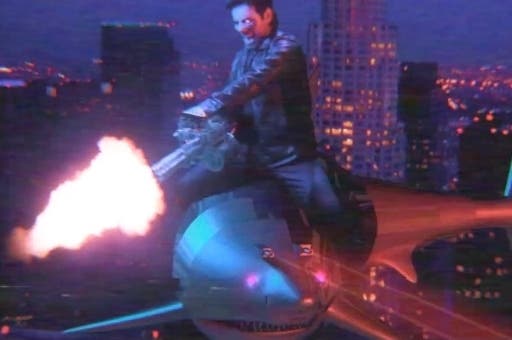 An amazing person called Mike Diva has done an amazing thing: made a trailer for Far Cry 3 Blood Dragon: The Movie - a film that doesn't exist.
If it did, Mike Diva believes it would star Detective Rex "Power" Colt, who's ridding the streets of "cyber s***" one ridiculous stunt at a time.
The trailer drips with '80s neon tackiness and VHS quality; there's nudity, there's violence, there's absurdity - Colt even rides a flying cyber-shark!
It's perfect.
Polygon picked the trailer up having seen it on El33tonline.
Far Cry 3: Blood Dragon is the fabulous '80s-inspired add-on for Far Cry 3, which features dragons with laser-shooting eyes - really. We kissed its cyborg face with 9/10; "If only more blockbusters had this much fun with their legacy," Dan Whitehead sighed.