Max and the Magic Marker
The inking man's platformer.
Blame LittleBigPlanet. Before November 2008 platform games were all about running, jumping and collecting gold things, none of this "Play, Create, Share" business. Since then the likes of Crayon Physics Deluxe, World of Goo and Scribblenauts have taken the concept even further, challenging players not only to think outside the box but draw the bloody thing.
Bad news for lazy types, then, but good news for gamers who like being invited to solve problems in creative ways. And here comes another addition to the genre (art sims? Drawing games? Plartformers?) in the shape of Max and the Magic Marker, a WiiWare game from Danish studio Press Play.
The titular character's adventures begin when he receives a mysterious marker in the post. He uses it to draw a monster, who comes to life and starts causing havoc in Max's sketches. So Max draws himself into them too, and sets about trying to put things right.
This involves running and jumping around 2D landscapes which look much like the ones you'd find in a typical platformer, and controlling your character's movements with the nunchuk. The twist lies in what you do with the remote. This is used to control your magic marker, with which you can draw simple lines and shapes. Whatever you draw comes to life in Max's world and behaves according to the laws of physics.
As gravity pulls all objects to the ground, you can't just draw a set of floating platforms for Max to hop across. If you draw a bridge there must be support under each end, otherwise it'll just topple into the water. You must also take Max's physical abilities into account - staircases can't be too steep for him to climb, for example.
Drawn objects behave consistently so it doesn't take long to get an idea of what is and isn't possible. Some of the puzzles are seriously tricky, particularly in later levels, but there are usually multiple solutions. Plus you can erase drawings and reuse the ink to create new ones, providing plenty of scope for trial and error.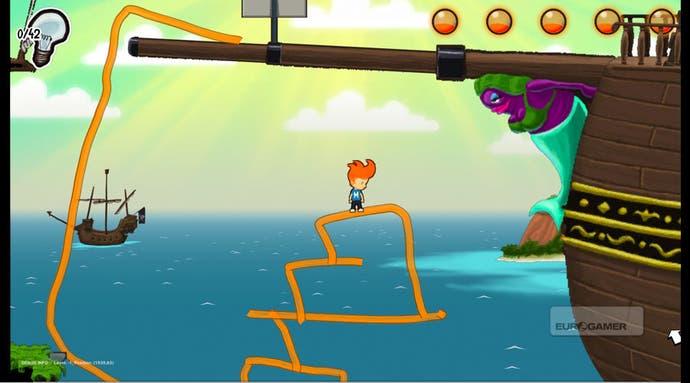 The real challenge is in making the most of the limited amount of ink in your magic marker. The pen has a see-through barrel so you can see instantly how much there is to play with. As Max explores levels he collects ink along the way, but whenever he passes a checkpoint the monster pops up and nicks it all - so you have to start from scratch several times as you progress through each environment.
To begin with solutions to puzzles are often obvious and there's scope to try out various ideas. However, ink get scarcer later on and more creative thinking is required. You can't just get away with the old staircase trick quite so much, in other words. Some puzzles are hard enough to leave you seriously stuck, but perseverance always pays off.
That's if you can put up with the background music for that long. At first it's pleasant enough, plinky and plonky and really quite jolly in an inoffensive way. But when you start getting stuck on the more difficult puzzles you notice it's just the same eight bars on a loop. It's hard to ignore the music once the pattern gets lodged in your head, and all those plinks and plonks become properly irritating.