MaoMao Castle is a face-melting arcade game about a flying cat dragon
Tabby or not tabby?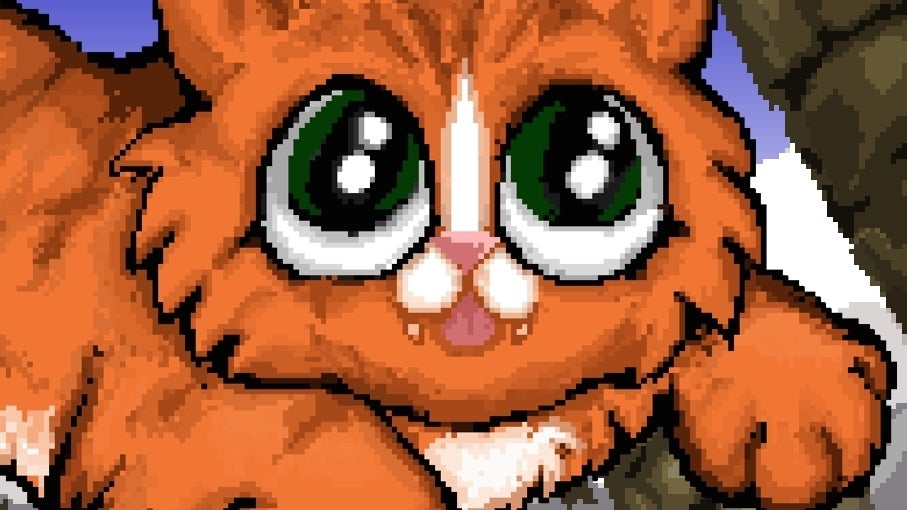 Everything you need to know about MaoMao Castle is that it stars a flying cat dragon. You are the flying cat dragon, in fact, and you need to chase rainbows and survive without losing your nine lives. That's it. Pretty simple.
Oh but I forgot to mention it speeds up the further you get. What feels at the beginning like a leisurely fly forward in some giant, saccharine pixel world - you wheeling the dragon around carefree with your mouse - soon becomes something else, something like panic.
At the beginning, it's no sweat to fly through the rainbow windows around the course, or cut the grass by swiping side to side on the floor, or collect puzzles, or go over and under walls, or gobble up the pebbles but skirt the lighthouses, or dodge the trees. But as the pace-handle cranks, the objects you're watching become blurrier and blurrier until they're whizzing at you so fast you can't tell what's going on.
Your one saving grace is a dash ability you can use intermittently to smash through objects, and some walls and blockades you will need it for, but you won't be able to rely on it all the time. And that's it, really, that's MaoMao Castle.
It's a game with a huge Cheshire Cat-like grin, daring you to take it on. Can you beat it? It's pay-as-you-want on itch. Give it a spin.
We're covering this game as part of Rezzed Digital, highlighting our favourite indie games from the delayed EGX Rezzed.