Lost Planet 2
Gears of thaw.
Rapacious seduction is a trick Capcom has been honing for a long time now, constructing entire franchises around the painful allure of the apocalyptic boss encounter. But although the publisher seems to have been on a mission to outdo itself via Resident Evil, Dino Crisis, Onimusha and Monster Hunter, it wasn't until Lost Planet came along in 2007 that it was brazen enough to build a game almost entirely around slaying nightmarish, colossal, screen-filling beasts.
If anything though, Capcom didn't go far enough in its singular pursuit of Western-style action purity, and punctuated the game's dazzling highlights with an often-tedious procession through respawning grunts. Even though Lost Planet went on to far exceed the publisher's own commercial expectations, the Japanese publisher knows better than anyone that there's plenty of room for improvement for the upcoming sequel.
"This is almost a totally different game," insists Lost Planet 2 producer Jun Takeuchi, speaking to Eurogamer this past week. "Everything has improved, in my opinion." It's not hard to agree. The changes and improvements are in evidence everywhere you look, whether cosmetic or gameplay related, as well as in terms of its campaign or multiplayer focus.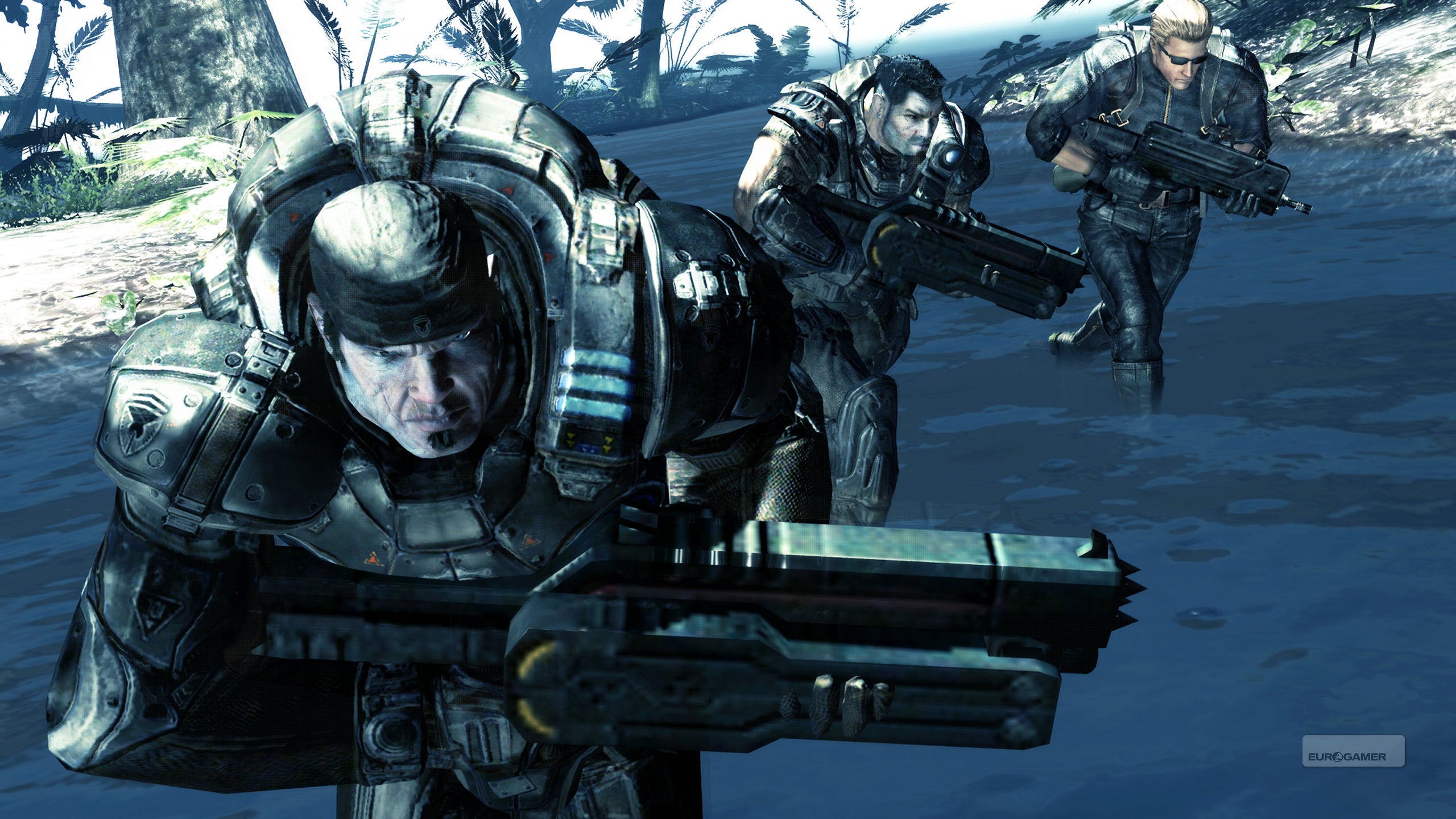 Certainly, the game's campaign mode has been overhauled comprehensively. While the data post activation elements and grapple hook navigation remain, much of the gameplay has evolved dramatically. The most obvious change is the game's bold co-op focus, with support for up to four players over split-screen, System Link or online. Designed very much like a typical multiplayer experience, everything from the front end to the game's kill-streak recognition gives it a feel that's wildly different from the typical story-driven videogame.
With flexibility built right into its heart, the game can be played with any combination of human and AI players, and you can even turn all your team-mates off and play the game on your own if you fancy the challenge. But with so many colossal adversaries to face, the chances are that you'll appreciate the spirit of co-operation in whatever form you can find it.
Realising that "four players playing together for a long time is not very practical," Takeuchi admits that designing smaller chapters was deliberate. With most of the game's early encounters clocking in at around the 10-minute mark, this unusually tight focus ensures a relentlessness that we haven't seen round these parts since the deranged cult classic Earth Defence Force.
Tighter design also means that the frequency of climactic action sequences and boss encounters has been notably cranked up. In the first few sections alone, you find yourself having to activate and subsequently protect five control points, and then tackle the kind of behemoths that most games would reserve for the climax.
Takeuchi-san reckons Lost Planet 2 boasts "the largest bosses to ever feature in any of Capcom's games" and to expect "approximately 40" across the length of the campaign - around double the number that featured in its predecessor. With the game clocking in at "about 10 hours", that works out at one boss encounter every 15 minutes, folks.
Although it has been discussed at length in our previous hands-on it bears repeating just how gargantuan these hideous creatures are. Evidently designed by people with a deep, underlying disrespect for the horrendous potential of oversized insects taking over the world, you'll battle every variation of every disgusting slithery construct imaginable.