Jelly Deals: Nintendo Switch pre-orders back 'in stock' from Nintendo itself
Neon and Grey consoles available for launch.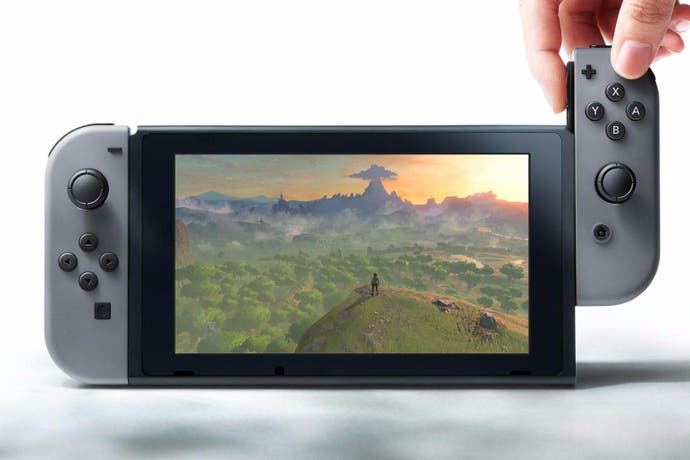 A note from the editor: Jelly Deals is a deals site launched by our parent company, Gamer Network, with a mission to find the best bargains out there. Look out for the Jelly Deals roundup of reduced-price games and kit every Saturday on Eurogamer.
---
Nintendo's new, portable brainchild, the Switch, was unveiled at the tail-end of last year and went up for pre-order last month. In the days that followed, it quickly fell 'out of stock' at most retailers' websites. Early impressions suggested that the Neon console sold out first, in case you were wondering. Retailers such as GAME kept pre-orders available but with the caveat that stock wasn't guaranteed to arrive at launch.
All that has changed, though, since Nintendo UK has added a new batch of stock available to pre-order right now on its own website, as well as at a handful of selected retailers. This means that if you initially missed out on securing a pre-order for either version of the Nintendo Switch, you can head over to Nintendo's UK site and put a pre-order down, which Nintendo assures us will be guaranteed for launch - at least until further notice.
If ordering direct from the people who make the thing isn't really your style, you can head over to Amazon UK right now and grab a launch pre-order for the Grey console, though Neon consoles remain sold out for the time being. Alternatively, GAME is listing both editions of the console available for pre-order with a 'More Stock Available' listing. The site's Grey console appears guaranteed for launch while the Neon edition currently bears a warning on the product page that suggests it may not hit for launch.
All in all, if you're after a Neon version of the console, your best bet is to go direct to Nintendo UK and order from there. If you'd rather go with the sleek, understated grey version, you're spoilt for choice - that is, as long as you get a pre-order in soon. Personally, I went for the grey console purely because the non-matching Joy Cons in the Neon console would wreak havoc with my OCD...