Jelly Deals: LG's 4K OLED at its cheapest ever price
Update: Now discounted to £1349.
A note from the editor: Jelly Deals is a deals site launched by our parent company, Gamer Network, with a mission to find the best bargains out there. Look out for the Jelly Deals roundup of reduced-price games and kit every Saturday on Eurogamer.
---
Update 20/11/2017: As Black Friday week begins, this set has fallen to an even lower price with an even better deal. Over at Currys PC World, you can grab the B7 and C7 model 4K OLED LG set for £1349 with an included five-year guarantee cover from Currys itself when you enter LSTV10 at checkout. This beats last week as this sets the official lowest ever price. Get it while you can.
We'll be here all week, covering the best Black Friday deals possible, do stop by and check out a few.
Original post: As was probably inevitable around Black Friday time, the rather stunning LG OLED 4K set that Digital Foundry says is possibly the best TV you can buy right now has seen a slight reduction.
While still obviously an expensive luxury item, this marks the cheapest price yet for the 55-inch model of LG's pioneering OLED 4K set. In DF's article, this model was praised for its HDR tone-mapping, low input latency, and improved viewing angles, among other things. If you've ever seen one of these OLED sets in person, you'll instantly understand how remarkable they look.
As a reminder, we'll be keeping our eyes firmly locked onto Black Friday deals for the next week and a bit. Elsewhere on the site, you can find our guides to the best 4K TV Black Friday deals, PS4 Black Friday deals, Xbox Black Friday offers, Nintendo Black Friday bundles, and a bunch of other useful stuff.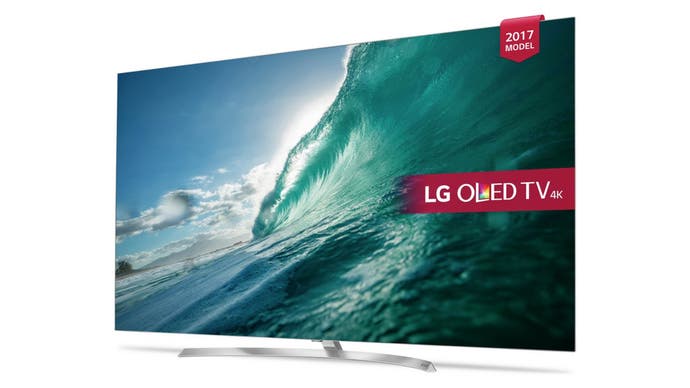 You can currently pick up the LG OLED55B7V 55-inch 4K TV from Amazon for £1500 / $1600.
Alternatively, if you're in the UK, you can order one for the cheapest price ever right here.
That site offers a 12-month payment plan which ends up with you paying £29 more than the existing total, as well, if that's more your speed.
It still might not be cheap enough to facilitate an impulse buy, of course, but it's good to see the prices of these premium sets getting some form of discount.