IndieCade Roundup
Is next year's Braid or Everyday Shooter in here?
IndieCade dubs itself the International Festival of Independent Games, and that's exactly what it is - a boutique festival that promotes, examines, and doles out awards to the non-profit, aesthetic, political, academic and just plain go-it-alone fringes of the videogame form. As well as hosting a standalone event in Bellevue (Seattle suburb and home of Valve), IndieCade is a travelling showman, taking its gallery of gaming oddities to events like E3, the Penny Arcade Expo and Nottingham's GameCity festival, where we caught up with it at the end of October.
When IndieCade came to GameCity last year, it brought with it two games that would end up as hits on the console download services in 2008 - PSN's psychedelic Everyday Shooter, and Xbox Live Arcade's psychological Braid. The latter became a critical darling, and could even top a few game-of-the-year lists this month. So IndieCade's selection has become something worth watching closely, for industry and fans alike.
However, going by the 2008 line-up, IndieCade isn't turning into gaming's Sundance just yet. And perhaps that's a good thing - gaming needs a forum for completely non-commercial ideas just as badly as it needs a marketplace for maverick talent like Braid creator Jonathan Blow. IndieCade 2008 ran the gamut from student works, technological experiments and novel gameplay dynamics to interactive art, educational and political statements, and elaborate jokes. Read on for the best of the fest.
Cactus Arcade
Let's start with something you can actually play on your PC right now. Cactus Arcade is a compilation of the work of freeware gaming's most prolific auteur - Sweden's scattershot guru of the stylish and abstract, Jonathan Söderström, a.k.a. Cactus. You can get it from his website.
You might already know Clean Asia!, the game that asks you to take on an environmental crusade against Taiwan's trash via the medium of a Kenta Cho-style bullet-hell shmup. Cactus tends to express himself a lot via the medium of the bullet-hell shmup. You'll find low-res graphics and midi-chip techno in abundance, irreverent humour, wilful weirdness, and no small number of smart gameplay ideas in these games, all of which were developed in a matter of days, or even hours.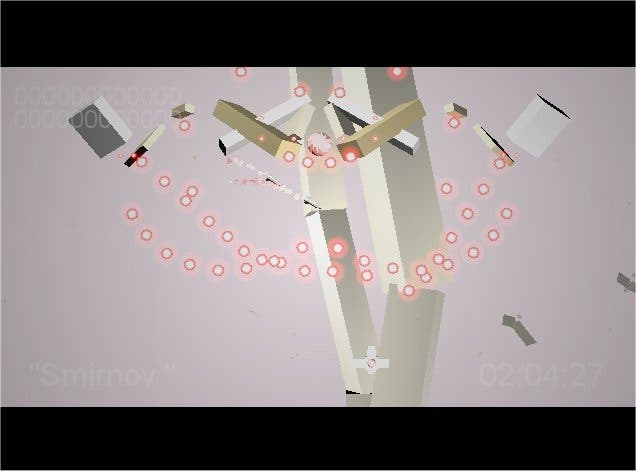 For sheer punk-rock attitude we loved Seizuredome ("works kind of like sumo wrestling, except you have a gun" - a gun with which to shoot giant babies and naked lady amputees while the screen is smeared with hideous effects); F*** Space ("You were on your honeymoon trip with your hot wife when a meteor struck her dead. Enraged by sorrow you turn your car into a spaceship and venture into space to get revenge on everything you can find"); the alarmingly low-fi MSOIDS (Asteroids made in Microsoft Paint); and the entirely self-explanatory Shotgun Ninja. But Cactus isn't all about shock tactics.
His most experimental designs are properly thought-provoking: there's the inscrutable puzzle of Illegal Communication, and Psychosomnium, a counter-intuitive 2D platformer in which you have to unlearn all your gaming instincts and learn the value of suicide. Best of all is The Design, an abstract geometrical shooter something like a playable Mondrian painting, where you control two dots and can only shoot along the line between them.
You're guaranteed to find something in Cactus Arcade that will stop you dead in your tracks. Download it now.
Dark Room Sex Game
Dark Room Sex Game was developed at the IT-University of Copenhagen; we can't help wondering whether the Danish newspapers have got wind of this particular use of public money. It's an erotic rhythm-action game without graphics, played using the motion-sensing abilities of hacked Wii remotes. We can't see Nintendo letting this onto WiiWare, and more's the pity, because at an appropriate price it would sell by the bucketload.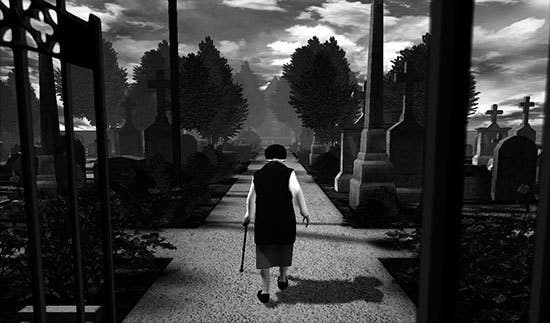 Two players are faced with an entirely black screen and need to use pornographic audio cues and controller buzzes to get into a steady, see-sawing, gradually quickening sexual rhythm, as you can see on YouTube. Get it right and you'll hear deep moans of satisfaction, wrong and you'll hear anguished and frustrated yelps. The goal is to keep it going until you reach orgasm. In the four-player Orgy mode, two couples compete to reach climax first. It's hilarious, embarrassing and a fun, finely-tuned challenge - and also a brilliant solution to breaking videogames' final taboo: turn the lights off.
Dark Room Sex was the most entertaining of what you might call the "conceptual" strand at IndieCade. Block H is a Loyalists-verus-Republicans Counter-Stike mod set on a housing estate in Northern Ireland that toes a fine line between comment and exploitation. The Graveyard is a very short experience that makes its point about mortality rather heavily - but it was still striking and thought-provoking to see the stunning, polished 3D graphics in monochrome, and (more tellingly) to control an aged black woman in a videogame. The beautiful point-and-click interactive animation Rückblende ("flashback") dealt with its subject matter of childhood memories more evocatively, but was more film than game.