Paul and Oliver Collyer of Sports Interactive
Interview - we talk to Paul and Oliver Collyer, the brains behind the multi-million selling Championship Manager series
Over the last decade Championship Manager has become one of the biggest sports franchises in Europe, giving millions of football fanatics across the continent the chance to take control of their favourite teams. The company behind this phenomenon is England's own Sports Interactive, and with a new version of the game in the works and the series also on its way to the Xbox next year, we caught up with co-founders Paul and Oliver Collyer to find out more...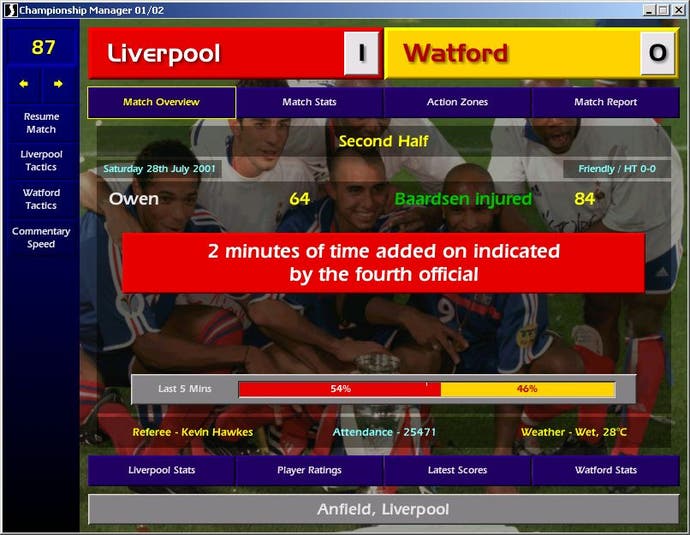 Champions
Sports Interactive is somewhat unusual in the gaming industry in that it is constantly working on the same game - Championship Manager. Since the company was formed back in 1994 it has never released a game which didn't have those two magic words in the title, and co-founders the Collyer brothers have been working on football management sims since the late 1980s, releasing the very first Championship Manager to an unsuspecting public in 1992.
"Football is our passion and we never started this thing for the money", the Collyers explained. "We didn't wake up one morning and think 'I know, let's make some money out of computer games', it was more like 'we like footie, so let's make a game that we'd want to play'. We're just continuing the same philosophy really."
But after ten years of developing the same basic game, don't they ever feel like trying something different? "If another developer came to us and said 'we've written this really cool' .. I dunno, 'baseball game' and it had been written with the same dedication and enthusiasm as we write CM, then we might try and help them. But it wouldn't be something we'd necessarily instigate ourselves."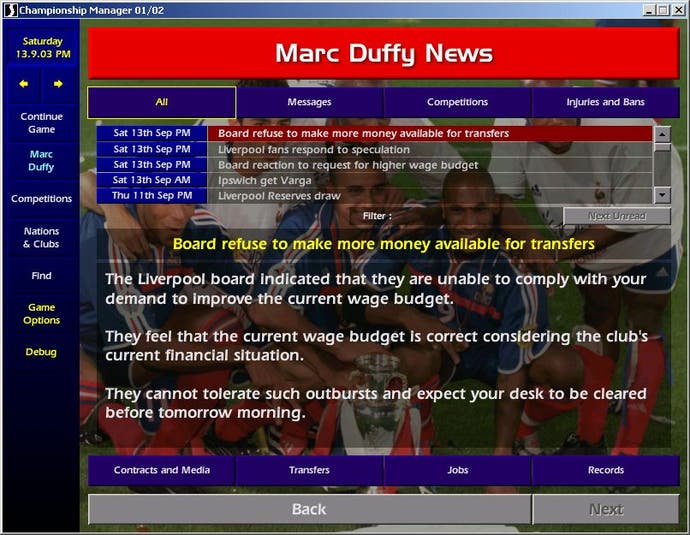 Small But Perfectly Formed
The same passion for football which has kept the Collyers going for the last ten years also applies to the rest of the company which has sprung up around them since then. Combine this with the sheer popularity of the Championship Manager games and Sports Interactive has the kind of staff turn-over rate that most other developers would envy.
"The people we are fortunate to have working here are pleased to be working on a game that is famous. Why leave when you know that your work is going to be seen by hundreds of thousands of people? It's the biggest invitation to your creativity you can get."
And according to the Collyers it's this dedication and creativity which has given the series a seemingly unassailable advantage over other football management sims. "A lot has been learnt in those ten years, and everyone else is constantly playing catch up. It doesn't matter what their 3D engine is like, their match engine is not as good or as developed as ours, thanks to the great team that we've got here."
That team has grown since the heyday of bedroom game development when Paul and Oliver designed the original Championship Manager, but they don't believe that big is necessarily better. "I think it's a misconception in the industry that you need a big team to write today's games. Better to have a small (say ten) focused group of people devoting themselves to the cause. The best games come from small groups of people."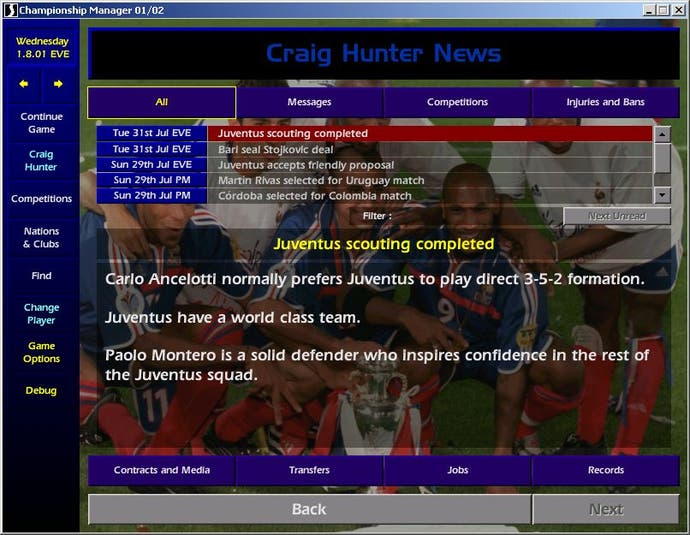 Data
One thing which has helped keep Championship Manager at the top of its field is Sports Interactive's strategy of releasing annual season packs between new versions, each adding the latest player and league data to the game alongside a range of new and improved features. This year will be no exception, with Championship Manager 01/02 expected to arrive like clockwork in October.
"We've just topped 100,000 staff in the database, with a few months to go", the Collyers were happy to announce when we asked them what would be new in the latest installment. "More important is the enhancement of features that we've added over the last couple of years, such as the media interaction, the new transfer system, vastly improved match engine and AI, a new scouting option to actually scout your opposition before each game (including key players etc), moaning at the FA, surgery for injured players, board ultimatums, manager ultimatums and the best of all (drum roll please) - the game can now be played in an ultra-realistic mode whereby players that aren't on the TV every week don't have their full stats shown on screen, meaning that you have to use your scouts to their full capabilities to find that new Swedish superstar. Championship Manager will keep getting stronger and stronger, but there are definitely some suprises round the corner for the fans..."
In fact, according to the Collyer brothers, part of the enduring attraction of the Championship Manager series is that it doesn't show you everything. "The game is so addictive mainly because you find yourself in a parallel universe whilst you play it, [and] the fact that you actually have to use your own imagination rather than seeing everything definitely helps too."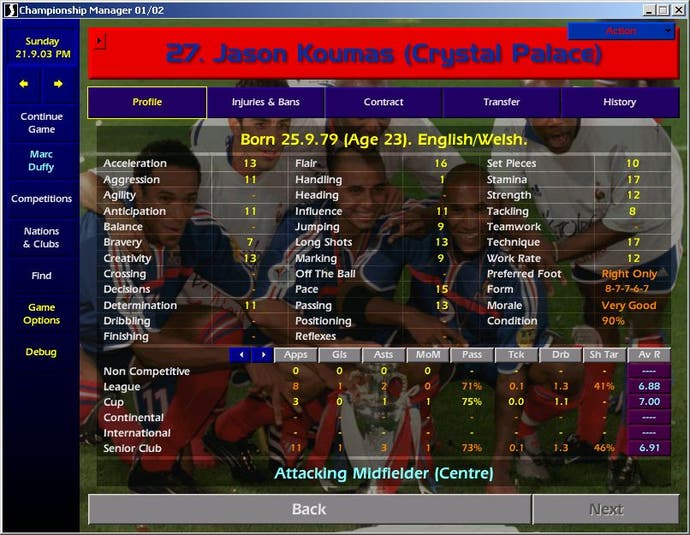 Boxing Clever
The new 01/02 season update pack isn't the only thing in production at Sports Interactive though. For the first time ever the series will be released on a console system next year, with Miles Jacobson announcing just last month that "with its built in hard-drive, Xbox is more than capable of coping with the demands of a game like Championship Manager, and we feel that it is the right platform for .. our first foray into the console market".
Microsoft were understandably enthusiastic about the prospect of Championship Manager being one of the European launch titles for their Xbox next spring as well, with Sandy Duncan quoted as saying that "Championship Manager is more than just a game - it's a way of life". Details of the game are still scarce, but Sports interactive are aiming to have it ready for the as-yet-unannounced Xbox launch date, although "it's our first console game, so who knows what will happen!"
The company seems to be happy with their choice to go with the Xbox, with the Collyers joking that their biggest challenge in developing the game so far was "getting a devkit"! According to Microsoft the final development kits have now shipped though, and the Collyers told us that "at the moment it looks like the XBox was designed with Championship Manager in mind" and that the transition is proving to be "reasonably painless". It's not a simple case of porting the code across though, as there are obvious differences between a PC and a console, even when we're talking about the Xbox. "The control system is a challenge, as is getting the fonts to look good on the tele. Nothing will be cut out though - we are not interested in releasing CM Lite."
Conclusion
And then of course there is Championship Manager 4, which is due for release next year. "To be honest, we don't want to talk about CM4 yet", the Collyers told us, although they did give us a hint of things to come. "Suffice to say it will be a bigger leap than any of the previous games, and it's well known that as well as being single/multi-player it will also be an online game. But if I say more than that, I'd have to shoot you..."
One tidbit we did manage to extract without losing our lives is that "there are lots of plans afoot at the moment for Sports Interactive, but until we decide which ideas we're going to turn into games we can't really say much!"
-
Championship Manager 01/02 screenshots