Watch 19 minutes of From Software's Sekiro: Shadows Die Twice
Fresh from Eurogamer's play session at Gamescom.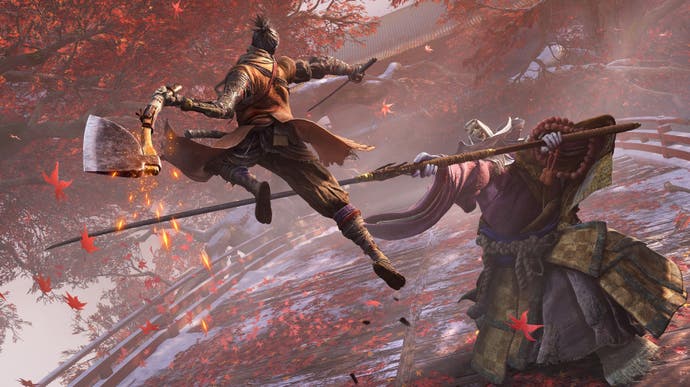 Earlier this week, From Software revealed that Sekiro: Shadows Die Twice, its ninja-themed revenge romp, will launch on March 22nd next year. So why not while away the minutes between now and then (19 of them to be exact) with some new gameplay footage, fresh from Gamescom?
Sekiro: Shadows Die Twice is, of course, the latest game to be directed by Hidetaka Miyazaki, the mastermind behind Demon's Souls, Dark Souls, and Bloodborne. However, despite some obvious similarities - its third-person perspective and action focus, for instance - it's said to be a very different beast to any of those earlier games.
Its beautifully realised 16th Century Sengoku Japan setting is a clear departure from the gothic claustrophobia of Miyazaki's most recent games, and its tale of the titular Sekiro - on a quest for revenge against the man that severed his arm - is telling a very specific yarn about a very specific man, leaving no room for the heavy RPG-style customisation seen in Souls and Bloodborne.
However, Sekiro: Shadows Die Twice's precise action is still defined by uncompromising challenge, even if its aggressive combat set-up is balanced by the opportunity to approach objectives in a stealthy manner, as is befitting of a ninja such as Sekiro. You can enjoy a small sample of the game's punishing charms in the video above, as Eurogamer's Aoife Wilson bravely confronts a shinobi general and chained ogre at this year's Gamescom.
Sekiro: Shadows Die Twice releases on Xbox One, PS4, and PC on March 22nd next year.