Fortnite adds in-game video chat on PC, PlayStation
Heads up display.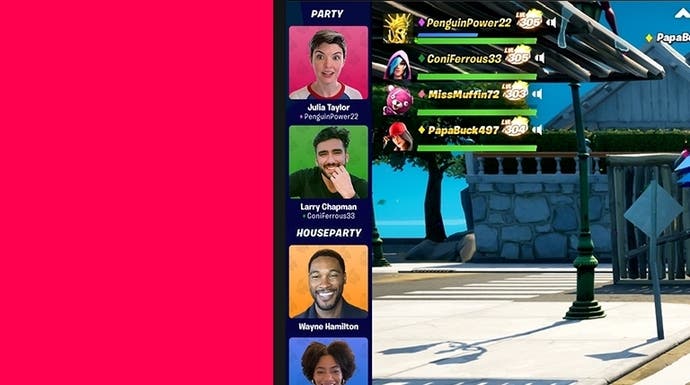 Today's Fortnite update adds in-game video chat, streamed from you and your squad's mobile phones.
You'll need Epic's free Houseparty app, and to start with it's only available on PC, PlayStation 5 and PS4.
So, how does it work? Well, once you've connected your Fortnite account within Houseparty it's a matter of creating a group chat and plonking your mobile down next to wherever you're sitting.
Houseparty's tech then finds your face and pops it in Fortnite's new on-screen video chat sidebar. Here's how it looks: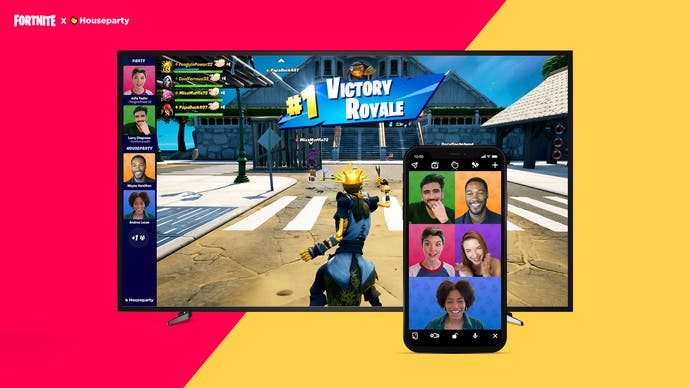 This group chat, or Houseparty room, simultaneously exists within the app and within Fortnite - so you can chat to friends if they're playing and you're not, or vice versa.
And while you can already stream yourself while playing Fortnite with friends, this option is designed specifically for you to keep your pals on-screen and control who is in the video party. You can only chat with your Houseparty friends, and their friends, and you're able to block anyone you don't like in a couple of taps.
Fortnite has a huge audience of younger players, so it's worth noting Houseparty is designed for ages 13+, and that it's meant for video calls which centre specifically on your face. The app's algorithm even checks if your face is visible (twice a second, I'm told) and switches off your camera to show just your digital background if it can't place you in frame.
I asked Epic about the absence of Xbox platforms being included at launch, though it didn't sound like there was any technical reason why they are being left for later. "At the moment, it's only available for PC and PlayStation (both PS4 and PS5)," Epic added in a statement today. "We will let everyone know if we're able to support more platforms in the future."
Today's update is the last for Fortnite's Marvel-dedicated season, which is set to wrap up at the end of the month with an explosive live event and the arrival of big bad Galactus.