FIFA 16 introduces Draft mode for Ultimate Team, and builds upon career mode
Gary Neville and Jamie Carragher in TOP BANTS.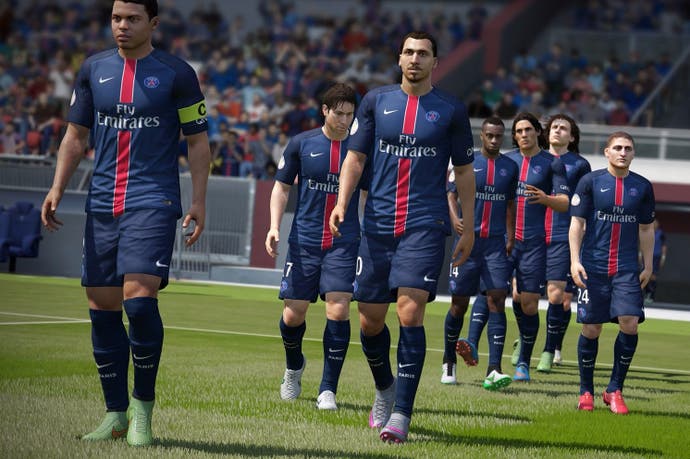 FIFA 16 has made several tweaks to its two most substantial modes, with a Draft mode coming to FIFA Ultimate Team and its career mode being fleshed out.
Draft mode is a new, more approachable way to play Ultimate Team, with a selection of footballers made available to pick from, with players locked into a formation and their choices for a quick run of games - with a four win streak required to gain the top rewards.
Rewards are also handed to players who aren't quite so successful - and with Draft tokens that can be attained in packs required for entry, the rewards have been tuned to always exceed what you've parted with in order to take part.
New Legends are also being included, with Nesta, Deco, Gattuso and Ryan Giggs all coming - with the latter being an Xbox exclusive.
Elsewhere in FIFA 16, the career mode has had a slight overhaul. Pre-season friendlies now come in the shape of tournaments that offer financial rewards, and training throughout the season takes shape via skill games that can be used to improve player's attributes.
Finally, a suite of new stadiums are being included, with Vicarage Road, Dean Court, Carrow Road, Borussia Park, Century Link and a reworked Stade Velodrome all inbound. Portsmouth's Fratton Park is also to be included - a small tribute to FIFA creative director Simon Humber, who passed earlier this year after a fight with cancer.
FIFA 16's focus this year is on balance across the pitch - and we'll have impressions on how that's panned out in the near future.
Now, with that out of the way, watch this TOP BANTS video between ex-Liverpool utility player Jamie Carragher and former Man Utd right back Gary Neville.