Tiger Woods PGA Tour 2005
EA wants us to customise every element of our golfers, but that doesn't mean that Tiger's 2005 offering isn't brimming with new features that the majority can get excited about.
Shop for games now with Simply Games.
Since this preview was published, EA has confirmed that the Xbox version of Tiger Woods PGA Tour 2005 will not feature online support in Europe, but the PS2 version will. See here for more details. And, no, we have no idea what's going through their heads either...
Having tee-sed us [thwock! -bemused Ed trying to consider an appropriate Putt-down] with the prospect of online play last year and then dropped it into a bunker at the last minute with very little warning, EA Sports has some work to do this year with its Tiger Woods franchise if it wants to regain our trust. Of course, the 2004 vintage was actually fantastic - a well-worked expansion of existing principles that introduced real-time events (for which we still fire it up on occasion), a full PGA Tour, and lots of other bells and whistles to a stick-driven golf game that already looked and handled far better than any of the others. But we're not giving EA that, because we wanted to play it online, and it seems inconceivable that while our yankee pals were invited to do so, we were forced to potter around offline in solitude. At least we were - none of our mates were all that keen on "popping over for a quick round before work," even if they were always partial post-pub. Sods.
I don't like your face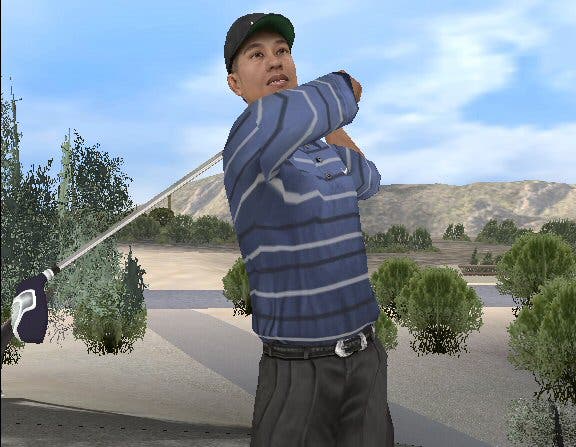 Tiger Woods PGA Tour 2005 will very definitely make up for this in one way or another - the 'one way' being the inclusion of those online options, including tournaments, leagues and stat tracking for skins, capture the flag, best ball and other modes, on PS2 and Xbox; and 'another' being the various things we've been tinkering with in our preview build this week. In other words, the rest of the game, which is shaping up to be, well, just about whatever you fancy shaping it to be. Ahead of getting our hands on some online-enabled code in the run-up to the game's late September release, we've been investigating some of the buzzwords on this year's fact sheet, and trying out some of the new courses.
The main theme this year, as it turns out, is customisation - of people, of courses, even of your own golf swing. Literally heading these up is the new Game Face II set of features, which enable you to create a golfer customised to an absolutely ludicrous degree, far in excess of any other character customisation tool we can recall, and that includes stuff we've seen in 700 variations on The Sims over the years. In addition to all the obvious characteristics - height, weight, skin, eye and hair colour, etc - you can add blemishes, freckles and laugh lines to the face, fiddle with size, fullness, bulk, eye size, eye rotation, lid definition, bags, corners and crows feet, lip definition, wrinkles, corners, neck length, and moles, scars and piercings on the nose, cheeks, brow and chin. And that's only the ones we could be bothered to scribble down. You can then toy about with the distribution of weight around the body and venture into the Pro Shop to buy shirts, trousers, shoes, clubs - even swing types.
Shuffle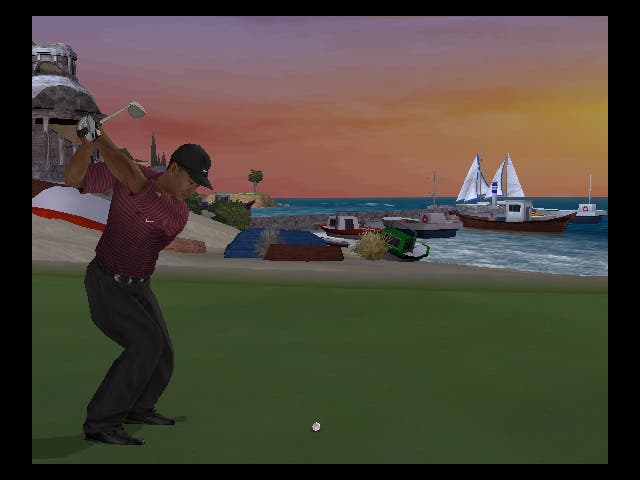 Or, like us, you can whack the "randomisation" button and run a mile. We feel sure, as EA Sports clearly does, that somebody out there will be excited about the Game Face II features, but that somebody doesn't work here. Fortunately, Tiger's 2005 outing has another customisation suite that we do care about, and EA calls it Tiger Proofing. Tiger Proofing, since you ask, does for existing courses what Game Face does for existing faces - it slaps them about a bit, colours things differently and allows you to tweak everything you could reasonably desire, whether it's the upkeep of greens, fairways and bunkers, the size of them, the weather conditions, the tee positioning, or even the design of the fairways. We quite like the purple stripes, for some reason. We also like the idea of designing our own logos and custom images for fairways and flags, if only for the comedy value of being able to turn to a mate and make obscene jokes about which badly drawn half-naked celebrity he's just clubbed his ball onto, and where. (And because we're sad.)
Equally interesting from a bored-man-on-a-tired-weeknight perspective is the promise of a 'Dream 18' option that lets you create your own 18-hole golf course. We're also told that there's some sort of clever 'prestige' calculation that measures the quality of your design against observations various golfers have made over the years, and then has one or two of them pop up to challenge you to a game depending on the result. Golfing 'Legends' will also play a part in your general single-player game, with the likes of Ben Hogan, Arnold Palmer, Jack Nicklaus, Gary Player and Alan Partridge's favourite Seve Ballesteros posing challenges and eventually taking you on. Unfortunately we can't tell you how they play yet, as EA is still working on the AI - and we reckon what we're seeing is just lifted from last year's outing, judging by the way Arnold Palmer occasionally plays the same badly aimed shot into the same cruelly placed rocks 10 times before conceding. But we should know soon enough.
Repeat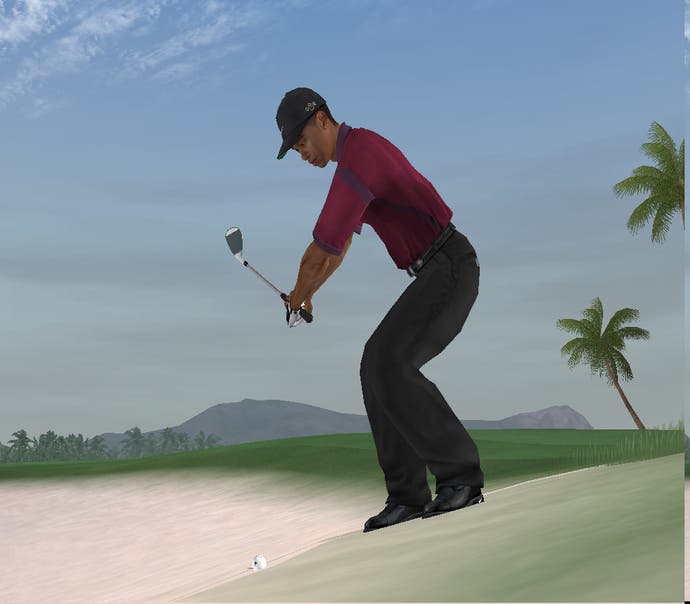 The AI isn't the only thing returning in our current build either. The graphics engine, while still impressively well animated and easy on the eye, looks decidedly similar, and we fancy that changes here will be largely limited to cosmetic ones - with interface tweaks, new swing animations and new character models amongst the more obvious.
What you can actually do on the tees, fairways and greens of the game's various courses hasn't changed a great deal either. The controls, already fairly well refined, receive only modest updates. Still we club the ball with the analogue stick, adding spin and a pre-shot power boost with various shoulder buttons, and manipulating the camera, shot length and choice of club with D-pad and face buttons. And, although it's initially a little complicated, it does become fairly intuitive fairly quickly. The latest addition to the Tiger repertoire, 'ball in stance', slots in without much trouble - while holding L2, you can use the analogue stick to pick one of three positions for your feet, allowing you to come down on the ball, hit it normally, or hit it more on the up, which changes the way it behaves in flight.
Another change that affects goings-on out on the Links is the Tour Difficulty feature, which allows you to vary the challenge by removing caddy tips for putting, amongst other things; while 'Tiger Vision' makes things a little easier, giving you the chance to see exactly where you need to aim thanks to a little red spot that pops up for 15 seconds or so. The latter can only be used a few times per round, thankfully, and we're not sure we like it yet, but it will be interesting to see how it impacts multiplayer games.
On course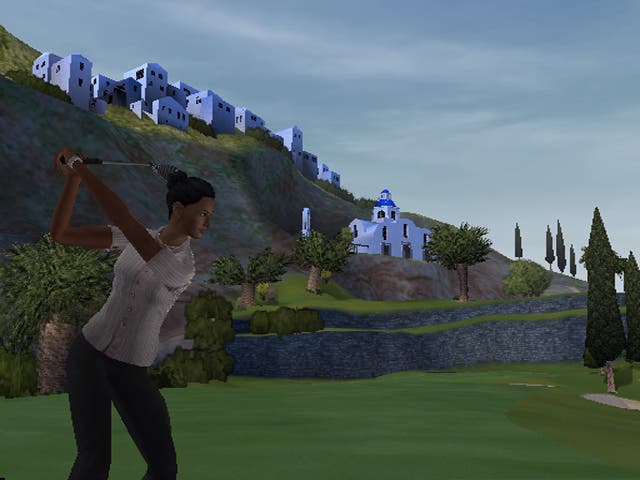 But of course, for all the tweaks, quirks and new features that EA Sports is hoping will attract new customers, Tiger Woods PGA Tour 2005 wouldn't be much of a draw for existing owners if it didn't feature a few new courses. The line-up in our build consisted of Pebble Beach, Harbour Town, Sherwood CC, Colonial CC, Fancourt Links, Turnberry, Edgewood, St Andrews, TPC at Sawgrass, Troon North Monument, Coeur d'Alene, Greek Isles, Paradise Cove and Emerald Dragon, and there are definitely a few there that proved very tricky - and we're looking forward to spending more time with them, and indeed at different times of day, since we can do that now too.
Paradise Cove sticks out in our minds as a particular highlight - it's set in a series of cove locations, with glossy fairways and greens split into little islands by the ocean and oceans of sand. In effect, most holes are just one large water hazard or bunker with spots of green to aim for, and avoiding a few Bogeys here is no mean feat.
Greek Isles was another one that proved popular early on - its mixture of rolling hills and huge drop-offs reminiscent of the canyon course from earlier versions of the game. Its use of rocky precipices layered like giant steps, too, was often fiendish enough to force us into playing a shot backwards to avoid bouncing off into the ocean, or worse right back to the point we fired our shot from in the first place; and its fondness for sloping fairways and huge bunkers surrounded by idyllic scenery was more than a little alluring. We still have no idea how we managed to bounce one shot off the roof of a boat onto an island green at one point, although we were disappointed not to win a trophy ball for it. Perhaps if it had gone in.
Total Teeing
No matter. What's clear, after a few hours of play, is that Tiger Woods PGA Tour 2005 is a fairly typical annual EA Sports update, bedecked with a few new features that may lure new parties to the franchise, but unchanged - and occasionally refined - where it really matters. And that works just fine for us in this case. If the course design remains intricate and challenging, the Dream 18 design tool proves simple and effective enough to really add to the longevity, the team sharpens up last year's AI, and the online play lives up to its promise - and there seems no reason that these things shouldn't happen - then this could leave the Links series, and Tiger's other opposition, buried deep in the rough with no place to go. They'd better watch out, really. Sorry, we mean: FORE!
Tiger Woods PGA Tour 2005 is due out on PS2, Xbox, GameCube and PC on September 24th.