Echo is a mind-boggling sci-fi game which pits you against yourself
Ex-IO devs behind brilliantly stylish game due out this September.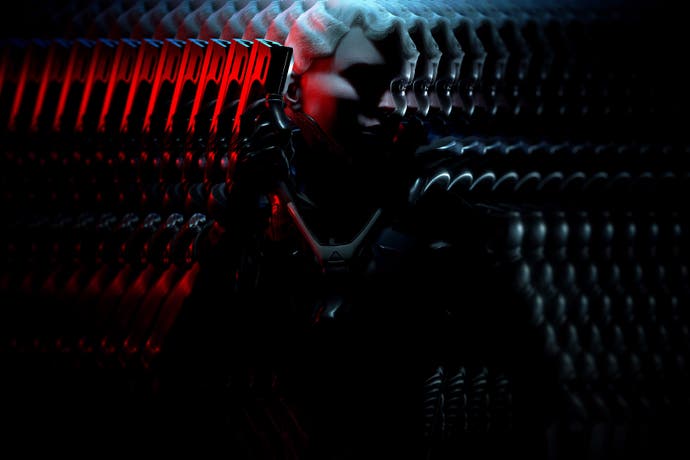 Up until a short while ago, I had no idea about Echo, which is something of a mystery in itself; as a fan of slow-burning, atmospheric and idea filled sci-fi, it's exactly what I'm after in a game, and as I know I'm not alone in that I hope more people don't pass it by. It looks like it could be something fairly special.
The work of Ultra Ultra, a small Danish team comprised of eight former IO Interactive employees, it's a third-person action game in which you explore an eerie palace as you try and revive someone you've recently lost. There's a twist, though - as you're working your way around the palace, it's observing your every move, and once it's learned enough it'll briefly shut down and populate itself with Echoes, copies of yourself for you to go up against.
Confusing? Just a little, so I had Ultra Ultra's Martin Emborg explain it a little to me. "They mimic the way you behave," he says, "so you're up against your own play style. If you diverge from that play style, then the Echoes will reboot for a new version of you - and then when that happens, the lights go out." When those lights go out you're free to do as you wish, briefly away from the prying eyes of the palace in a gameplay loop that I admit I haven't fully got my head around yet, but one I'm very much looking forward to discovering myself.
It throws up some fascinating possibilities - go all guns blazing and you're going to have your handful of an aggressive enemy next time the palace reboots, while going stealthy will present a problem of a very different kind the next time the lights go out. "There's an ebb and flow of abilities that they learn and unlearn throughout the game," says Emborg. "How long each loop is is dependent on you - the blackouts only happen when you do enough new that the palace deems it needs a new version of you."
That's all stuff to discover a little further down the line, and right now I'm just revelling in the art and atmosphere of Echo. You can see a little Hitman in its blend of stealth and action - "That was never intended!" says Emborg, "but of course when you're sneaking around and being cool, that does look like Hitman a bit" - but mostly you can see an impeccable taste when it comes to science fiction and literature that bleeds through the game.
Argentinian writer Jorge Luis Borges' The Library of Babel was one explicit reference point for Ultra Ultra - "It's so cool!" says Emborg - but what leapt out immediately to me was the similarities to that strange alien waiting room from the climax of 2001: A Space Odyssey.
"There's that, there's Solaris... It feels like 90 per cent of science fiction games come out of [James Cameron's] Aliens. We knew from the beginning the kind of atmosphere we wanted, and what type of science fiction we wanted to make. It's about the atmosphere, and the sense of awe and wonder - what would you find in the remote reaches of space?"
It makes for a refreshing brand of sci-fi that looks at once effortlessly cool and deeply sinister. I'd love to tell you more but it's probably best we wait to discover it for ourselves, and that's going to be possible not too far into the future - Echo is set for release on PlayStation 4 and PC on September 19th.