DF Direct Weekly talks God of War PC, new Apple Silicon and Cyberpunk 2077/Witcher 3 RT upgrades
Plus: do movies have frame-pacing issues?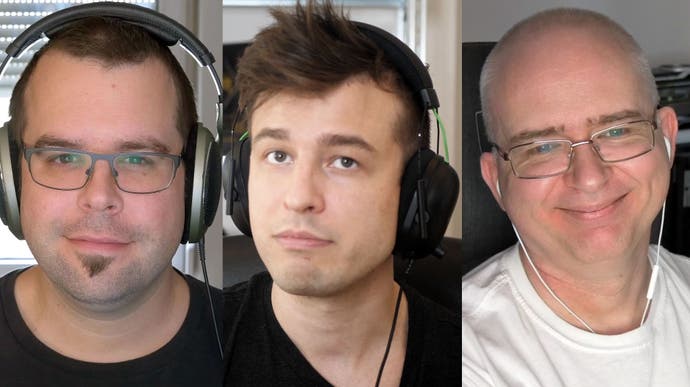 DF Direct Weekly returns once again, with myself, John and Alex taking a time-out from our various individual projects to discuss the latest gaming and tech news. Our chat kicks off with the arrival of new Apple Silicon found with the brand new 14-inch and 16-inch MacBook Pros. M1 Pro and M1 Max look absolutely monstrous and from a GPU perspective alone, we're looking at a doubling then a quadrupling of the already impressive M1. In the new Direct, we share our thoughts on strategy but ask the fundamental question beyond some truly impressive tech: will this extremely capable, super-efficient technology ever really be put through its paces in gaming? Is a profound commitment to gaming beyond the iOS ecosystem even worth considering for Apple, when its mobile ecosystem is likely to be so much more profitable?
Beyond that, discussion moves on to last week's announcement of God of War for PC, complete with select new graphical features, unlocked frame-rates, ultrawide support and the pleasantly surprising inclusion of Nvidia DLSS. It's not clear just how much of an improvement the new features add, but it'll be interesting to see if DLSS and other upscaling features are added to other Sony titles, such as the forthcoming Uncharted collection. We also discuss Sony's global vision: in a recent gamesindustry.biz video interview, Jim Ryan talked about addressing addressing millions more users with Sony titles, which inevitably leads to discussions about the cloud and therefore the concept of PC ports happening as a matter of course. Unless, of course, Sony is intent on packing out datacentres with PS5 hardware - which seems unlikely, especially in light of the mooted deal with Microsoft.
We also talk about the news last week that the next generation version of The Witcher 3 was rated, leading to stories suggesting an imminent release... which were quickly shot down by CD Projekt RED, with the next-gen patch for Cyberpunk 2077 targeting Q1 2022, followed by The Witcher 3 in the second quarter. What should we expect from those upgrades? Our contention would be improved 60fps support along with a more graphics rich 30fps mode, tapping into hardware-accelerated ray tracing. Bearing in mind how impressive RT features were on Cyberpunk 2077, The Witcher 3 on PC in particular could be something quite special.
There's not much to share this week in terms of DF content discussion as we're under embargo on various projects but we look forward to sharing more on some truly special content we have in development, but it's straight on to Supporter Program Q+A and once again, we (obviously) recommend that you become involved! Joining us on the supporter program gives you pristine quality video downloads of our work, access to our awesome Discord (where most of the team regularly contribute) plus early access to DF Direct Weekly - all of our backers now get early access to the Direct every Saturday, which is nice! The show is also available as a podcast, available on a range of providers right here.
There are some good questions this week: do movies have frame-pacing issues on TVs (yes - because 24Hz content does not divide equally into a 60Hz refresh) and is there anything users can do about it (yes there is!). We also had an interesting question as to whether DLSS is such a killer feature that it may make Microsoft and Sony jump ship from AMD - perhaps unlikely as the Xbox team is already working on its own ML-based upscaler and because beefed up machine learning features in general will inevitably form a part of future hardware. Do we have 'favourite' temporal anti-aliasing solutions, or which early implementations impressed us most? TAA is effectively a standard in console gaming now, but it's actually been with us a long, long time - and there are some very interesting early examples. And we also tackle a question that comes up quite a lot: why don't we make shorter videos and more of them? That's the show for this week - and I hope you enjoy it.