Nvidia GeForce RTX 3080 review: welcome to the next level
Brutally fast.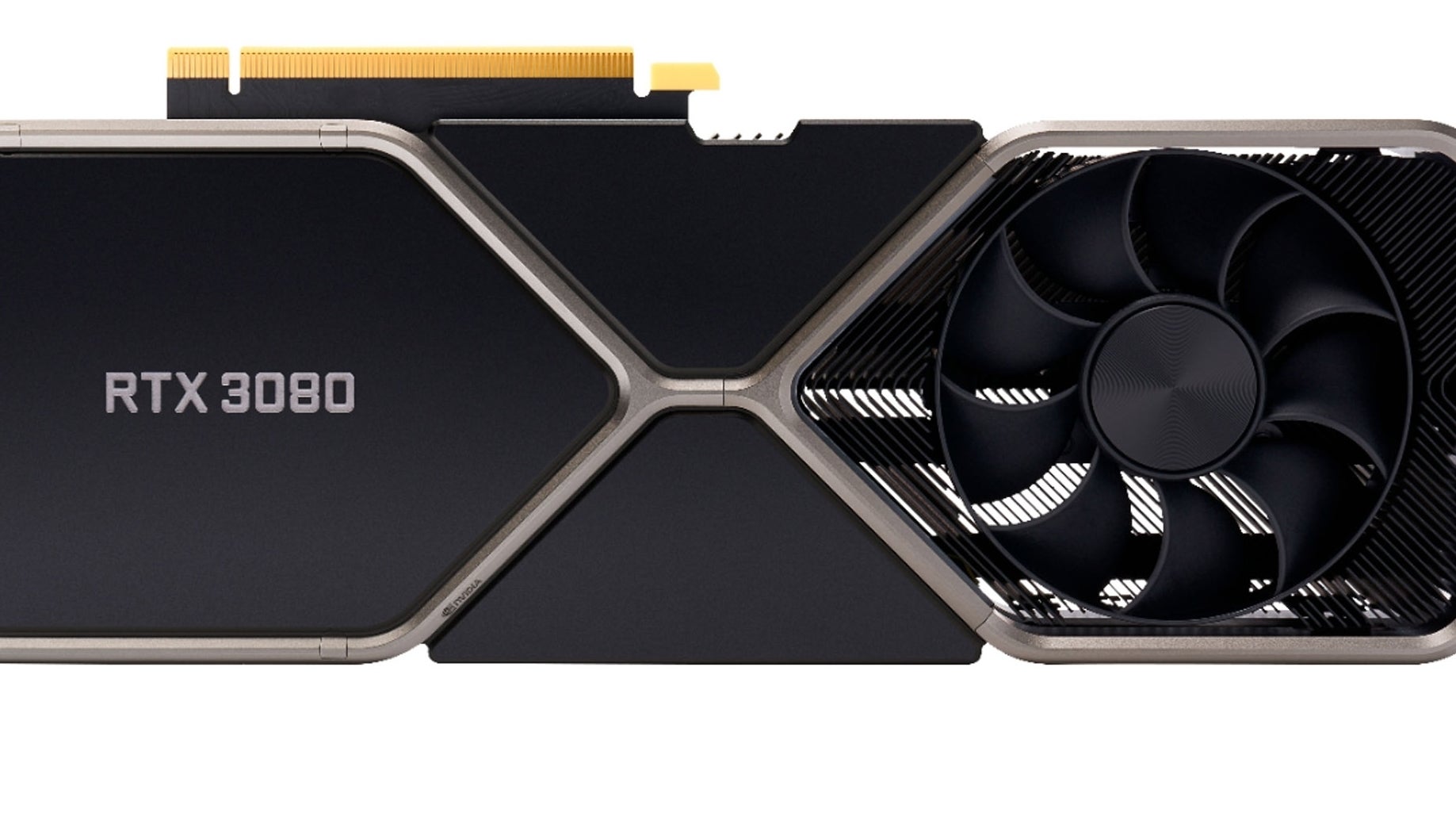 A new generation of Nvidia GeForce graphics cards has finally arrived. The new Ampere line includes three confirmed cards and should eventually swell to a lineup of at least a half-dozen, if past series are anything to go by, but in the here and now we have just one: the RTX 3080. Thankfully, it's a cracker - we already shared some preliminary data that revealed impressive boosts to 4K performance over the outgoing RTX 2080 - but that was with Nvidia choosing the games and resolution. Now, the gloves are off and we can share a more complete picture of RTX 3080 performance, all the way from 1080p and 1440p to 4K in a much wider range of titles.
Before we get into the benchmarks, it's worth covering the makeup of this new Ampere card. Nvidia has claimed that it'll deliver twice the ray tracing performance and the biggest generational leap ever, and that's largely down to the die shrink from a 12nm process to an 8nm process, delivered courtesy of Samsung rather than usual fab, TSMC. That allows Nvidia to pack in many more transistors than ever before, boosting performance and power efficiency. The card's memory has also been upgraded, with 10GB of GDDR6X memory that's more power-efficient than its GDDR6 predecessor to allow for higher frequencies and more bandwidth. Nvidia is also working with next-generation versions of its ray tracing and tensor cores, all the better for improving in an area that clearly demands extra grunt. In short, pretty much everything here has been pushed to the limits for maximum performance, with Nvidia in many cases literally doubling down on the hardware responsible for RTX and AI-accelerated workloads.
While there's plenty happening under the hood, one of the first things you'll notice about the RTX 3080 is its unusual thermal solution. We still have a pair of fans, as we saw on 20-series cards, but they're now in a push-pull configuration with one fan on each side - something Nvidia calls 'flow-through'. This should improve temperatures at a given fan speed, but it might also push hot air onto the CPU more than you'd expect from a traditional design - something to keep in mind if you're using an air cooler rather than an AiO or custom water cooling. In our testing, the RTX 3080's Founders Edition cooler performed well, given the level of power and performance on display. It'll be interesting to see whether it represents a significant advantage over custom cards once the embargo for these reviews has lifted.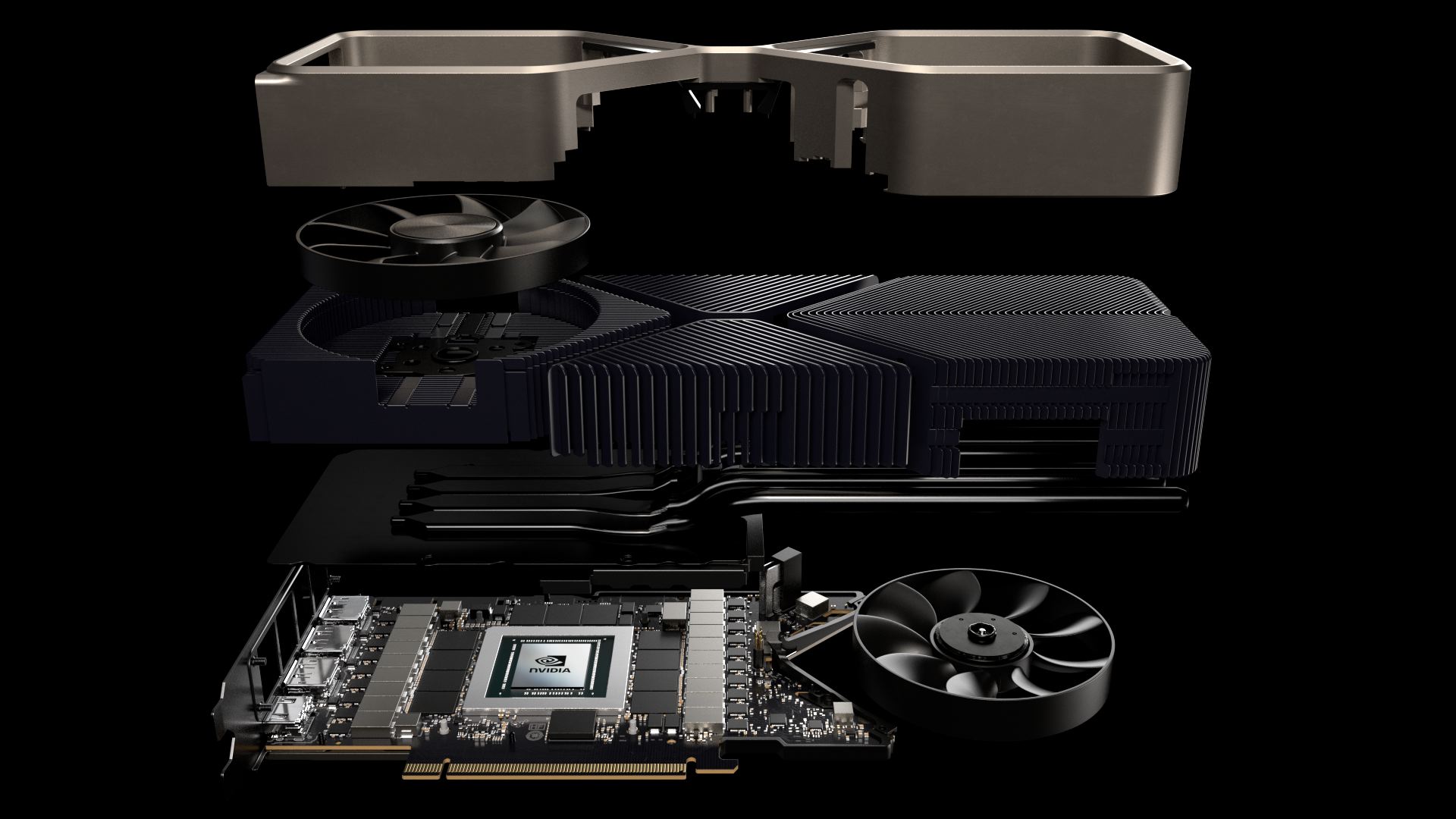 | | RTX 3080 | RTX 2080 Ti | RTX 2080 | GTX 1080 Ti | GTX 1080 |
| --- | --- | --- | --- | --- | --- |
| CUDA cores | 8704 | 4352 | 2944 | 3584 | 2560 |
| VRAM | 10GB GDDR6X | 11GB GDDR6 | 8GB GDDR6 | 11GB GDDR5X | 8GB GDDR5X |
| Memory Bus | 320-bit | 352-bit | 256-bit | 352-bit | 256-bit |
| Bandwidth | 760GB/s | 616GB/s | 448GB/s | 484GB/s | 352GB/s |
| Base Clock | 1440MHz | 1350MHz | 1515MHz | 1480MHz | 1607MHz |
| Boost Clock | 1710MHz | 1545MHz | 1800MHz | 1582MHz | 1733MHz |
| TDP | 320W | 250W | 225W | 250W | 180W |
| Die Size | 628mm2 | 754mm2 | 545mm2 | 471mm2 | 314mm2 |
| Transistors | 28M | 18.6M | 13.6M | 11.8M | 7.2M |
The PCB has also shrunk substantially, with the entire back half of the card devoted to fins and heat pipes. That means there's actually no place to stick a power input where you'd normally expect to find it, at the back end of the card. Instead, Nvidia has slotted it into the middle of the unit, at the furthest reaches of the PCB. There's not quite enough room here for the normal pair of eight-pin connectors you'd expect, so instead the firm has implemented a more compact 12-pin port. As well as being physically smaller, this connector is also capable of delivering much more power - which is key for this card, as we'll see later. While some power supply manufacturers have already released custom 12-pin cables for their higher-end modular PSUs, don't worry about that right away: you'll get a dual eight-pin to 12-pin adapter in the box that will do the job.
The bottom of the card is home to the PCIe connector, as usual, but this is Nvidia's first card to support the new PCIe 4.0 standard. That should allow for slightly less restricted performance in some scenarios, and indeed we saw slightly higher frame-rates in Horizon Zero Dawn at 4K (around +4fps) when moving from PCIe 3.0 to 4.0 - that's with a Ryzen 9 3950X processor on an X570 motherboard. However, we got fractionally higher frame-rates at 4K running the 3080 on our Core i9 10900K test bench, which is limited to PCIe 3.0, and consistently faster performance at 1080p and 1440p. Therefore, we're sticking with PCIe 3.0 - at least for our initial testing.
The port selection here has also changed slightly, with the rather useful USB-C VirtualLink port excised in the face of minimal industry uptake. That leaves three DisplayPort 1.4a ports and one HDMI 2.1 port. The RTX 3080 is actually the first graphics card to support the HDMI 2.1 standard, which has a mighty 48Gbps of bandwidth - enough for connecting to a 8K 60Hz or 4K 120Hz screens (like our favourite 4K TVs for HDR gaming) using a single cable - without the need for lossy chroma subsampling.
This syncs nicely with the new support for AV1 decoding, a new video standard that is up to 50 per cent more efficient than the prevalent h.264 codec. That should cut the amount of bandwidth required to stream high resolution and/or high frame-rate video significantly, and allows up to 8K 60fps video content to be delivered. Chrome, Twitch and VLC are all confirmed to support AV1 decoding with the RTX 3080 in the near future.
One of the most fascinating parts of Nvidia's initial Ampere reveal centred around the extraordinary power efficiency the cards are capable of. Nvidia claimed up to 1.9 times the performance per watt with Ampere compared to Turing, which was itself a capable performer in this regard. However, as you might have guessed from the upgunned thermal solution and the new high-capacity 12-pin power input, Nvidia has opted to raise power limits significantly to drive as much performance as possible out of the new cards. The RTX 3080 has a 320 watt power rating, compared to 225 watts for the RTX 2080; the recommended PSU size has also shifted from 650W to 750W.
To see how the RTX 3080's power usage and efficiency compares to other graphics cards, we measured their power draw and frame-rates in Doom Eternal, Death Stranding and Gears 5 at maximum settings. This was done using Nvidia's new power capture analysis tool (PCAT). The PCAT board interposes between the graphics card and its power sources (eg the PCIe slot and the GPU's eight-pin or 12-pin power inputs), measuring the wattage before passing it through to the card.
While we didn't see the near-doubling that Nvidia suggested, their claim that Ampere outperforms Turing watt-for-watt has been validated. Starting with Doom Eternal, you can see that the RTX 2080 Ti pulls 5.4 per cent more watts to draw each frame, on average, through the course of the bench. The RTX 2080 is even less efficient, pulling nearly 20 per cent more watts than the 3080. AMD's RX 5700 XT exists in a similar ballpark, requiring around 28 per cent more watts per frame than the new Nvidia card. Perhaps unsurprisingly, the GTX 1080 struggles the most, pulling more than 50 per cent more watts per frame than the 3080.
It's a similar story in Death Stranding and Gears 5, where the percentages shift somewhat but the RTX 3080 Founders Edition remains the overall efficiency champion, followed closely by the RTX 2080 Ti. The RTX 2080 and RX 5700 XT trade places in the Death Stranding benchmark but remain the two "middle-ground" performers, while the GTX 1080 finishes in last each time.
| Watts Per Frame | RTX 3080 FE | RTX 2080 Ti FE | RTX 2080 FE | GTX 1080 FE | RX 5700XT |
| --- | --- | --- | --- | --- | --- |
| Doom Eternal | 2.479 | 2.613 | 2.968 | 3.775 | 3.161 |
| Percentage Diff | 100% | 105.4% | 119.7% | 152.3% | 127.6% |
| Watts Per Frame | RTX 3080 FE | RTX 2080 Ti FE | RTX 2080 FE | RTX 1080 FE | RX 5700XT |
| --- | --- | --- | --- | --- | --- |
| Death Stranding | 3.349 | 3.562 | 3.954 | 4.239 | 3.846 |
| Percentage Diff | 100% | 106.4% | 118.1% | 126.6% | 114.9% |
| Watts Per Frame | RTX 3080 FE | RTX 2080 Ti FE | RTX 2080 FE | GTX 1080 FE | RX 5700XT |
| --- | --- | --- | --- | --- | --- |
| Gears 5 | 4.156 | 4.266 | 4.505 | 5.163 | 5.403 |
| Percentage Diff | 100% | 102.7% | 108.4% | 124.2% | 130.1% |
If you're wondering where the 1.9x performance per watt comes from, that's at the lower end of the power curve and we should expect to see more impressive gains on the RTX 3070, which Nvidia claims to be more powerful than RTX 2080 Ti - and with a lower TDP. For the RTX 3080 and especially the upcoming RTX 3090, Nvidia uses the 8nm process to seemingly blast the silicon with power, pushing out a lot more performance - but at the expense of efficiency.
So here's the plan with our review. With a new generation of both GeForce and Radeon cards expected to launch over the next few months, we've opted to update our standardised GPU test bench for the first time in several years. Our trusty Intel Core i7 8700K and Asus Maximus 11 Extreme Z390 motherboard is out, and the new Core i9 10900K on a Asus Maximus 12 Extreme Z490 motherboard is in. Our memory has increased in frequency slightly, with the new rig using two 8GB sticks of G.Skill Trident Z Royal running at 3600MHz CL16. These boosts should mean that games are marginally less CPU-bottlenecked, so differences between graphics cards will be more obvious. We've also upgraded our storage, as our newly expanded testing library now exceeds 1TB, so we've opted for a 2TB Samsung 970 Evo Plus NVMe drive provided by Box.
Now that we have the housekeeping out of the way, let's take a look at how this card performs in some games.
Nvidia GeForce RTX 3080 Analysis
Will you support the Digital Foundry team?
Digital Foundry specialises in technical analysis of gaming hardware and software, using state-of-the-art capture systems and bespoke software to show you how well games and hardware run, visualising precisely what they're capable of. In order to show you what 4K gaming actually looks like we needed to build our own platform to supply high quality 4K video for offline viewing. So we did.
Our videos are multi-gigabyte files and we've chosen a high quality provider to ensure fast downloads. However, that bandwidth isn't free and so we charge a small monthly subscription fee of £4.50. We think it's a small price to pay for unlimited access to top-tier quality encodes of our content. Thank you.
Support Digital Foundry