Hands-on with RTX 3080 - is this really Nvidia's biggest leap in gen-on-gen performance?
The early numbers are remarkable.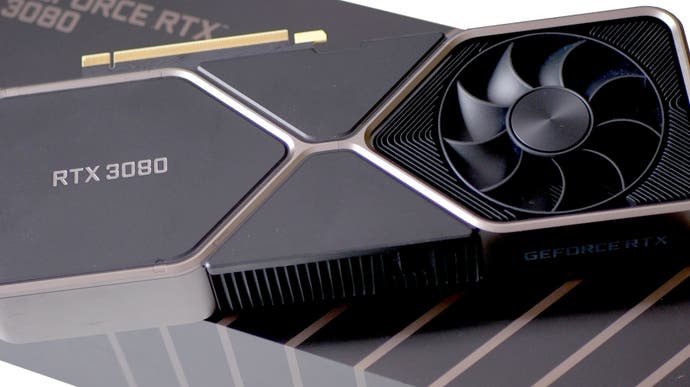 It's a time of change, of transition. With the arrival of the next generation consoles, the scale, scope and ambition of game developers will move onto the next level - and today, Nvidia revealed its new RTX 3000 line of graphics hardware, promising the biggest generational leap it's ever delivered, along with twice the ray tracing performance. This year, I've been privileged to have had exclusive access to next-gen architects and even hardware and I'm happy to say that I've also had early access to the new GeForce RTX 3080 - in fact, the card has been with me since late last week. So the question is, just how fast is it?
Full disclosure: I can bring you the results of key tests today, but there are caveats in place. Nvidia has selected the games covered, for starters, and specified 4K resolution to remove the CPU completely from the test results and in all cases, settings were maxed as much as they could be. The games in question are Doom Eternal, Control, Shadow of the Tomb Raider, Battlefield 5, Borderlands 3 and Quake 2 RTX. Secondly, frame-time and frame-rate metrics are reserved for the reviews cycle, meaning our tests were limited to comparisons with RTX 2080 (its last-gen equivalent in both naming and price) and differences had to be expressed in percentage terms, meaning some slight re-engineering of our performance visualisation tools. This work actually proved valuable and the new visualisations will be used elsewhere in our reviews - differences in GPU power do tend to be expressed as percentages, after all.
Before we go into the results, a word on the card itself. I received a full retail sample of the Nvidia Founders Edition and the form factor and industrial design is on another level compared to its previous efforts, and there's a fascinating cooling arrangement, with fans on either side pulling air across the board for optimal cooling. The 12-pin power input is confirmed - smaller and more discreet than I expected. Bespoke cables for your power supply will be needed for a tidy look to your build but in the here and now the bundled 12-pin to dual 8-pin adapter will do. Ports consist of the usual three DisplayPorts plus there's a single HDMI 2.1 - opening the door to 4K 120fps gaming on supported TVs, as well as 8K 60 output.
I'm not entirely sure what I expected going into the testing, but I was hoping for - at best - the kind of performance uplift we saw in the transition from GTX 980 to GTX 1080, where my review of the time saw a broad average of around 65 per cent moving from generation to generation. That was the upper end of my expectations for the new Ampere architecture but certainly in the test titles, the new card matches and exceeds that.
I think what was most notable for me was that while the jump between GTX 980 and GTX 1080 saw gen-on-gen performance boosts in excess of 70 per cent, the equivalent leap from RTX 2080 to RTX 3080 can exceed 80 per cent in some scenarios, with Doom Eternal and Borderlands 3 leading the charge. My result for Shadow of the Tomb Raider - an increase of 69.8 per cent also proved interesting. The benchmark sequence covers three scenes from the game, and the differentials between RTX 2080 and RTX 3080 adjusted on a per scene basis with the final segment lowering the overall average a couple of points. Tweaking our visualisation tools has thrown up some interesting new data points.
Elsewhere, our Battlefield 5 result - taken from the opening moments of the Tiralleur stage - showed some variability during in-the-moment gameplay, but setlled on a decent performance uplift of 68 per cent. Meanwhile, Remedy's Control was another hugely impressive turnout - our test sequence consists of three scenes including what's known internally as Alex Battaglia's Corridor of Doom - a section of the game that causes severe performance challenges both in standard and RT modes. Regardless, an overall uplift of 77.6 per cent gen-on-gen is good going - up there with the best of my recorded results in my GTX 980 to 1080 comparisons.
Nvidia's claims of a 2x improvement to ray tracing performance do seem to be borne out by my testing with Quake 2 RTX, which is based on path-tracing, the purest form of RT there is. It's here where I saw the biggest night and day difference between RTX 2080 and RTX 3080, with a 92.3 per cent improvement in performance. Most RT enabled titles are based on hybrid rendering - standard rasterisation with RT elements, so the improvements here will adjust a fair bit depending on how ray tracing is used. Regardless, with DLSS performance mode in place at 4K, I measured a 76.3 per cent increase in throughput - and in fact, the dreaded corridor of doom beat the overall average.
| RTX 3080 vs RTX 2080 | 4K/Max Settings Perf Boost |
| --- | --- |
| Borderlands 3 | +81.6% |
| Doom Eternal | +84.2% |
| Shadow of the Tomb Raider | +69.8% |
| Control | +77.6% |
| Ray Tracing: Quake 2 RTX | +92.3% |
| Ray Tracing: Control/High RT/DLSS Perf | +77.6% |
It's early days with RTX 3080 testing. In terms of addressing the claims of the biggest generational leap Nvidia has ever delivered, I think the reviews process with the mass of data from multiple outlets testing a much wider range of titles is going to be the ultimate test for validating that claim. That said, some of the numbers I saw in my tests were quite extraordinary and on a more general level, the role of DLSS in accelerating RT titles can't be understated.
Previously if you wanted to play Control with the full RT feature set at 4K60, you'd need an RTX 2080 Ti. The RTX 3080 slashes the cost of that experience and allows you to use the equivalent of DLSS balanced mode for 4K60 with a boost to image quality. Meanwhile, Metro Exodus with DLSS now runs at 4K60 on ultra settings with ultra RT, with DLSS active - I just hope to see that title updated with the latest DLSS tech. In both cases, I expect next-gen console versions to appear, perhaps with ray tracing. But will they look as good as this? Will they support RT at 60fps? It seems unlikely, but that's exactly where we're at in the here and now with PC technology and it's enormously exciting to see all of this play out.
Finally, we're not having to wait too long for this new technology to arrive in our hands. Full reviews and actual availability are just weeks away - and we'll be back with full reviews of the entire Ampere range as soon as we can.